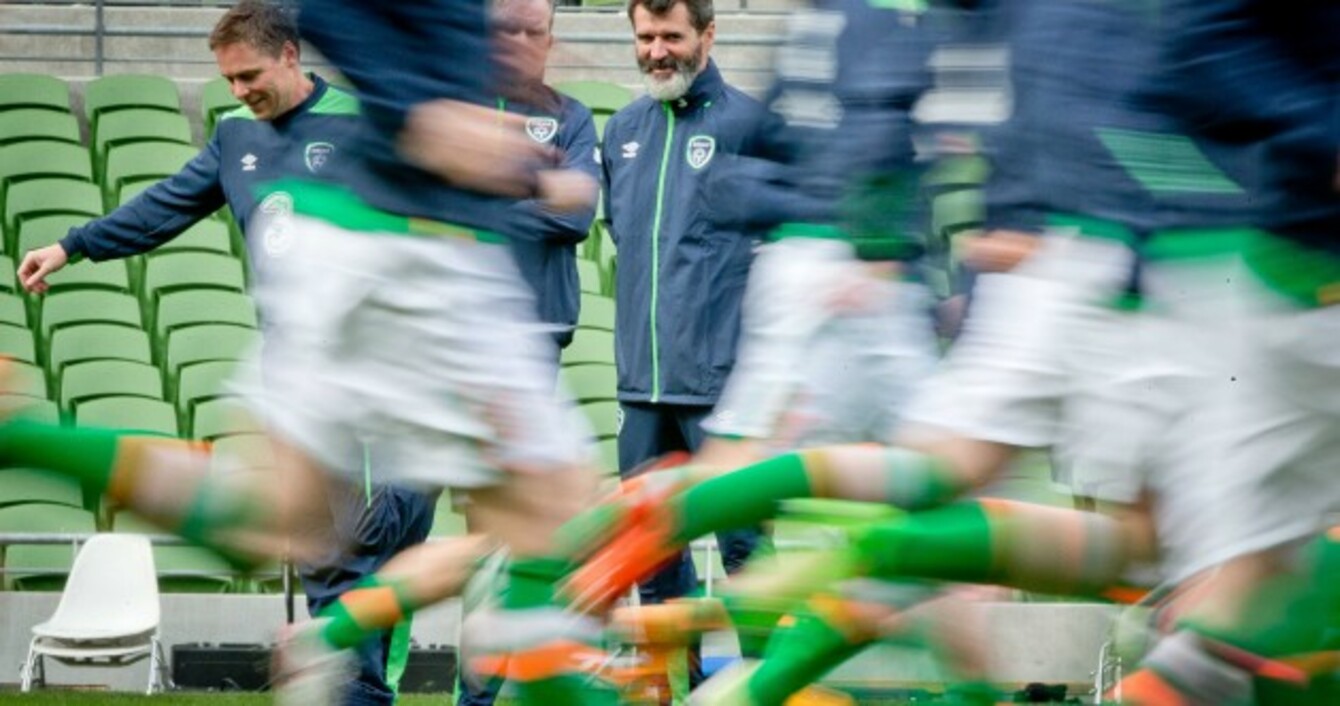 Assistant manager Roy Keane oversees training at Lansdowne Road.
Image: Morgan Treacy/INPHO
Assistant manager Roy Keane oversees training at Lansdowne Road.
Image: Morgan Treacy/INPHO
1. "The pitch meeting, according to Steph's father Dell, who was present, kicked off with one Nike official accidentally addressing Stephen as 'Steph-on,' the moniker, of course, of Steve Urkel's alter ego in Family Matters. 'I heard some people pronounce his name wrong before,' says Dell Curry. 'I wasn't surprised. I was surprised that I didn't get a correction.'
It got worse from there. A PowerPoint slide featured Kevin Durant's name, presumably left on by accident, presumably residue from repurposed materials. 'I stopped paying attention after that,' Dell says. Though Dell resolved to 'keep a poker face,' throughout the entirety of the pitch, the decision to leave Nike was in the works."
Here lads, you won't believe 'how Nike lost Steph Curry to Under Armour'.  ESPN's Ethan Sherwood Strauss pieces the story together. 
2. "Throughout the best part of three decades he has been Kerry hurling's answer to Johnny Appleseed. Wherever he has wandered, hurlers have sprung from the soil in his wake. The part he has played in Kerry hurling's most recent blossoming cannot be overstated.
Every single one of the Kerry panel that pulled off that brilliant 2-18 to 2-17 Allianz Hurling League Division 1B win over Offaly on Sunday have been coached by Leahy at some stage in their careers.
And, for the majority of them, Leahy is the man who has moulded them more than any other. Roughly 80 per cent of the Kerry hurlers went to secondary school in Causeway Comprehensive.
As a hurling nursery, it has always been Kerry's equivalent of St. Kieran's College in Kilkenny, and it is Leahy's domain."
John Harrington of GAA.ie chats to 'Mr Kerry Hurling' Maurice Leahy.
3. "'Conor McGregor got his ass kicked by a vegan,' boasted UFC Welterweight fighter Nick Diaz via Twitter, three days after his baby brother Nate's stunning submission win over UFC Featherweight Champion and Sports Illustrated cover boy Conor McGregor. A week removed from his upset victory, Nate can't help but echo his elder sibling's sentiments that toppling their sport's most gushed-over male athlete was a knockout blow in the back and forth over whether guys who don't eat meat can rule the Octagon."
Put down that rasher. Kenny Herzog on why the UFC's toughest fighters are going vegan. 
4. "Marcelo Bielsa is not known as El Loco – The Madman – for nothing. He rambles on for hours at news conferences but never gives interviews. He reckons that if players were machines he would never lose.
He once turned up at the house of a 14-year-old Pochettino in the small town of Murphy at 2am. He was accompanied by Jorge Griffa, at the time also a coach at Newell's Old Boys and credited with unearthing the likes of Gabriel Batistuta and Carlos Tevez. After inspecting the teenager's legs, the story goes, they promptly signed him.
But mad or not, Bielsa is probably the key figure in Pochettino's footballing life."
Spurs may well win the Premier League title this year for the first time; but who is the man masterminding their unlikely title tilt asks Paul Fletcher of BBC Sport.
5. 
What are they
really like?
Rare insights on sport's biggest names from the writers who know them best. Listen to Behind the Lines podcast.
Become a Member
Mary Hannigan talks to three broadcasters who are proving that Irish sports journalism is 'no longer the preserve of men'.  Mandatory reading for lots of us.  
6. "On the night before the biggest high school basketball game in modern times, two teenage prodigies—strangers, soon to be rivals—sat on a hotel staircase and bonded.
They talked for hours, though only briefly about basketball. The boys had so much else in common: raised by single moms; brought up in broken neighborhoods, amid drugs and gunfire and the blare of police sirens; their basketball skills honed on decaying asphalt courts.
The game was their escape, their salvation, and it had brought these two boys—a passing wizard from Akron, Ohio, and a scoring maestro from Baltimore—to this modest hotel in Langhorne, Pennsylvania, across from a Sesame Street theme park."
Bleacher Report's Howard Beck on the unique friendship shared by rivals LeBron James and Carmelo Anthony.
Source: The42.ie/YouTube