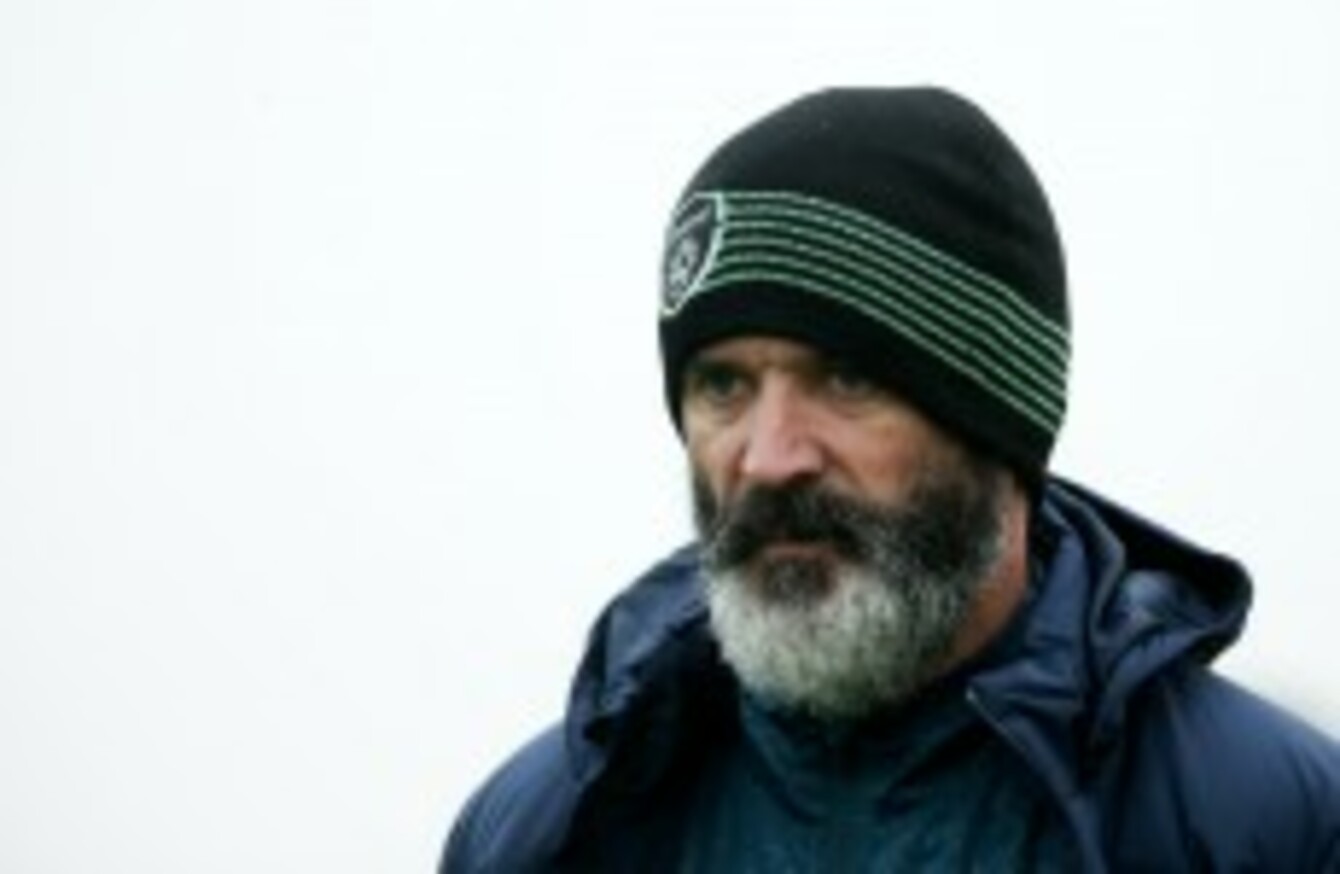 Image: ©INPHO/James Crombie
Image: ©INPHO/James Crombie
1. "He talked about playing a role, like being an actor," he says. "He's very clear that on the pitch he was playing a role, even the skinhead is part of it. But all these men he'd kicked, after his career he really began to enjoy their company. When he says he hated people, there's great respect in that."
As a Chelsea fan, Doyle says, he always used to take "a certain pleasure in seeing him sent off". But even then, he adds approvingly, "he always seemed to home in on people you'd like to see suffer a bit, like Alan Shearer. All the lads he went for had a certain git quality. His taste in enemies was quite good."
So, Roy Keane as misunderstood hero, heroic scourge of obnoxious centre-forwards? It's an appealing idea – even if, just as Doyle's saying it, Keane is down the corridor with a group of sports reporters, energetically laying into Ferguson yet again, and this time with a bit less subtlety than the version presented by the book.
Surely even Doyle wouldn't deny that there's a bit of the brute in him? A bit of a self-aggrandising strut? "We always talk like someone is either arrogant or self-effacing," he replies. "But we can be both. Show me someone who can be described by one adjective and I'll show you someone dangerous. I think we all deserve a good few adjectives to describe us – and Roy as much as anyone."
In a week spent analysing Roy's ranting, recrimination and reflection, many forgot about the guy who brought it out of him. Thankfully, Archie Bland sat down with Roddy Doyle for The Guardian to gain some insight into the entire process.  
2. During Wambach's freshman season in 1998, the Gators reached the NCAA title game against North Carolina, which had won back-to-back championships and 14 of the previous 16. Burleigh was just 31 at the time, and, as she watched her team take a 1-0 lead late into the match, she began gearing herself up for the final TV timeout. As the players ran off the field and huddled around her, she knew this would be one of the defining moments of her career.
Then, just when Burleigh was about to speak, Wambach stepped into the middle of the huddle and yelled, "We are not f—ing losing to these bitches!"
It wasn't exactly the speech Burleigh had planned, but there was nothing else to say. "OK then," she told her players. "Let's go!" And with that, they ran back onto the field, hooting and hollering, and eventually winning the national title, the program's only one to date.
Wambach comes by this bold, outsized personality naturally.
She grew up the youngest of seven kids. There was little room for sensitivity to words, for being thin-skinned, because coddling wasn't on the daily itinerary. So she grew into an athlete who could handle the blunt truth. This characteristic made her a kindred spirit of sorts for (Mia) Hamm, who took Wambach under her wing when they became teammates on the Washington Freedom of the upstart Women's United Soccer Association, the first in a string of failed women's soccer leagues. Hamm came from a big family, too — she was one of six kids — and she didn't mince words in giving Wambach constructive criticism. "She had heard that I was really unfit, which I was," Wambach recalls. "She would just tell me, straight up, to get it together. As soon as I started to realize that I could make a living playing professional soccer, I went to that place where I could torture myself because I knew it would make me better for the championship game."
With women's soccer such a complicated mess right now, especially with a World Cup on the horizon next summer, this is an illuminating profile of USA veteran striker Abby Wambach by ESPN's Kate Fagan. 
3. "He kept saying, 'Come back here.' Then he stopped and goes, 'I'll be right back.'"At that point, or possibly earlier, Donnie laid some old memorabilia on the bed he once shared with Tonya: a game ball from his first American League save, another from the '85 All-Star Game, some trading cards, a ball signed by Jackson. He placed a sheet of paper on the bed on which he'd written:
Comfort in the time of loneliness:
Psalm 23
Isiah 41:10
Hebrews 13:5-6
Guidance in time of decision:
James 1:5-6
Proverbs 3:5-6
Let go, Let God
He retrieved his .45-caliber handgun.
"I'll never forget, he had those purple Puma pants on," Tonya says of the next time she saw him. "He lifted the gun and put it to his head like this. I said, 'Really. You're gonna shoot yourself in front of your f—— kids?' Then he pointed it at me like this."
25 years after Donnie Moore's death, Sports Illustrated's Michael McKnight delves into the dark, unsettling story of the dark and unsettling pitcher.  
4. Nobody died in the race in Japan. But the French driver Jules Bianchi, 25, sustained severe brain injuries when he crashed into a heavy tractor clearing another wrecked car, and five days after the accident, the mood among the teams and drivers in the paddock was as dispirited as at any time since Senna's death. At a news conference Thursday, top drivers made little attempt to disguise their misgivings, using phrases like "a gray cloud," "a catastrophe" and "a bit of a shadow" to describe the atmosphere.
The drivers recited the reasons that competitors in extreme sports such as Formula One accept the inherent risks — essentially, that they compete for the exhilaration of venturing where few others go and deploying skills developed, as Bianchi did, in years of competition at lower levels of racing.
The risks of death or severe injury are not generally a popular topic in the Grand Prix paddock, and the German driver Sebastian Vettel, the current Formula One champion, spoke for most of the drivers when he said, in effect, that it was self-indulgent to dwell on the subject.
"We are all old enough to make our own decisions in life," he said. "It's our conscious decision if we want to go racing or not. I think if anyone is not happy, he's old enough to say, 'No.' "
Another top driver, Nico Rosberg, a 29-year-old German contending for this year's championship with his Mercedes teammate Lewis Hamilton of Britain, said that while what happened to Bianchi, a popular, debonair driver picked as a future champion, was "shocking," a driver's responsibility was to put his grief and misgivings away before taking to the track.
The New York Times' John F. Burns investigates where Formula One goes from here after another serious crash.