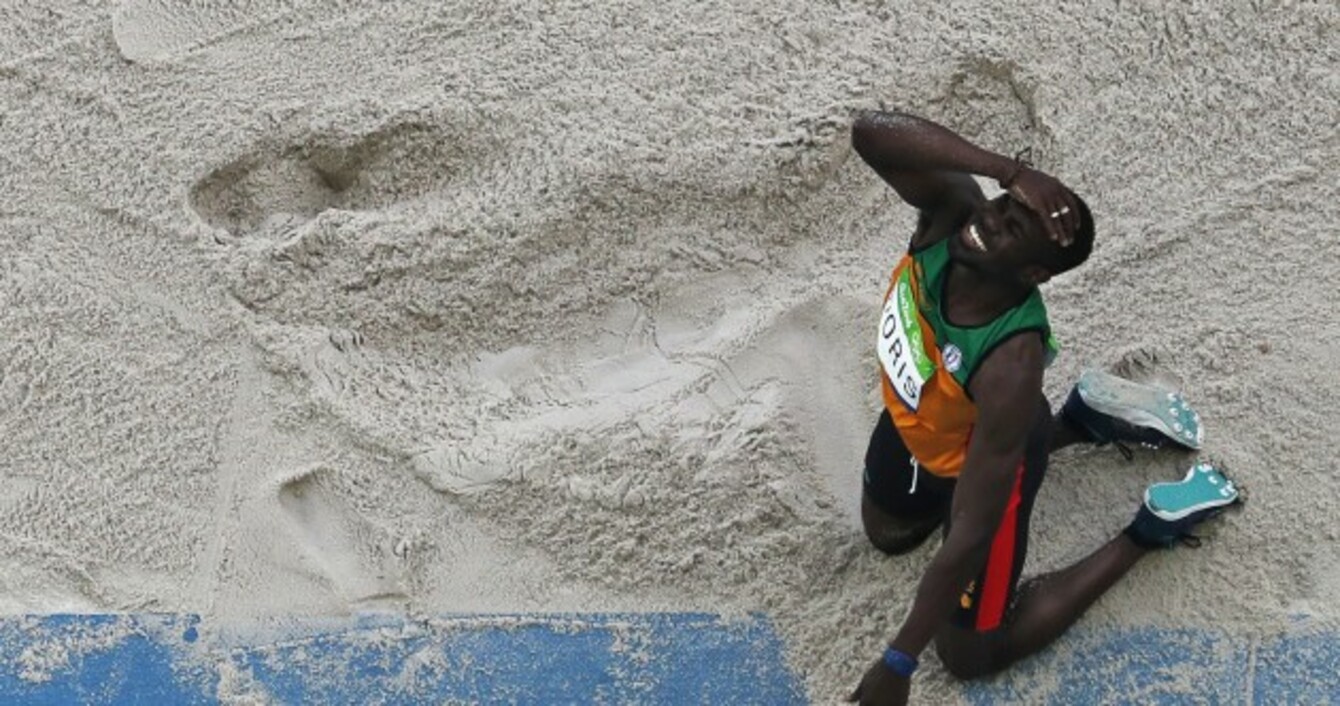 Image: Morry Gash
Image: Morry Gash
1. Simone Biles defied gravity. Simone Manuel defied history. Michael Phelps glared, still hungry. Katie Ledecky churned all alone. Meb Keflezighi did pushups. Allyson Felix anchored. Usain Bolt glanced at the heir apparent to his right and grinned.
A distance runner helped an injured opponent to her feet. A sprinter dove in desperation. A hurdler's toddler son capered happily on the track. A wrestler wept. Thirteen water polo players, one after the other, carefully looped their gold medals around a treasured coach's neck.
Neymar scored.
Yet amid the giddy 17-day narrative presented in high definition, two low-resolution videos stood out. One caught young athletes with a careless disregard of consequences. The other showed an older bureaucrat in a bathrobe who may have thought he was beyond any consequences.
A week after the 2016 Olympics ended, maybe it's time for some reflection. ESPN's Bonnie D. Ford looks at what we're left with: a mixture of infuriation and inspiration.  
2. Briefly he did wonder if he would ever make it back. "I remember I said I didn't know if I was going to play again. I didn't properly think that, but it did go through my head a couple of times at the start," Shaw says.
"Now, I don't like looking at the video any more because I've probably watched it enough. But I can look at the pictures. Even now, I think: 'Oh my God.' I've shown a few of the lads. They don't like them either and I can remember, on the night, Memphis [Depay] turning his head away because he didn't want to look.
"I was in shock, to be honest. The pain came later. I was just so upset because I knew I was going to be out for so long. You might have seen the picture where I had a tear coming down my face. They took me back to the dressing room and it was weird because at the start it didn't hurt as much as I thought it would have. I remember getting my phone, texting my mum and tweeting everyone. It sounds mad, I know, but my leg was broken and I didn't know what to do. I thought: 'I've got to do something.'"Then, that night, lying in hospital, I swear to God the pain was something else. Oh God, the worst you could ever imagine. My mum was next to me and I remember saying to her: 'They have to do something because I actually can't keep going with this amount of pain.' They had to open up my leg to pull out all the clotted-up blood. They put me to sleep, but it didn't stop the pain when I woke up again."
It's almost a year since Luke Shaw suffered an horrific leg break in a Champions League game against PSV Eindhoven. He spoke to The Guardian's Daniel Taylor about that night and coming back from the brink. 
3. The main event of SummerSlamfeatured Brock Lesnar, the UFC crossover megastar, against Randy Orton, the WWE mainstay. The match featured about 10 minutes of high-octane brawling, until Lesnar (literally) removed his gloves and started pounding on Orton, MMA-style, with fists and then elbows, tearing a gash in Orton's scalp that would take 10 staples to close. The match ended with reality-bending uncertainty, Orton writhing, Lesnar pacing, and officials stepping in to call off the fight. This would be bizarre were it not becoming the standard-issue uncomfortable aftermath to big Lesnar fights.
There were echoes of his brawl with John Cena that left Cena a bloody mess, as well as Lesnar's career-defining match against the Undertaker at WrestleMania 30 that ended abruptly after Taker took an ungodly pounding. Just like with Sunday's match, whether or not it was the intended finish, Undertaker was left with legitimate damage, and he went directly to the hospital after the match. On Sunday, the only thing that shook the fans back into sports-entertainment normalcy was WWE scion Shane McMahon coming to the ring and getting F-5ed by Brock.
After the match, Lesnar reportedly got into a scuffle with Chris Jericho, who had come to check on Orton. They were broken up by Vince McMahon, who reassured Jericho that everything had gone according to script. According to the Wrestling Observer newsletter, the plan was to make it look like Lesnar had gone "off-script," leading to a stoppage. Lesnar was supposed to give Orton a small cut with his elbow, but whether or not the gash came from Lesnar actually going off-script is an open question.
Writing for The Ringer, David Shoemaker looks at how in the midst of all the charade and the pantomime, the violence is getting more and more authentic with wrestlers really getting injured these days.   
4. This injury feels a little different from the average tennis setback. It feels different even from the average season-scuttling, surgery-necessitating setback that makes you worry a player will never be the same. I've been thinking about why it feels different, especially in light of two small but significant Federer occurrences that took place this month.
The first occurrence: Aug. 20 was the 10th anniversary of David Foster Wallace's essay "Roger Federer as Religious Experience," which was originally published in The Times's now-defunct sports magazine, Play. I've spent the last 10 years alternately loving and being exasperated by this work, which is probably a sign of all great essays; in any case, it's the piece of writing that did more to construct the terms in which we now view Federer than any other.
Wallace advances the impossibly ambitious, totally doomed and thrillingly beautiful idea that high-level spectator sports serve an aesthetic and even quasi-spiritual function, namely to reconcile viewers to the limitations of their own bodies. The body ages, breaks down, gets sick, suffers and dies. But when we watch Federer in peak moments, Wallace says, we imagine what it would be like to experience a physical freedom unburdened by pain or weakness, and this in turn helps us cope with the troubling fact of our own mortal embodiment.
After reading Wallace's description of Federer as "both flesh and, somehow, light" in 2006, it was hard to see Federer as merely a tennis player, even a great tennis player. Even the very best who ever lived. To many fans — including me, at times — he became something more than that. He became a kind of abstract principle, a living avatar of sport's potential for transcendence.
The second occurrence: Mercedes released a new commercial in which Federer goofs his way through different eras of tennis history. Have you seen it? It's fantastically silly. Federer appears in old-timey mock-newsreel footage with a wooden racket and a cable-knit sweater, shaking hands with a mustachioed duke. He plays freewheeling matches against Rod Laver and parks his red convertible under the Eiffel Tower. He becomes a 1970s bad boy, posing in the nude and throwing apocalyptic, McEnroe-ish tantrums on the court.
The joke here is partly about Federer's astonishing longevity as a player. But the ad is also funny because it exaggerates to the point of absurdity the essence of Federer's luxury-commercial persona, which is that he is a figure of timeless style. People who buy Rolexes want to believe they're part of a tradition that stands above mere fashion.
So here's the ageless Fed with his small, knowing smile, reminding you of values like "class" and "elegance," which market-test as pretty much eternal. Eras may come and go, the ads say, but Federer will always be Federer, and a Mercedes will always look good.
Brian Phillips writes about Roger Federer for The New York Times and ponders how we'll digest it when his ageless and relentless body finally gives up. 
5. Bakero expected certain qualities in a goalkeeper and it was Bravo's footwork that got his attention. He later described the Chilean as "spectacular" with the ball at his feet and even compared this elegance in possession to that of his former Barcelona team-mate Ronald Koeman, arguably the greatest ball-playing defender of his generation.
However, Bravo's first season in Spain was not a success. Bakero was sacked seven games into a campaign that culminated in the Basque club being relegated out of La Liga for the first time in 40 years. When Chris Coleman was appointed as coach for the following season, Asier Riesgo was preferred in goal and Bravo found himself on the bench in the second tier.
That decision is a reminder that not everyone within football is wedded to the notion that the anticipatory goalkeeper is de facto superior. When Hoek lists the archetypal R-type goalkeepers, he includes such celebrated names such as Gordon Banks, Dino Zoff and Oliver Kahn. His prototype for the A-type goalkeeper is Fabien Barthez.
Some would scoff at the idea of the Frenchman being preferred to that trio. For those unconvinced by the particular style of play instituted by Cruyff, his quality was perhaps not so obvious. But Hoek and others judge him differently. The bad news for Joe Hart is that the difference in approach is so fundamental that there can be no compromise.
Asked whether he'd ever change his view of what's expected, Guardiola toldSky Sports: "It's impossible. When you lose a game if you believe in that you have to keep going. It's going to happen when you use the goalkeeper that he makes a wrong pass and you receive a goal. People will say, 'Why don't you hit the ball [long]?" but we have to insist on that."
For Sky Sports, Adam Bate explores the reasons why it makes so much sense for Claudio Bravo to be Pep Guardiola's anointed goalkeeper.  
The42 is on Snapchat! Tap the button below on your phone to add!