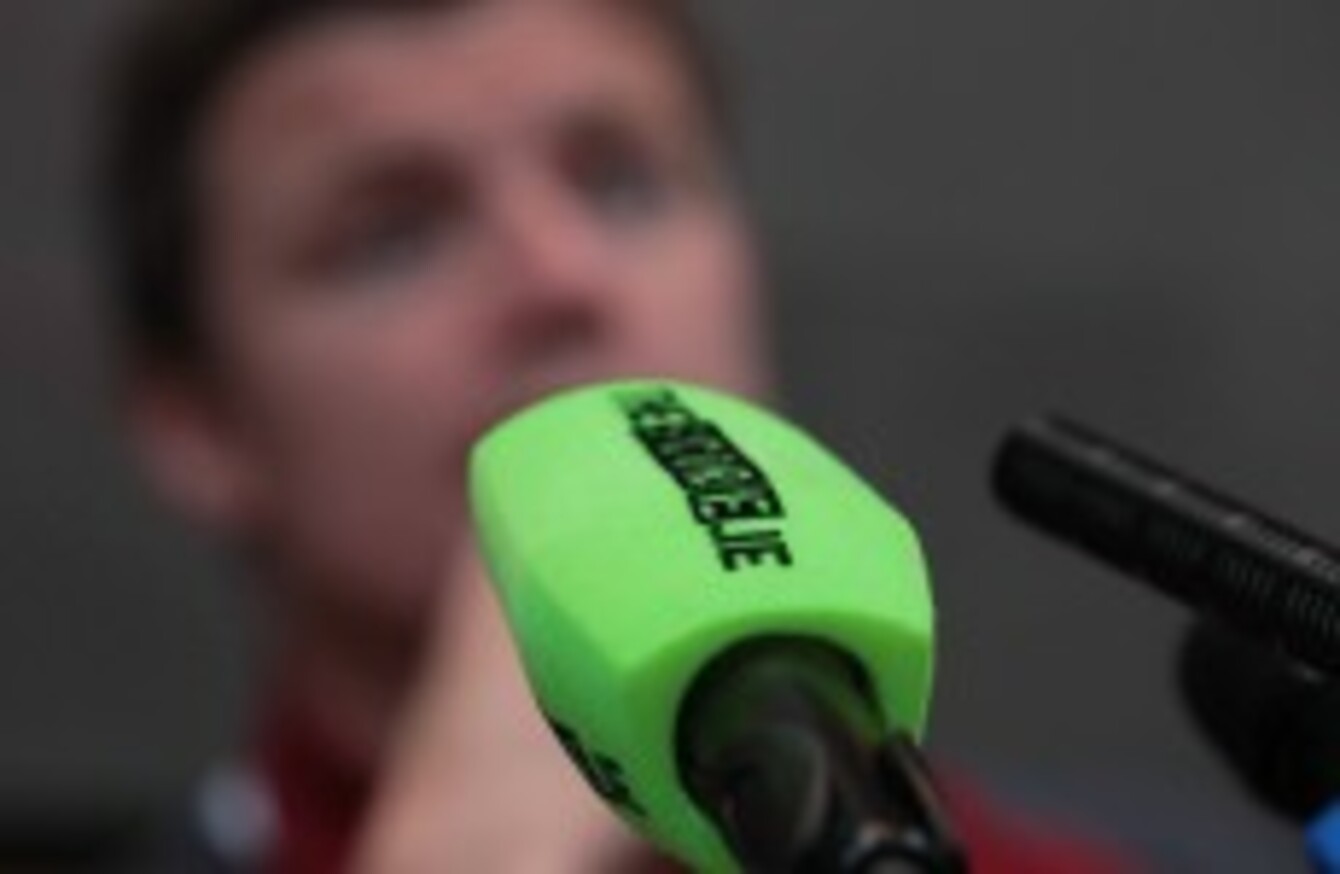 BOD gets acquainted with TheScore.ie microphone at Thursday's press conference in New Zealand.
Image: ©INPHO/Billy Stickland
BOD gets acquainted with TheScore.ie microphone at Thursday's press conference in New Zealand.
Image: ©INPHO/Billy Stickland
1. "A motley crew of nine journalists get the train to Poznan just after 9am with an advance crew going even earlier. The train is something of a throwback but comfortable and there is impressive multi-tasking by one employee. One minute he's pushing a trolley up and down the carriages and the next thing he's whipping up some scrambled eggs in the buffet. In Gdansk it's a hectic trip to the stadium to collect accreditation, back to hotel to dump stuff and then back out to stadium for the Press conferences. Robbie Keane gets the media onside when he politefully but forcefully tells the UEFA official who has been picking out Italians to ask questions that, as a country, Ireland have waited long enough to be here and their journalists should be given a chance to be heard. Ask Robbie about his memories of winning the under-18 European Championship in 1998 when they beat Croatia 5-2 in a group game in which the current Croat keeper Stipe Pletikosa also played. I ask him too and he provides good copy on someone he knows from a stint at Spurs."
In a blog post for the Football Writers Association, the Irish Sun's chief sports writer Neil O'Riordan goes through the minutiae of his first week with Ireland's Euro 2012 camp. Featuring nail polish, sex appeal, dumb Irish journalists, and the most powerful girl in Poznan.
2. "This is a story about the real cost of steroids in baseball — not the broken records, not the litigation, not the talk-show drone about the elite players who juiced and how to weigh their Hall of Fame candidacy. This is a story about the hundreds, even thousands, of anonymous ballplayers whose careers and lives were changed by a temptation that defined an era. It is also a story about the secrets we keep and the casualties we create when we allow the corrupt to go unspoken — especially when the corrupt is something far more horrific than steroids."

We missed this a couple of weeks ago but it would be a shame to ignore it. For Sports Illustrated, Tom Verducci takes a look at the steroid epidemic that took baseball in its clutches and refused to let go .
3. "Hurling snobs are the oddest of breeds. It's not only that they just dislike football and complain about the lack of skill, but in many cases they are ignorant towards their own sport as well. If it's not about Kilkenny or Dublin, about Cork or Tipperary, about the two provincial championships that make up the Liam McCarthy Cup and flit by with so few games to get hearts beating at pace, then it simply doesn't matter to them. Ask a football person about the strengths and weaknesses of a lower-tier team like Carlow or Leitrim and you'll get some sort of an answer. Ask a hurling person about the strengths and weaknesses of a mid-tier team like Kildare or Armagh and you'll most likely get a laugh."
After spending last Saturday with the Fermanagh hurlers at the Lory Meagher Cup, Ewan McKenna was moved to take up the mantle of the game's little guys in this piece for Eircom Sports Hub.
4. "In the iconography of post-revolutionary Cuba, one athlete stands above many others alongside Fidel Castro and Che Guevara. When the greatest heavyweight in the history of amateur boxing, Teófilo Stevenson, died this week at the age of 60, he took with him a little of the past that probably will never be revisited."

Boxing — and Cuba — lost an icon this week with the death of Teofilo Stevenson at the age of 60. In the Guardian, Kevin Mitchell takes a look at what he meant to his country.
5. "The patio furniture that ITV have shipped over from Chiles' conservatory is patently designed to be sat on in a certain way. Stiff back, eyes forward, legs planted on the floor like tree stumps. There's no room for reinterpretation – this isn't 'jazz furniture' we're dealing with, like a love seat or one of those hollowed-out eggs that hung from the ceilings of tossers in the 1970s. But Keane is a furniture renegade. Keane thinks differently from the rest of us. Today, Keane chose to… slouch. Not a major slouch, like the slouch of a drunken colonel at 3.35pm on a Sunday afternoon, the kind of snoozy slouch where the head becomes welded into the upper chest and has to be prised away with warm soapy water just as Points Of View starts."
The Mirror's Andy Dawson reckons that Roy Keane is a short step away from going postal on the ITV couch. Here's hoping.
6. "When Michael Buffer read the scorecards Saturday night in boxing's worst robbery in a major fight since Pernell Whitaker and Julio Cesar Chavez fought to a "draw" in 1993, I was sitting beside a columnist forPhilBoxing.com, a news site that often reads like the Manny Pacquiao Ministry of Propaganda. We were six or seven rows back from ringside, and when it became clear that Timothy Bradley Jr. had been declared winner by split decision over the heavily favored Pacquiao, my companion shot out of his chair and shouted: "WHAT'S HAPPENING? WHAT'S HAPPENING?? THIS IS MADNESS! WHO IS THAT GUY WHO DID THIS?""

If the opening paragraph isn't enough to hook you in, there's no saving you. Rafe Bartholomew's ringside report on the Pacquiao-Bradley madness for Grantland is great.