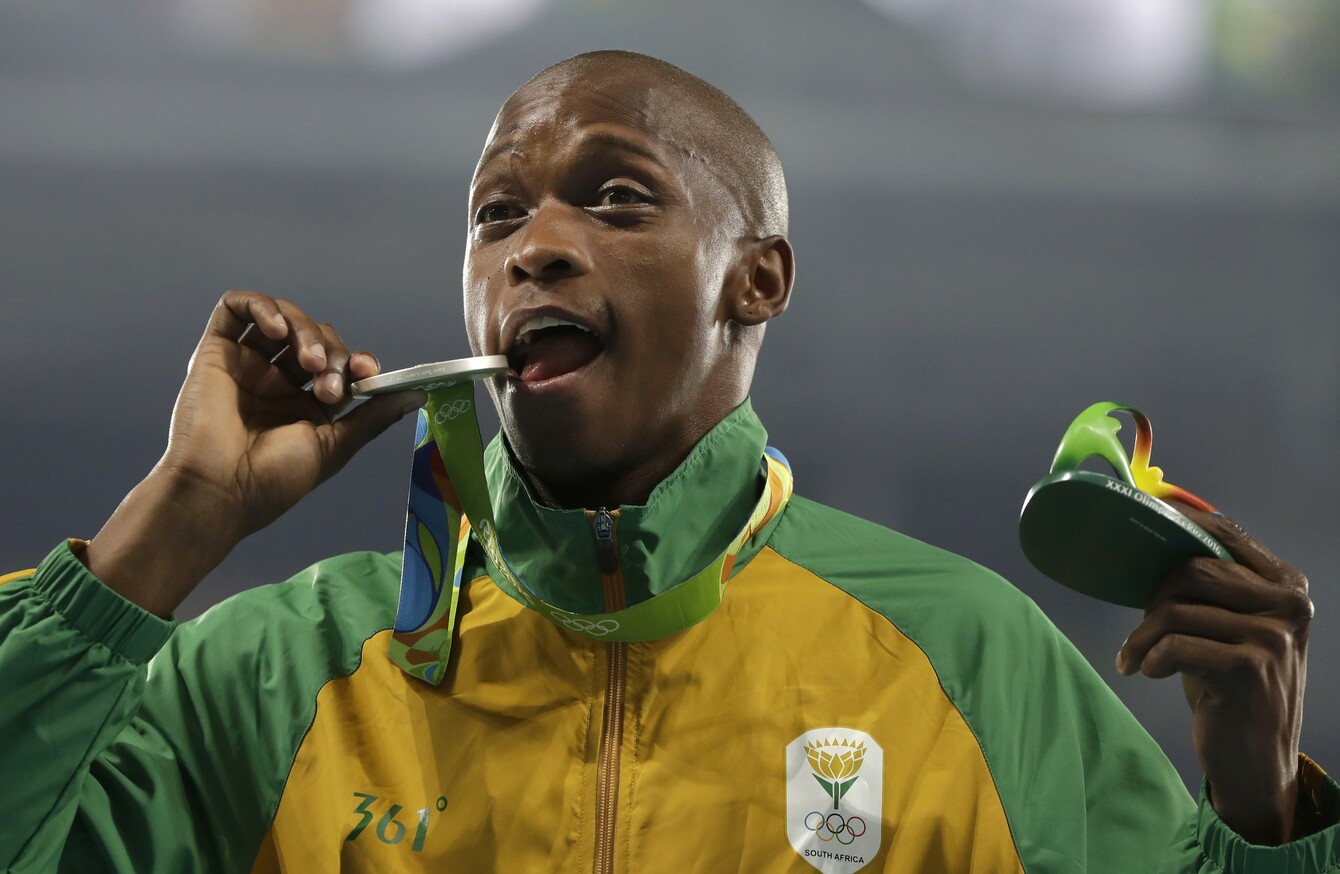 Image: Kirsty Wigglesworth
Image: Kirsty Wigglesworth
1. Luvo Manyonga's face suggested silver was enough. A little after 10 on a Saturday night back in August, he'd just been beaten down to the second step of the podium in the last round of the long jump final. But of course silver was enough. He grabbed a South African flag, beamed out the sort of smile that most in the arena didn't fully understand and began to ask himself a question.
"Is this real? Is this real? Is this real?"
By then it was after three in the morning back in the Western Cape, and John McGrath sat on a friend's sofa, the moment allowing for a brief break from the brutal pain. The Waterford native had gone through a double back operation a couple of days earlier, but this achievement did more than even the high doses of morphine. As much as the eyes of the world were on Manyonga and what he'd achieved, he'd helped him to achieve – and, at a personal level, that meant everything. Indeed, had he heard the question in his friend's head, he would have had an instant answer. "Of course it's real."
*********
There was a stage when McGrath said Manyonga would either be on an Olympic podium in 2016 or dead by 30, as the young athlete would tell him about friends killed on his doorstep. "With tik, someone owes money or there's a bust and you're there. If you do the right thing, you end up in the right places with the right people. If you go against that, something is going to come up bad." He was right – it was a choice between a podium and death.
And that was the reason behind Manyonga's smile that night in August, and McGrath easing into the couch and forgetting about the screams from his back. It should have been the perfect climax but life's tales aren't always book-ended neatly; relationships sometimes just have an ending, rather than a happy one.
John McGrath, a Waterford strongman and former champion rower and kickboxer, helped disgraced athlete Luvo Manyonga choose between the podium and death. Ewan MacKenna wrote about the transformation in the Sunday Independent.
2. Wednesday afternoon on the sands of Saltburn and the theme of a bracing winter's afternoon was second chances.
The Middlesbrough Football Club Foundation were holding a session of beach football for 20 young adults for whom life hasn't always easy. Some have experienced problems with drink or drugs while others have suffered mental health issues.
Ibrahim, for example, is Syrian and has needed help with integration. Steve, meanwhile, used to think of suicide.
Weekly football sessions have helped both of them and both are decent players, as it happens. Neither, though, are in the league of the tall guy who has joined them fresh from training inland.
Patrick Bamford is back at Middlesbrough following a £6m transfer from Chelsea and looking for a fresh start of his own. 
Ian Ladyman's interview with Middlesborough's new signing Patrick Bamford for The Daily Mail.
3. Dr Claire Molloy blames her current existence on mathematics. It was 2005 and life was moving along just fine for the teenage corner back as Galway returned to the All-Ireland football final.
Rugby was something she grew up watching male classmates do at The Jes. The GAA was her tribe.
"It was my Leaving Cert's fault! Not getting an A1 in honours Maths. I had applied for medicine in Ireland but the paper didn't quite go my way.
"I applied for Cardiff [University] as a back-up plan."
The back-up plan wasn't supposed to lead to an eight-year residency in Ireland's number seven jersey.
Be part
of the team
Access exclusive podcasts, interviews and analysis with a monthly or annual membership.
Become a Member
Gavin Cummiskey's piece on Ireland star Claire Molloy for The Irish Times
4. Duncan Jenkins' death is better known than his life. The mortal wounds were inflicted on Wednesday 22nd August, 2012 over a two-hour meeting at Evuna, a low-key tapas restaurant on Deansgate in central Manchester. Two months later, a senior Liverpool official was revealed as the man across the table, marking the end for Jenkins and the start of surreal, tragi-comic scandal.
In life, Jenkins was a 'perspiring' football writer who couldn't write. A wannabe without an ounce of self-awareness, but a surplus of self-belief. So far, so unremarkable. But his connections at Anfield seemed impeccable.
Mike Henson shares the story on The Set Pieces.
5. On the first day of my sentence at Leavenworth Penitentiary, on November 19, 2007, I made a list of three things that I wanted to accomplish. One was to make it home from prison safe. Two was to see my grandmother again, before she passed away. And three was to return to the Atlanta Falcons as their starting quarterback — and finish what I'd started.
I wanted to lead the Falcons to the Super Bowl.
When I tell people this, at first, I think most of them have the same reaction — that I was delusional. Mike, you really thought, after all that, that you were going to come back to the Falcons … and start at quarterback … like nothing had happened?
Former Atlanta Falcons quarterback Michael Vick's piece on The Players' Tribune is perfect Super Bowl preparatory reading.
1. Did you read sports Twitter over the weekend? Notice how your favourite sportswriters were blasting Donald Trump's executive order on immigration like the protesters at JFK's Terminal 4? As Trump goes, such resistance is becoming typical. For sportswriters, it could be a watershed. If there was a thin line between sportswriting and political advocacy, this weekend erased it forever. The era of "stick to sports" is over.
These days, when a Republican politician does something obnoxious or destructive, we expect them to be met by an advance guard of sportswriters like Craig Calcaterra, Dave Zirin, David Roth, and somebody from Deadspin. You know, the enforcer types.
But gaze at this (partial) list of writers and personalities who stuck pins into Trump over the weekend: Zach Lowe, Tim Kawakami, Pete Abraham, Charlotte Wilder, Greg Bedard, Pablo Torre, Howard Beck, Sarah Spain, Molly Knight, Stewart Mandel, Jemele Hill, Spencer Hall, Timothy Burke, Joe Vardon, and the proprietors of the MGoBlog. They cover different beats, have different corporate parents, live in different parts of the country, and come from different generations. None of them "stuck to sports." When Bomani Jones begins to blend into the crowd, something about sportswriting has changed, and we have entered virgin territory.
'Sportswriters have been awakened by Donald Trump's presidency. Is that what their readers want?' - Bryan Curtis for The Ringer.
The42 is on Instagram! Tap the button below on your phone to follow us!