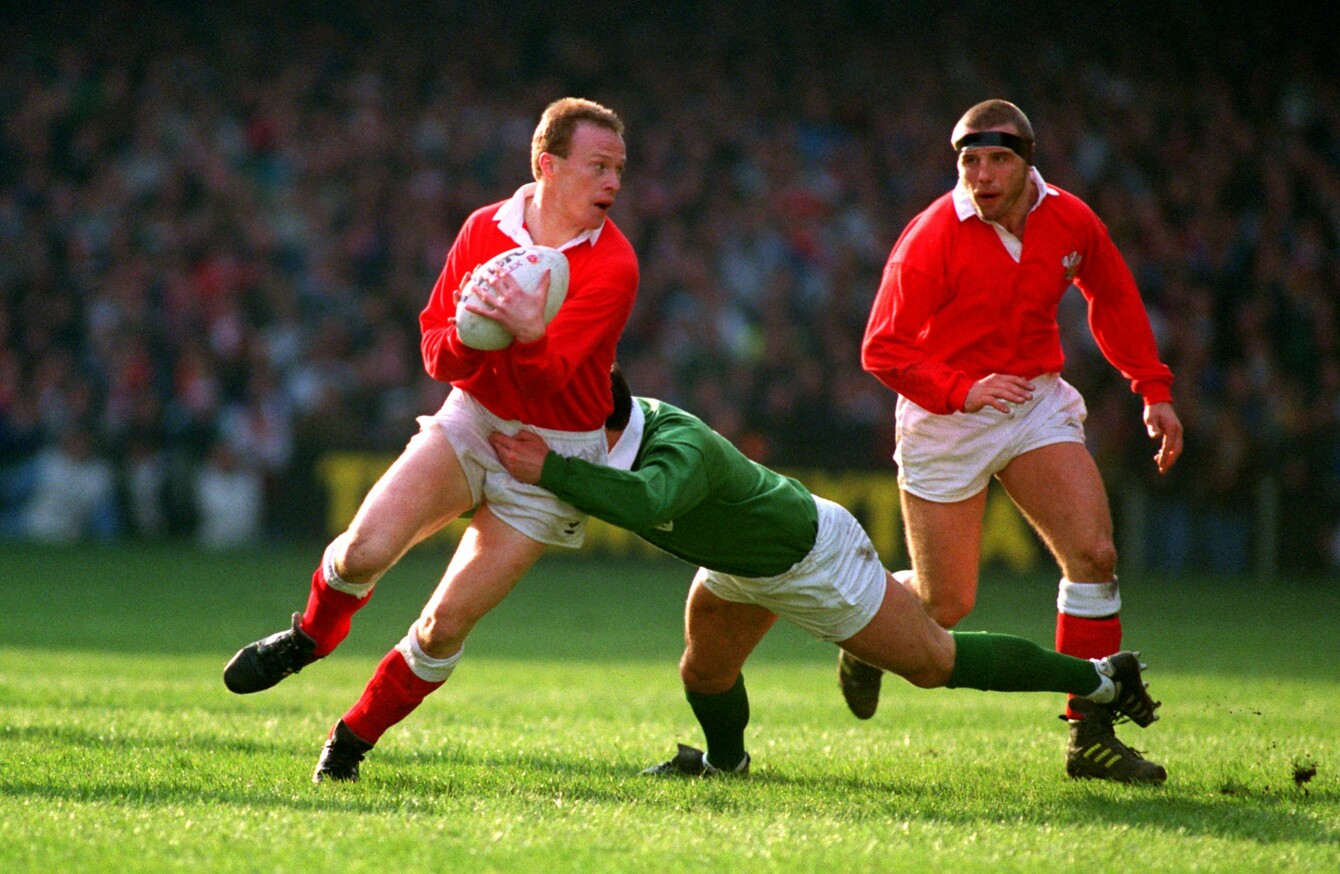 Paul Thorburn, Welsh Skipper, tackled, by Rob Saunders, Irish Skipper, during a 1991 Five Nations match at Cardiff Arms Park.
Paul Thorburn, Welsh Skipper, tackled, by Rob Saunders, Irish Skipper, during a 1991 Five Nations match at Cardiff Arms Park.
1. "AT NOON ON Saturday, Alan Shearer was in place to watch the early kick-off, sitting in front of a bank of monitors inside a building in Salford Quays, where The Jeremy Kyle Show is also filmed. It is an intimate room; a coffee table, armchairs. Shearer calls it the "inner-sanctum." The programme's lead pundit is definitive, imposing and quick to laugh. Beside him sits Mark Golley, an analyst and behind is Mark Cole, the BBC's head of football."
In a piece for the Times, George Caulkin explains how Match of the Day became relevant again.
2. "It was April 25, 2012, and inside the Southern California Orthopedic Institute in Van Nuys, a renowned surgeon hovered over a baby-faced, decreasingly conscious Curry. In the vast majority of the ankles operated on by Dr. Richard Ferkel, who's cut thousands of holes into hundreds of NBA players since 1983, he knew precisely what he'd find well before the anesthesia started pumping — structural damage, scar tissue, etc. But here in this fourth-floor operating room, something wasn't adding up with his 185-pound patient. As the clock ticked and the Curry family prayed just down the hall, Steph went to sleep a mystery."
ESPN's Pablo S Torre on how Stephen Curry got the best worst ankles in sports.
3. "In England, many top soccer clubs, including Arsenal, Chelsea, Manchester City and Liverpool, operate a women's team alongside their more famous men's team. In Spain, teams like Barcelona, Athletic Bilbao, Atlético Madrid and Espanyol do the same. In France, the top-division clubs Paris St.-Germain, Lyon, Montpelier and St.-Étienne also field professional women's teams while in Germany the group includes Bayern Munich, Wolfsburg, Bayer Leverkusen and Hoffenheim.
"In Italy, the number of clubs with teams of both sexes playing in Serie A — the league that on the men's side includes famed organizations such as A.C. Milan, Inter Milan, Juventus and Roma — is much smaller."
Writing for the New York Times, Sam Borden looks at how one top Italian club alone is supporting women's soccer.
4. "On West Pico Boulevard in Los Angeles, an overgrown tree obscures a whitewashed, two-story building sandwiched between a radio station and a studio lot. Inside, it's a time warp. The battered carpet is blue, and the rippled wallpaper is bubbling, peeling off. Behind glass is a showcase of dull trophies and yellowed photos from another era. Everything is labeled "Los Angeles Rams." That team, of course, left LA, its home for nearly half a century, for St. Louis after the 1994 season. But on most days since, this nondescript office has remained open, staffed by two people: John Shaw, the former team president who engineered the franchise's flight from Anaheim to St. Louis, and his secretary. They work in this nearly invisible team outpost, as if the Rams never left."
ESPN The Magazine assess how the league's return is 'emblematic of how power in the NFL truly works'.
5. "When Wales played Scotland in Cardiff 30 years ago, it was 16-15 in the second half when Welsh outside-half Jonathan Davies, clearing just inside his own 22-metre line, was obstructed. The whistle went and the penalty was awarded on the left-hand side of the pitch, just before the Welsh 10-metre line.
Be part
of the team
Access exclusive podcasts, interviews and analysis with a monthly or annual membership.
Become a Member
"The crowd waited for the kick to touch that would surely follow. But Wales's fullback Paul Thorburn, speaking to skipper David Pickering, had other ideas. He later recalled: "I had told David Pickering that I would have a go and knew that if I missed, it would still leave play in the Scottish half."
Another excellent ESPN piece, as Huw Richards remembers when Wales' Paul Thorburn booted himself towards a shot at the NFL.
6. "Claudio Ranieri won more points per game than any other Serie A manager in the 2009-10 season but finished second, just behind José Mourinho's Internazionale, because Roma had lost their first two matches of the campaign before hiring him. In 2013-14 Ranieri's Monaco amassed 80 points in Ligue 1 in their first season after promotion, the most any team have achieved in France without winning the league, which was retained by the established monarchs, Paris Saint-Germain. Oh so close, but no titles."
Writing for The Guardian, Paul Doyle suggests Claudio Ranieri's past achievements have been underestimated.
The42 is on Snapchat! Tap the button below on your phone to add!