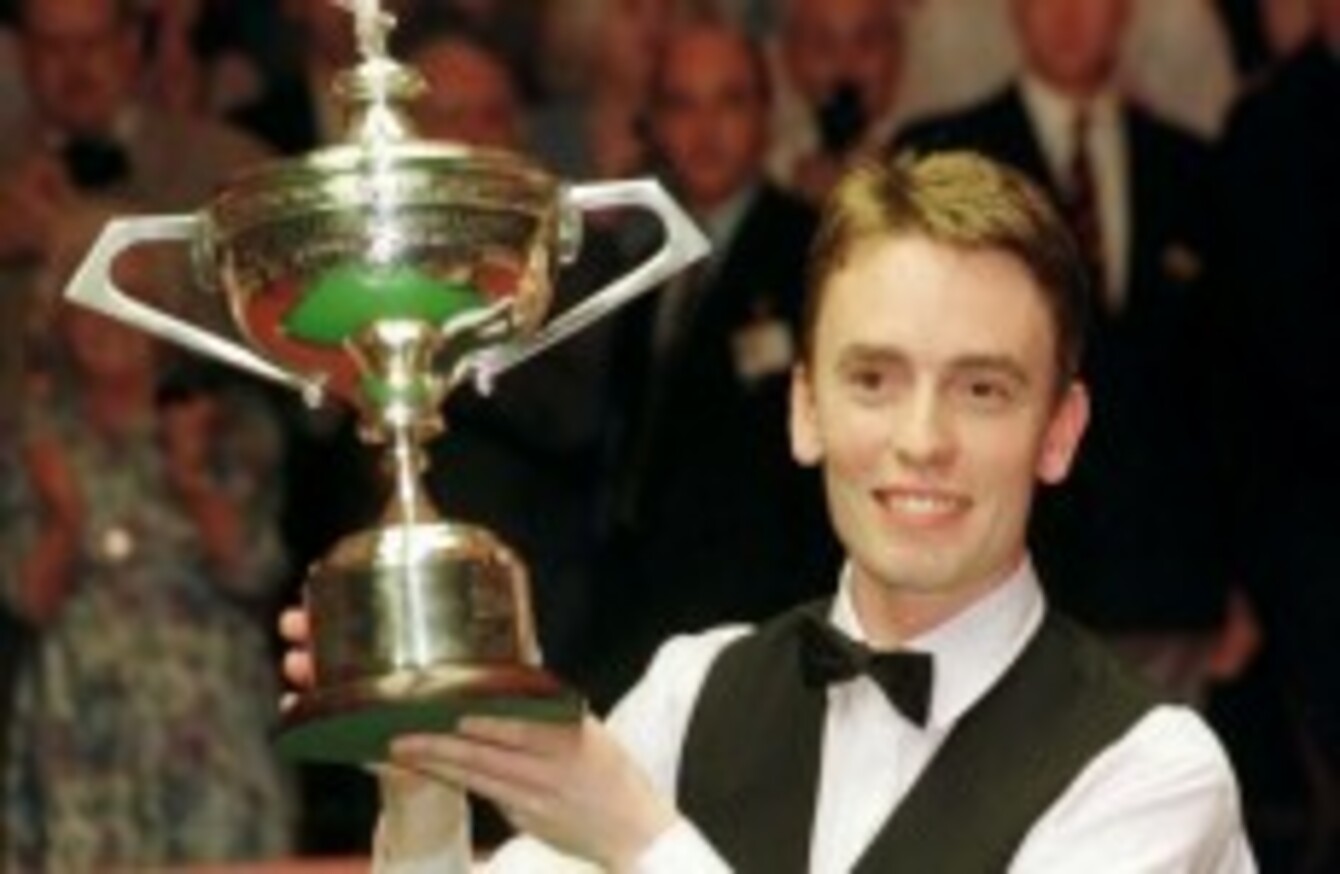 Image: Paul Barker/PA Archive/Press Association Images
Image: Paul Barker/PA Archive/Press Association Images
5. The Rocket Fails To Take Off
There's a reason why Ronnie O'Sullivan is box-office. Because like the other great impudent talents, no one quite knows what they're going to get at any given time. His best moments in Sheffield have been overshadowed by the often-unbelievable meltdowns. And there have been many meltdowns. In 2000, he was 5-1 up against David Gray but still went out. Three years later, facing Marco Fu in the first round, O'Sullivan racked up a 147 but was beaten 10-6. In 2005, he took on Peter Ebdon in a quarter-final and raced into a 8-2 lead. He lost 13-11. But, it's his semi-final defeat to Graeme Dott in 2006 that lives long in the memory.
Writing in the aftermath of the match, The Observer's Phil Yates commented, "Think Greg Norman's collapse in the 1996 Masters. Remember Jana Novotna's freeze on the verge of becoming queen of Wimbledon in 1993. Ronnie O'Sullivan unravelled equally sadly at the Crucible in Sheffield".
Just two years previous, O'Sullivan demolished Dott in the final. In fact, he had beaten Dott in ten of their previous twelve meetings. As the pair headed into the final session, the match was tied at 8-8 but by lunchtime the following day, O'Sullivan trailed 16-8.  O'Sullivan spent the vast majority of the trouncing with a towel covering his face. Dott tacked on the all-important seventeenth frame and O'Sullivan was out. Box-office.
4. Stephen Hendry: The relentless winner
The Scot won seven world titles. He racked up a 147 in a Crucible semi-final against Jimmy White in 1995. In 1992, he was 14-8 down and about to lose the next frame. Instead, he cleared the table and won the next ten to win his second world championship trophy. Stephen Hendry had ice coursing through his veins. A ruthless and relentless winner, he was cool incarnate. There's a great story of how at the UK Open in 1991, Hendry was in the middle of brushing past Alex Higgins. In the players room, Higgins began mouthing off. Before the start of the next session, Higgins approached Hendry and said 'Hello, I'm the devil.' Hendry didn't bat an eyelid and easily dispatched Higgins 9-4.
Hendry's biggest problem was that he never carried the same sense of danger as 'the great entertainers'. He wasn't never presented with a menacing nickname like 'The Rocket', 'The Hurricane', 'The Whirlwind'. He never had the personal journeys like O'Sullivan, Higgins or White. He was just a kid from Scotland that played really, really great snooker and loved to win.
But it's the 1992 final that really defined Hendry as a player. Trailing Jimmy White 14-10, Hendry's number was up. No one had ever come back from four-down in a final session before. White was in pole-position, 31 ahead with 35 on the table. Then, he missed a red. Then, he played a reckless safety. He returned to his chair and took a deep breath. There was a difficult red open. Hendry picked up the rest and never looked back.
Source: siflippant/YouTube
3. Ken Doherty is crowned champion in 1997 
Doherty has delivered some of his best snooker in Sheffield – making the final in 1998 and again in 2003. The latter tournament is best-known, not for Mark Williams' eventual victory, but for the Dubliner's incredible array of comebacks. His first and second-round games went the distance, as did an epic semi-final against the late Paul Hunter. At one stage, Doherty trailed 15-9 but in a sensational final session, Doherty dug deep and claimed a superb 17-16 victory.
Source: Alex0paul/YouTube
In 1997, Doherty defeated Hendry in the decider but to put the result in context, it was the Scot's first Crucible loss since 1991, a total of 29 matches. In the process, Doherty became the first  non-UK player, since Cliff Thorburn in 1980, to be crowned champion.
Doherty won 18-12. The sweetest moment? Sinking that blue. What a wonderful Irish sporting moment.
Source: Nuno Correia/YouTube
2. Dennis Taylor's epic triumph
The clock ticked past midnight. It was now April 28th, 1985. 18.5 million people in the UK were glued to BBC2. They were engrossed by two unfashionable men, wearing unfashionable clothes, playing an unfashionable game. This was the golden age of snooker.
The match went to the wire. 17 frames apiece.  Dennis Taylor was at the table. Four balls remained. He needed all of them to win. He planted a difficult brown. Next up was a tricky blue. He took his time before the pink. Steve Davis wore a wry smile. Taylor sunk it. It was all on the black. And the rest made for unbeatable sports broadcasting.
Source: snookermaximum/YouTube
1. Eye of the Hurricane
Alex Higgins never recorded a maximum break in competitive snooker. Yet, in 1982, he claimed the world title with a 135. Of all the places to tally such a break, it was textbook-Higgins to do it with such an audience watching. For the greatest show-off in town, this was his comeback. Ten years on from that young, scrawny, wide-eyed kid becoming an unlikely champion, here he was – free from the baggage, the controversy, the noise. The returning hero.
As Higgins destroyed the table with poise and precision, his opponent, Ray Reardon, could only watch and mull over his mistakes. In many ways, this final frame defines snooker as a sport. On the outside, it's calm, gentle, sensitive. But for the competitors, the distance between glory and abject humiliation is so fine. A minor error can be punished in an instant and, depending on circumstance, you may not get an opportunity to atone for a previous slip. There's a perverse torture to it all.
Maybe that's why it remains such a great sport.
Source: Jason Dalitz/YouTube