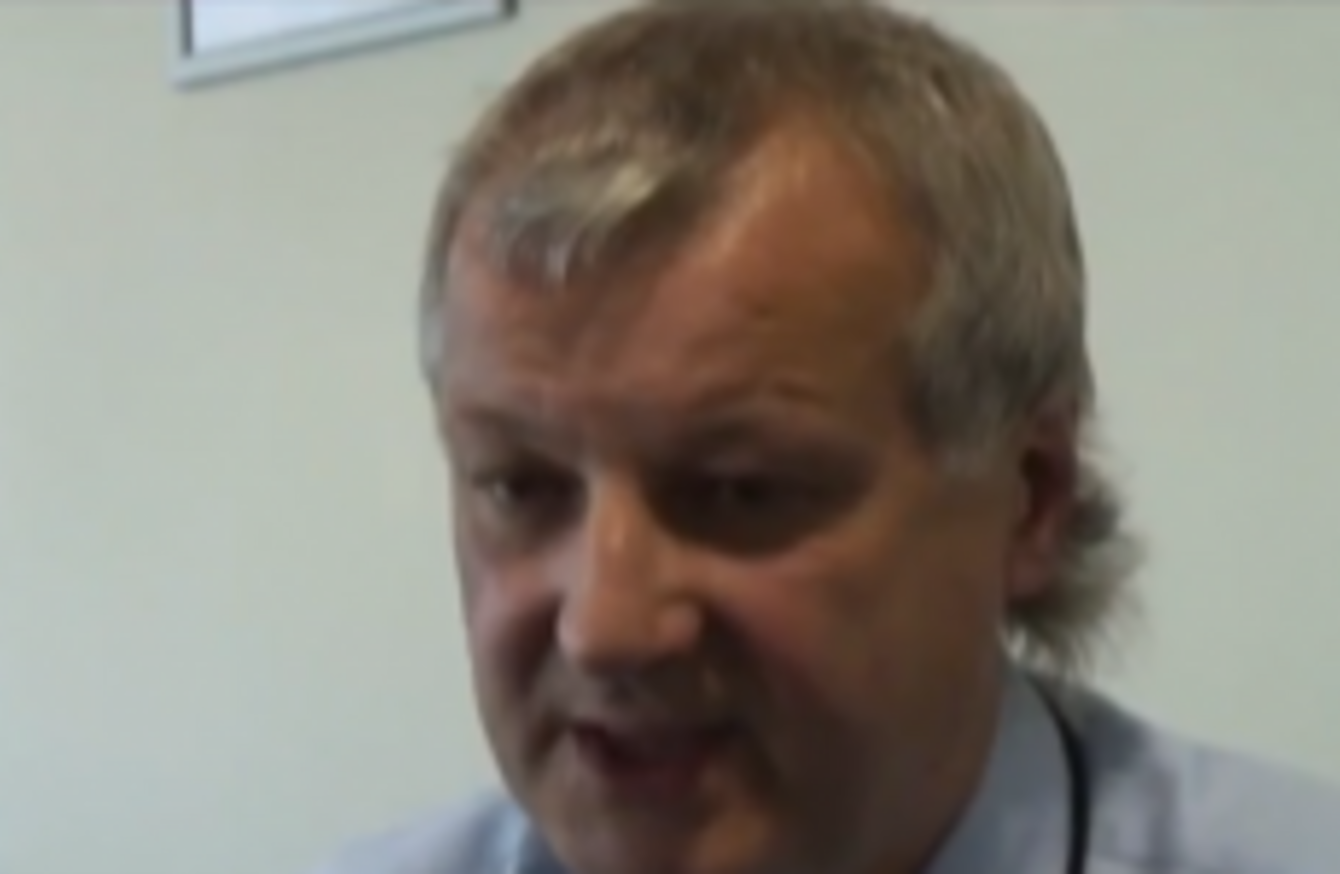 Image: YouTube: sportsanalytics
Image: YouTube: sportsanalytics
BILL GERRARD is the Professor of Business and Sports Analytics at Leeds University, the holder of a UEFA 'B' licence in football coaching, the man who helped Bolton Wanderers to streamline their player recruitment in the mid-2000s and he has worked closely with Billy Beane of the Oakland A's.
It's quite the CV, but the Scot's greatest impact may be in rugby, where he is currently at the forefront of statistical performance analysis thanks to his groundbreaking work with Saracens in the Aviva Premiership.
The London-based club has been the perfect "spiritual home" for Gerrard's deep form of data analysis, given the their evidence-based approach to improving and learning. That mindset began in 2009 when Brendan Venter, a qualified GP, was appointed Director of Rugby, as Gerrard explained to TheScore.ie.
Brendan is very much immersed in the evidence-based approach, so he brought that. The way that he coaches is very much based on the way he works as a doctor, very people-centered. The two key things in any organisation that Brendan's involved in would be that it's evidence-based, making sure we're practicing the best we possibly can, and a huge emphasis on player development.
"He brought in a full-time sports psychologist, who runs a personal development programme for the players, and on the evidence-based side he brought me in on a part-time basis, but it's really been a regular week-on-week thing."
Gerrard came on board in March 2010, with a briefing to turn the huge amount of data Saracens had already started collating into something that would make them a better team. That means searching for patterns in the data and transforming it into evidence to help inform coaching decisions on player recruitment, tactics, team selection, match preparation and training priorities.
Brendan Venter launched the Saracens project in 2009. David Davies/PA Archive/Press Association Images.
At most clubs, that would mean working with the data offered by a third party statistics provider such as Opta or Infostrada, but at Saracens the workings are different. Instead, Gerrard is tasked with analysing data gathered by the Saracens' coaches themselves when they do video reviews of their own games.
"The coaches put in a hell of a lot of effort to analyse the video of the games. At Saracens, they went that one bit further in being systematic about recording the analysis of the video. As soon as you do that, someone like me can get to work.
"At the beginning, the coaches inevitably get caught in that seven-day cycle. Mark McCall [the current Director of Rugby] sometimes describes me as the 'long-term memory', the keeper of the flame. I'm the person who is able to stand back and take a longer-term perspective.
I'm analysing across games and feeding that back to the coaches. It's getting more out of their work and what they're doing in their analysis. We're systematic in how we analyse games week-after-week. It has made it a lot easier to make comparisons."
So what purpose does Gerrard's deep analysis of this data really serve?
"It doesn't matter what walk of life you operate in. You've got hunches based on your experiences, your intuitions, what you think is going on and what you think you can do to get a better performance.
"Data analysis is part of that process, saying 'Let's test those hunches. What evidence can we get to confirm or question the hunches or intuition we have?' Better to test that during the week than test it at 3 o'clock on a Saturday afternoon."
Irishman Mark McCall has picked up from Venter's lead. Mike Egerton/EMPICS Sport.
At the very basis of the entire Saracens project is the style of rugby they desire to play. That game plan was based on Venter and McCall's playing experiences together at London Irish, where, according to Gerrard, they formed a 'brains trust' with Conor O'Shea and deeply debated how the game should be played.
"That plan has developed and evolved over the last number of years, but the fundamentals of how Saracens play today are very much still what they were four years ago. I don't think it's any big secret that the way Saracens play is very much influenced by a South African style and getting the fundamentals right, being very savvy in your game management."
Many of the deviations from that original method have been highly influenced by Gerrard's work for the club, through his analysis of the effectiveness of their own performances, as well as the study of trends in the global game. The statistical analyst has examined exactly what works on the rugby pitch, and what has little effect.
Some of the work I've done, using data from Opta, not only looking at Saracens but across a number of games and so on, has very much confirmed what you need to do and what the stats tell you exactly what the play is going to look like when you're a successful, highly effective team."
It's a remarkable statement. Surely a deep knowledge of the sport is needed to understand what's effective on the pitch? Surely playing and coaching experience are necessities for knowing what must be done to ensure a rugby team wins more games? Gerrard admits that some coaches feel threatened by data, but says his role is to inform and support, rather than replace.
"I'd like to think that's how we do it at Saracens. The coaching art is very much supplemented wherever possible by additional evidence. All coaches do that already because they're all drawn onside to strength and conditioning. It's about to what extent science can come into the coach's room because there's a lot of data analysis in all elite rugby clubs with the physio and S & C.

YouTube credit: sportsanalytics
"Rugby coaches, as in all sports, a lot of them are ex-players. They often don't have that background in using evidence that you will find in certain conditioning and medical departments. Saracens have been fortunate in that regard because Brendan Venter is a GP, Mark McCall has a law degree, Paul Gustard [defence and forwards coach] has a degree in law and at least two of the other coaches have backgrounds in sports science.
"So they're all ex-players but they also have a professional background that's evidence-based."
Gerrard's earliest forays into sport through statistics and analytics were in football in the mid-1990s, when his evidence-based approach to evaluating players was met with ultimately frustrating responses, although clubs like Leeds United did show interest. Eventually, a link with the front man of sabermetrics, Billy Beane, developed and Gerrard worked in detail on the Oakland A's Major League Soccer club, the San Jose Earthquakes.
Having worked so closely with the father of the Moneyball philosophy, can Gerrard see it transferring into rugby in a wholesale fashion?
The specifics of the Moneyball story are very much tied up with baseball, a structured field game where it's a lot more straightforward to separate out the individual contributions of players. I think you've got to take the Moneyball story as a baseball story.
"But the general message of using data, an example of a data strategy, applies; if you don't have the brawn, use your brains. And Oakland don't have the brawn in financial muscle to take on the likes of the Yankees, so they've had to develop a 'David' strategy. I think that general message transfers.
"What I've been working on is whether you can get useful evidence from the analysis of rugby union. I think you can, I think there's far more you can do. It becomes an attitude. The game is always going to be very much informed by video analysis but there's only so much you can take in from a video and only so much you can process from a mass of games.
Billy Beane is a close associate of Gerrard's. Nathan Denette/The Canadian Press/Press Association Images.
"To try and get more from that, it does push you down the statistical route and I think there's scope in all walks of life to use analytics, to use data, in an intelligent way to help support, not to make the decisions, but to help to inform and support.
"Decisions are always going to be based on experiences and intuition, along with the data. I think that the stats can help you at least question your hunches and force you into being that bit more rigorous."
Gerrard also worked closely with Bolton Wanderers when Sam Allardyce was in charge of the club. The analyst's role was to use data to help with player recruitment. This is the area where data analysis has had its greatest impact on football, with many clubs using statistics as one measure of whether a player is worth buying or selling.
That's the kind of approach I helped to map out to the people at Bolton under Sam in around 2004/05. You're a small club, you can't afford, like Manchester United, to have scouts in every country. What you need to do with your scouting resources is be that little more savvy in how you do it.
"One way you can do that is to set out the basic criteria of the types of players you're looking for and then access the databases and come up with a potential list of candidates of that type of player. Then start to scout those players in more detail. You do the first analysis, the first part of the scouting process, using databases on your laptop."
Rugby has so far been a little more resistant to data's value as a barometer for judging potential recruits, although Saracens certainly have gone down that route more than others. Instead, rugby's use of data has been to inform the coaching approach, at Saracens at least.
Big Sam is part of this story too. Dave Thompson/PA Archive/Press Association Images.
"There was a leading English Premier League club who came down to visit about a year ago and their comment was, after they were shown the report structures, that the way we are using data in the coaching function is very far ahead of what was being done in football in that respect. In football it's tended to be more on the recruitment side.
"A lot of my post-match review work is basically looking at where have we performed well, where have we not quite performed as well. If we see trends over a few games where certain stats are falling off where they should be, that influences the training priorities over the next few days. You go from your hunches to the data, and from the data to your hunches."
Gerrard says that he will begin to take more of a back-seat role with Saracens over the coming year, as many of the structures that are in place at the club are now in-house. The analyst is always looking for new challenges though, with the international game and Super Rugby both of interest.
With Venter and John Smit providing strong Saracens links at the Sharks in South Africa, there would be a neat relationship there. There are also contacts in Australia and elsewhere, but one thing is certain; Gerrard's work will become increasingly in-demand as rugby develops.
For now, he is striving to make Saracens a more efficient rugby team by continuing to study the data for evidence that makes them better. Adding to the club's 2011 Premiership title is a goal, but the Scot is proud of the pioneering work he has been central to since 2010.
I think it's fair to say that Saracens are very much the leading edge in integrating analytics into the day-to-day decision making. I think there are very few teams who have developed their analytical capabilities to the extent Saracens have.
"It's taken some time and I was fortunate to be linked up with them. I think all clubs have an analytical edge, but I think Saracens have been ground-breaking in the way they've gone down that line. I think it's probably fair to say that Saracens have been towards the front in trying to utilise analytics in the coaching function."
Like rugby? Follow TheScore.ie's dedicated Twitter account @rugby_ie >