AFTER FOUR DECADES as the self-proclaimed "facilitator" on RTÉ's football panel, legendary broadcaster Bill O'Herlihy signs off with one final "we'll leave it there so" tonight.
The 75-year-old Cork native is set to retire after this evening's World Cup final — calling time on a career which has spanned over eleven World Cups, ten European Championships and countless other historic sporting occasions.
The funny thing is, he never wanted to get into television in the first place.
As a highly-ambitious print journalist, O'Herlihy's goal was to follow in the footsteps of his grandfather, who had been news editor, by becoming editor of The Cork Examiner (nowadays The Irish Examiner).
In 1965, however, RTÉ's Frank Hall was making a programme to commemorate the 50th anniversary of the sinking of the RMS Lusitania and asked Bill to interview one of the survivors.
"It took me three days for them to persuade me to do that interview," O'Herlihy explains. "These days you get about three seconds to make up your mind.
I eventually said I'd do it provided they didn't use it if it was bad. I thought it was a terrible interview but Frank must have seen something that I didn't see.
"Eventually I was offered a one-year contract from RTÉ and my poor mother was saying: 'How could you leave a permanent job in The Examiner for a one-year job. But I wanted to see if I was good enough."
It was a time of great change at the national broadcaster and O'Herlihy was involved in the development of Newsbeat, which covered stories around rural Ireland. From there, he moved on to current affairs before ending up in the sports department.
"It was a very sleepy place back then," he says. "You knew what you were going to do in September or October because there were very limited opportunities. But that was to change. We got the Premiership, the Champions League, a great amount of rugby and the whole landscape changed.
"I was very lucky to part-and-parcel of the whole development of three different departments in RTÉ. I had a great time and learned an awful lot working with great people."
In the late '70s, Dunphy, a moderate footballer who had decided to turn his hand to journalism, joined Bill as a football analyst and a few years later persuaded his friend and former Ireland manager John Giles to follow him. Ex-Arsenal and Ireland midfield general Liam Brady would later come on board in 1996.
Love them of loathe them, people have been tuning in to hear the views of the 'three stooges' ever since, whose style is often seen as being more openly-opinionated than some watered-down pundits on BBC or Sky Sports.
O'Herlihy has covered some truly great moments in Irish sport down through the years, but what are his personal stand-outs?
"The obvious one is the penalty shootout between Ireland and Romania in the 1990 World Cup. Then there was Sonia O'Sullivan in the 5,000m final against Gabriela Szabo at the Sydney Olympics."
Watch the panel's reaction to Ireland's qualification to the quarter-finals at Italia '90: 
Nutmeg365 / YouTube
The likeable Darragh Maloney has already been confirmed as O'Herlihy's long-term replacement. And while it will take time for the young pretender to fully settle alongside the trio, he has a bright future according to Bill.
"Darragh is the most comprehensively talented broadcaster in the sports department," he says. "I think the choice is terrific. There will be a culture change, he will have to get used to working with the lads.
"I've been working with them since 1978 and even before that with Eamon. The dynamics will change a bit but he is very good. He's a much better presenter than I am and he will get used to how to gauge the mood of the lads and all that kind of stuff.
My great heroes were Gay Byrne and Michael Parkinson because they listened to what people were saying and picked up on that. They didn't have their own agenda, which an awful lot of anchors have.
"They taught me how to listen and Darragh's the same. He will be much better than me in due course. They'll be saying 'Bill who…?'.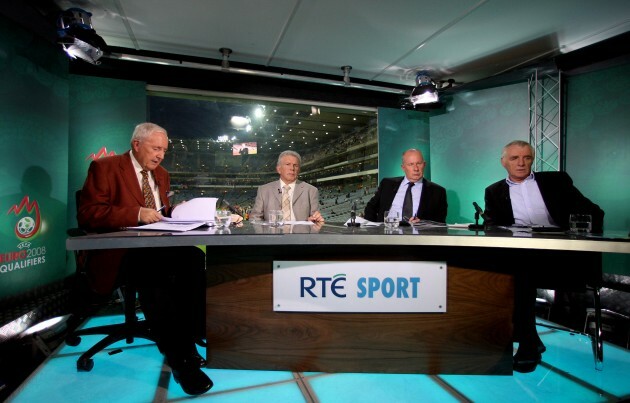 Donall Farmer / INPHO O'Herlihy with Messrs Giles, Brady and Dunphy. Donall Farmer / INPHO / INPHO
He admits considering retirement last year but saw the World Cup final as the perfect way to "go out at the top". So when all is said and done after Argentina's meeting with Germany at Rio's Maracanã, O'Herlihy will say a few words, but insists he doesn't want to make a song and dance about his departure.
"All I want to say is thank you to the three lads and to the audience. In many respects, my talent is a very limited talent and I've piggy-backed on the abilities of the three fellas for years and years.
"It's very important to them that I know my place. And my place is not to be a football expert. My place is to be a journalist and ask the appropriate questions.
"We all know our own places and my place is to make sure that I know what I'm talking about in terms of the essence of a particular match. Not necessarily in terms of the great tactical nuances of the game but the overall, important elements in it. And that's how we have worked it.
I just want to say thank to them because whatever I am, they've made me."
A two-week holiday with his wife Hilary in their house in Spain is planned before he returns to continuing running his successful public relations company. It might be the end of his days with the sports department, but at 75, he isn't closing the door on other TV work in the future.
"I couldn't imagine myself doing nothing and my wife Hilary would be much more annoyed if I was hanging around the house,"he laughs.
"I'd be interested in doing a chat show. I've given this up because if I wanted another contract, which I could have had, it'd be another two years as there is nothing really happening next summer and the summer after that is the Olympics and the Euros.
"I'd be coming in with a zimmer frame and would start losing names so I said time is up. The worst thing you can ever do is to go beyond your sell-by date and mine is now.
"An interview programme would be a different proposition."