BILLY JOE SAUNDERS must first get past Andy Lee before he makes any future plans, but the English fighter is keen on trying his hand at MMA once he hangs up his boxing gloves.
Former European and British champion Saunders challenges Lee for the Limerick man's WBO world middleweight title on Saturday night at the Manchester Arena in what many pundits and fans rate as a 50-50 contest.
There hasn't been much, if any, trash talk between Lee and Saunders in the build-up to the fight and the undefeated challenger (22-0) puts that down to the mutual respect between both fighters who hail from Travelling backgrounds.
"My view of trash talk is that sometimes, fights need to be sold. This fight alone is a history fight – two Travelling people fighting for a world title," said Saunders.
"That's never been done before. It's history. I don't think this fight needs to be sold."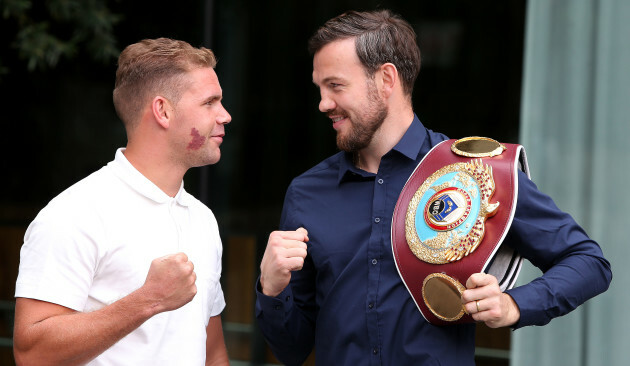 Peter Byrne Lee (right) and Saunders haven't engaged in any trash talk so far in the build-up to their bout Peter Byrne
Elaborating on the lack of needle between himself and Lee, Saunders referenced the vocal style of other fighters such as UFC star Conor McGregor who has confidently dismissed most of his most recent opponent en route to the UFC featherweight title.
And while Saunders isn't quite taken with the verbal musings of 'Mystic Mac', the English man complimented McGregor for backing up his talk and revealed that he'd like to try his hand at mixed martial arts once he finishes up in boxing.
"McGregor, I ain't really took a lot of notice of him, but he's doing his job. I'm not really into MMA but after I finish boxing, I would love to get in and have a go at that," said Saunders.
"I'd love to get a go of fighting in the cages, love it.  It's just standing there in the cage, just having it out. Boxing is a skill, an art, but cage fighting, people can argue different, but cage fighting is rough and tumble and I'd like to have a go at it," added the undefeated English fighter.