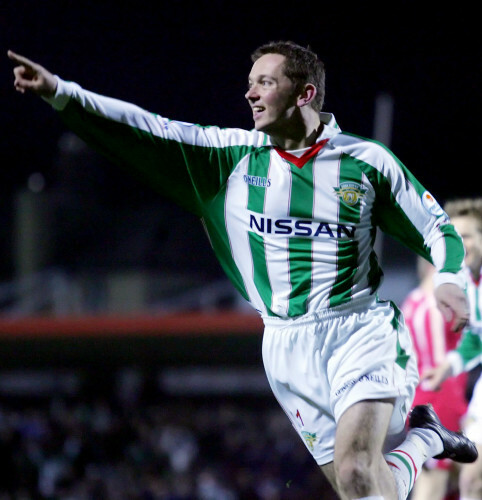 ©INPHO ©INPHO
Part 1: "I was probably going through my Kurt Cobain phase with my hair but that's the way it goes"
IT WAS ONE of those long summer days that stretched effortlessly into the early evening.
I can't remember how I got there. But I remember the concrete I sat on. And the match programme my brother bought for me. It cost £1 and I gripped it tightly in my hands, unsure of where to put it but certain it would be swiped if I left it unattended. It was an important souvenir, as was my match ticket. Later, I'd put both in a Kimberley's chocolate biscuit tin I kept under my bed. That was my treasure trove. World Cup 1994 trading cards, stickers, a rumpled Paul Ince poster from an old copy of Shoot! magazine and some other football-related tack.
I was eight. And as much as the biscuit tin was, for a long time, my gateway into a different world, my first football game made everything feel real. Players were right in front of me – players I had only ever previously heard about, read about or seen on the TV.
It was a pre-season friendly in Bishopstown. July 1994. Cork City versus Glasgow Celtic. Their left-winger John Collins was an early hero and an action shot of him adorned my bedroom wall for years. Later that night, after stopping in Jury's Hotel on the Western Road for a toilet break, we stumbled upon the entire Celtic squad in the foyer and I shook Collins' hand. Later still, my brother brought me to Abrakebabra. It was the best day of my life.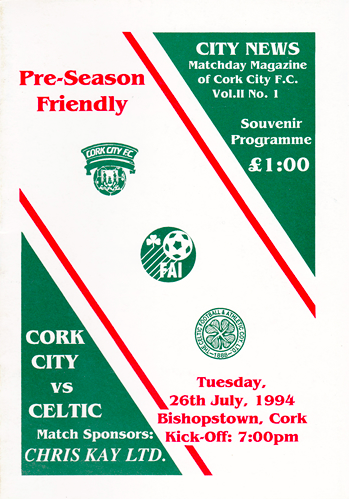 But, there's another moment that is very easily recalled from that night. Celtic won the game 3-2 but the best goal came courtesy of a young, pony-tailed Cork attacker called Billy Woods.
It was a magnificent volley that flew past Gordon Marshall. I remember following the ball all the way and watching the net ripple. It was the first goal I had ever seen in person. And as everyone stood up and roared, I did the same.
The goal has always stuck with me. And even now, almost 23 years later, Woods has little difficulty in remembering it either.
"My Dad got me into a plant down in Little Island for the summer", Woods says.
"I was working 8am until 8pm so I had to get off early. I went up to Bishopstown at ten to six and Rico (Damien Richardson) said 'You're in' and that was it. Celtic were brilliant at the time. I was lucky enough to score and it was probably the first time anyone would've said, 'Who's your man?' or whatever. I was probably going through my Kurt Cobain phase with my hair at the time but that's the way it goes".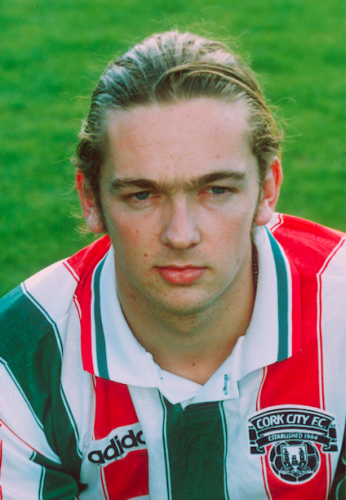 INPHO / Billy Stickland Billy Woods, with a hair-don't inspired by Kurt Cobain, pictured in 1994. INPHO / Billy Stickland / Billy Stickland
That 1994/95 season was the rejuvenation of Woods' career. Having started out in Midleton, he had returned to Cork the previous year after a stint with Coventry. At the time, there was a strong Irish contingent at Highfield Road. Tony Sheridan and Willie Boland had got a taste of the Premier League while Karl Wilson, Gavin O'Toole and Gerry Carr were on the fringes.
But Woods didn't get a sniff. He lasted two-and-a-half years before cutting his losses.
"I never really made the breakthrough", he says.
"I don't think I was ready to play first-team football at 18/19. I enjoyed it but it just didn't work. And I wasn't naive. It was a competitive environment. In the youth team, you were competing with a friend of yours for a position, for a career. And that's never going to change.
But I had a love of football and a desire to play. My Dad would've been a huge influence on my career in terms of him telling me to keep going, to keep my head down, to do things right and that it would turn around for me. Maybe it separated me from other kids in the sense that once they didn't make it they were gone. They were disillusioned. I see some kids coming home now – to the likes of Cork or wherever – and I look at them and I think, 'No, they're gone. They're broken' – after the first disappointment they're gone.
Football is cut-throat. It's ruthless. At any senior level – be it in England or Ireland, you need to have that bit of steel. That determination. I feel sorry for the kids sometimes. They come back from England and they don't know their arse from their elbow. They think that once they go to England they're made. The League of Ireland is tough. They come home, think they'll walk back into a League of Ireland club and it just doesn't work. It doesn't happen like that. It's not that easy. You're 19, coming out of reserve team football and you're coming into top-of-the-table clubs like Cork, Dundalk, Rovers – that's people scrapping for a living. So, it's another step you have to make".
Part 2:  'Jesus, what am I doing? I'm going nowhere here'
Woods speaks from a place of experience. He was one of those kids. After leaving Coventry, he signed for Cork City in the summer of 1993. The club had just won a league championship. Two days after he signed, they faced Galatasaray in a Uefa Champions League second-leg tie.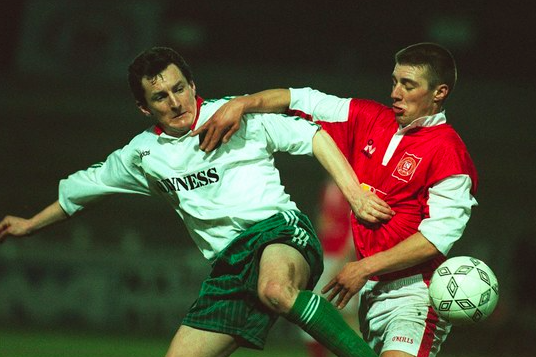 The dressing room featured the likes of Dave Barry, Declan Daly, Pat Morley, John Caulfield but Woods couldn't understand why he wasn't starting. For six months, he sat on the bench and stewed over the wisdom of coming home.
"Before coming back, I had an offer of a one-year deal with Brighton but I turned it down", he says.
"So I was frustrated during those six months. It was a culture shock. I thought I'd come back from England and go straight into the team but I couldn't get in. I was a centre-forward at the time and they had John and Pat up front. Competing against Morley and Caulfield you're thinking, 'I'm never going to play here – ever'. Tommy Gaynor was there too, another centre-forward. He'd just come back from Nottingham Forest and he couldn't get a start. So I was fourth-choice centre-forward.
That was the first and only time in my career when I thought, 'Jesus, what am I doing? I'm going nowhere here'. I was stationary. And you think to yourself, 'Will I leave? Will I just go somewhere else?' I was fortunate. I stuck it out and it turned for me then. And that was a huge moment in my career.
When he did eventually get in the team, Woods flourished. He absorbed from those around him. City could count on a glittering array of talent and, despite not pushing on from the 1993 title, they still possessed some magnificent individuals.
"The best professionals of all time", Woods describes them as.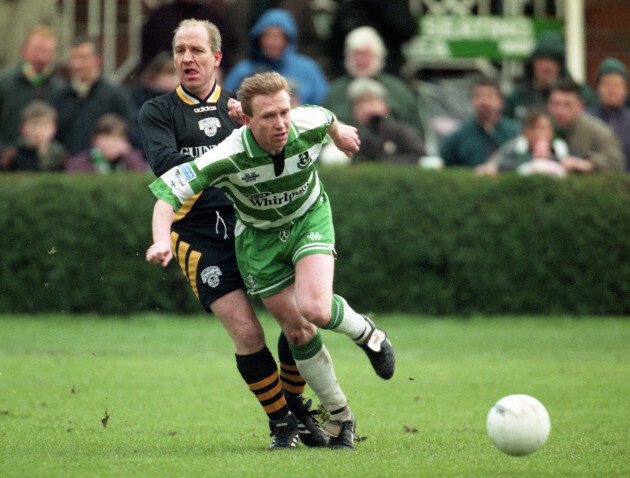 Lorraine O'Sullivan / INPHO Lorraine O'Sullivan / INPHO / INPHO
"Dave Barry, Liam Murphy, Declan Daly Cormac Cotter, John (Caulfield). The way they trained, their work ethic. They all had jobs but trained three nights a week and played at the weekends. They lived like professionals. It was the best thing that ever happened me, coming back to Cork. It was a mature team but a team full of winners".
Woods began to feature prominently on the wing and enjoyed a superb 94/95 campaign, hitting double-figures and his good form saw him called into Maurice Setters' Republic of Ireland U-21 setup for the European Championship qualifiers. At St. James' Park in November 1994, he started at left-back against an English side featuring Nicky Butt, Sol Campbell and Trevor Sinclair. His performance caught the eye of some scouts in the stands and a number of clubs began to sniff around, including Luton and Peterborough. Faced with a fork in the road, Woods would live to regret his eventual decision.
"It came down to a choice between Crewe and Tranmere", he says.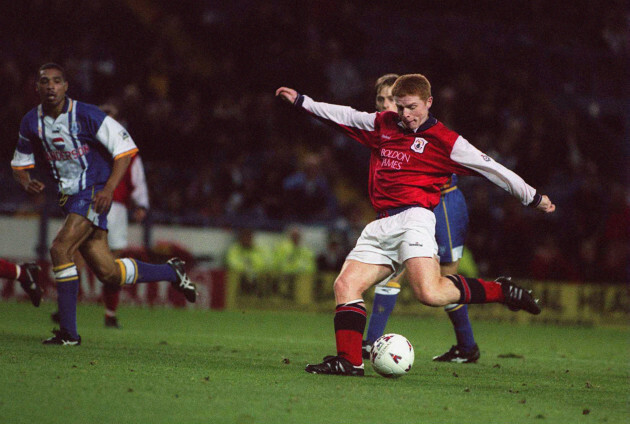 Mike Egerton Neil Lennon in action for Crewe in 1995. Mike Egerton
"I spoke to Dario Gradi and Crewe were in Division Three at the time. Tranmere were in Division One. I had a friend of mine who I'd played with at Coventry and he'd signed with Crewe. He was onto me the whole time. They had Neil Lennon, Robbie Savage, Danny Murphy – a brilliant young team. And Dario Gradi said to me, 'You'll come here and you'll play – you'll be straight in'. But I went for the better deal at Tranmere, naively. And I never really played. I couldn't get in. I lost two years there. I played two games. It was a nightmare".
Remaining at City was never on the cards, particularly after Richardson had left midway through the campaign – essentially ending any chance the club had of winning the title. There was a lot of acrimony and finger-pointing and plenty of media coverage over his departure. And though the toxicity didn't seep into the dressing-room too much, there was a general frustration that the season had drifted away despite the quality within the team.
"Some of the lads would've thought Damien had walked out on the team", Woods says.
"Some of the senior players would've felt he left the team in the lurch when they had the potential to go and win the league again. These were really top professionals – guys you would've gone to war with, really. It was just so disappointing. Damien walked, the team fluxed a bit but we definitely had the potential to win. Dundalk did it on the last day of the season. But behind the scenes, we didn't really know what was going on. There were rumours – missed wages every second week – there was always stuff like that. Damien couldn't deal with the broken promises and the lies anymore".
Part 3: "You feel like no-one believes in you. You ask yourself, 'What's the point?'"
But if Woods felt he was swapping a difficult environment in Cork for the bright lights of Tranmere, he quickly came around to the realisation his dream move wasn't as it seemed. John King was in charge of the side but there was one snag: despite giving his seal of approval to Woods being signed, he had never actually seen him play. Despite playing every game in pre-season, Woods was quickly dumped in the reserves. Not long after, King was sacked. And the chief scout who signed him went too.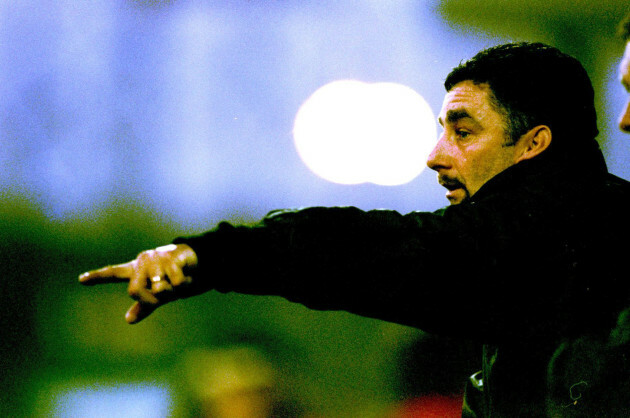 David Rawcliffe John Aldridge took over as Tranmere player-coach in 1996 but didn't fancy Woods either. David Rawcliffe
"Aldo (John Aldridge) came in and I don't think Aldo fancied me either, to be honest", Woods says.
He gave me a couple of games but I was competing against a guy called Alan Rodgers who was a really good player and who they ended up selling for £2m. It was two seasons and I felt I wasted them. It was a poor decision. I should've gone to Crewe and I may have had 60/70 games for them as opposed to the couple I got for Tranmere. Again you're thinking, 'What a bad move – what were you thinking?' and there was frustration. It was my decision. My Dad advised me to sign with Crewe and I went to Tranmere. And it's the one thing you look back on and say it was the wrong choice.
I was playing reserve football and you might play Man United or whoever in a 60,000 stadium. But there'd be 200 people there. What are you going to get from that? And it can be soul-destroying, really. You're playing with kids, you're playing with guys that don't want to be there and who are taking it as a punishment. You're grafting away but playing with unmotivated lads. And it was disheartening, to say the least".
There was a brief loan stint with Gary Megson and Mick Phelan at Blackpool and Woods finally got some first-team football under his belt. But by the start of 1997, there was another decision to make. This time, Woods trusted his gut.
"A guy called Gary Peters was the manager at Preston, David Moyes was their reserve team coach at the time and they offered me a two-year deal", he says.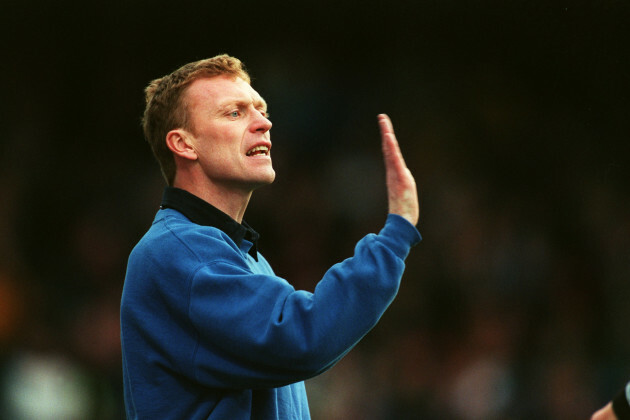 Neal Simpson Woods could've played under David Moyes at Preston but chose to take up a Sports Management degree at UCD instead. Neal Simpson
"It was Deadline Day. But I'd had enough. I was done with England. I'd made my mind up that I was going to go back to college. It was up to me. And I turned it down. It was a good club, it would've been a good move but I had enough. And at least I left on my terms.
In professional football you need luck and people on your side. I could've signed with Preston but I was gone, disillusioned. I suppose I was fortunate to see the bigger picture. I could've stayed and would probably have dropped down the leagues. And that's the reality of it. There are thousands of players. If they didn't sign me, they would've signed someone else. It makes no difference to a club. Some people fall out of love with it but I never did. I just felt I'd given everything I had and needed to get a third-level qualification behind me and go from there. The easier decision would've been to stay in England. But I was fed up. I was going from pillar to post. You feel like no-one believes in you. You ask yourself, 'What's the point?'"
Woods had an offer to return to Cork City while Shamrock Rovers wanted him too. Leeside was off the table immediately as he'd already enrolled in a Sports Management degree in UCD, where Brian O'Driscoll was a class-mate. We veer slightly off-topic, briefly, as Woods gleefully offers up one particular anecdote.
"I remember one of my first days and he was sitting close to me and some fella alongside me says, 'He's the great white hope of Irish rugby' and about two years later he was playing against France and scoring that hat-trick".
Woods had been chased by Portadown and their boss Ronnie McFaul for quite a while and finally relented to their advances in 1997. It was a relatively short evening commute to Armagh twice a week for training and a game at the weekend and he spent a year there ('that was enough for me') before Rovers returned with another offer to lure Woods.
Part 4: Oh, silly Billy! Went to Shamrock Rovers and he won fuck all". 
It was his first experience of playing for another League of Ireland club and he admits it was a strange feeling under Mick Byrne.
"It was strange", he says.
"You don't realise how big a club it is until you play there. The pressure the fans put you under and all of that. And that first season I was shocking. Poor Mick. I actually apologised to him a few years later. I don't know what it was. Coming back to Ireland, maybe? But whatever it was I just couldn't get going. I played okay for the last nine or ten games that year but I never showed true form. Mick ended up getting the sack and I felt so sorry for him – a lovely man. Then Damien (Richardson) came in and I had three years under him there again. And that's when I kicked on. We under-achieved, I think, given the players we had. We let a few Cup semi-finals behind us".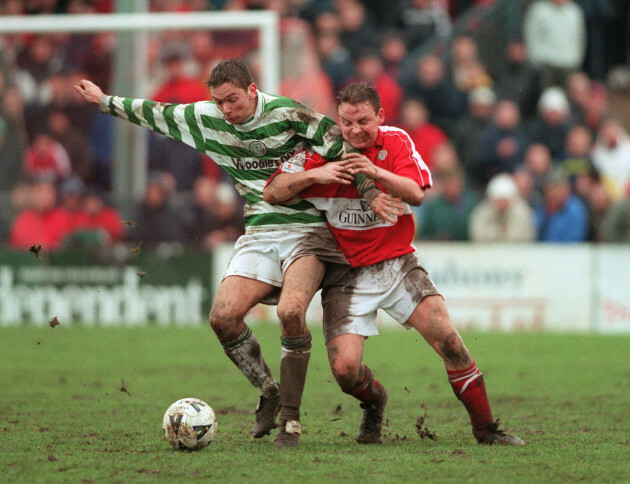 Tom Honan / INPHO Woods in action against Cork City during his stint with Shamrock Rovers Tom Honan / INPHO / INPHO
Playing for Rovers meant frequent trips to Cork, where the home fans never let Woods have a minute's peace, taking particular delight in one chant.
Oh, silly Billy! Went to Shamrock Rovers and he won fuck all".
"That was probably my parents singing that", he says.
"I used to get hammered. Hammered. Playing against them was difficult because you're playing against friends of yours. They've been my club since '84. I remember watching the likes of Ian Hennessy and Trevor Brooking.  Some days was hard. But you're professional and you just get on with it. And I always knew I'd go back to Cork at some stage".    
And in 2002, he did go back and arrived just as a young, hungry squad was simmering nicely and about to come to the boil.
"We struck gold, really", Woods says.
"Alan Bennett was coming through. John O'Flynn had just come back from Peterborough. Daryl Murphy actually played a game for us on trial but ended up going to Waterford. Georgie was there. It was brilliant and we were sensational at the Cross but absolutely cat away from home. I think we won one away game all season – above in Bray one night. But you could feel something was happening.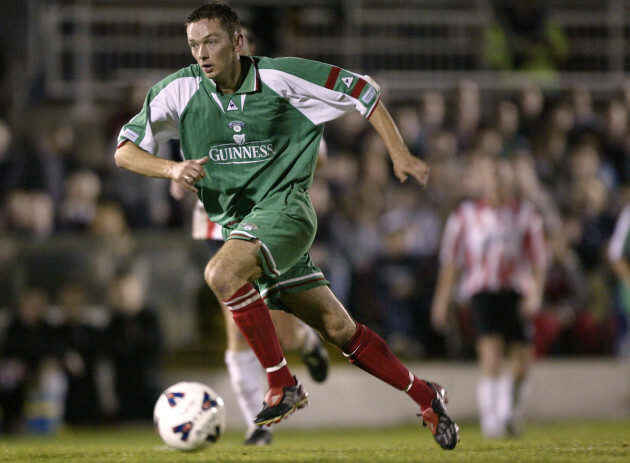 Patrick Bolger / INPHO Patrick Bolger / INPHO / INPHO
Dan Murray came in so you had him and Benno as centre-halves. Neal Horgan was coming through. Mick Devine had just come back. Mark McNulty was coming through. Collie O'Brien was still there in midfield. You had the nucleus of a great team. But Liam (Murphy) eventually left. He was disappointed with how it ended in 2002. I think we finished fourth and were probably too naive, too open away from home and it cost us. Then Pat Dolan came in and everything just went up a level".
Part 5: "'Oh, Jesus – what's happening?'"
Dolan joined City in February 2003 and stayed for two years. Everything intensified upon his arrival and Woods – a part-time member of the playing staff – found the heightened professionalism overwhelming. Still, he could also see the effect it was having on the club.
"He was really demanding but first-class", Woods says.
"The standards he set, the levels of professionalism he set. I found him challenging to play for, to be honest. Sometimes we didn't click. But I could see what he was doing in terms of the professionalism. For the likes of Flynny, Georgie, Benno, Hoggie – I think he brought them on a level. I don't think anyone had ever demanded from them the way he did. We had two really good seasons – Kevin Doyle came in, Liam Kearney came home, Shane Long came in, Danny Murphy came in. That was an exceptional squad. We finished third in the league the first year and then runners-up the year after. And in 2004 we had a great run in Europe.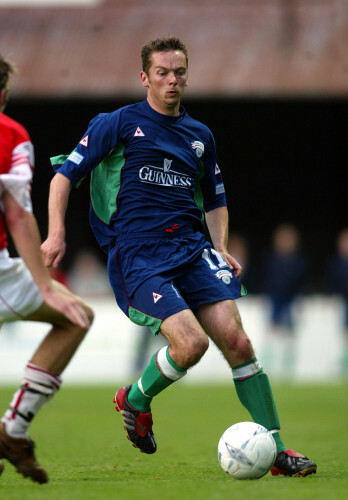 Andrew Paton / INPHO Andrew Paton / INPHO / INPHO
Those European nights were the making of those young lads because it gave them the inner belief they could play at the highest level. We knocked out Malmo. We knocked out Nijmegen. We lost 3-2 to Nantes. Those nights were quality. You came up against different players and they'd give you different problems, different scenarios. They're making you think. Those were the nights you'd give anything to have them again".
Woods and Dolan butted heads ('A love-hate relationship' is how Woods describes it). The environment was relentless and a lot was expected of the players. But Woods, along with Colin O'Brien, wasn't full-time and had other commitments. He was newly married and was juggling a career. He was being stretched and there inevitable dust-ups. But, there was a bigger picture and City's fortunes were improving. Dolan's system was working.
"Colin and myself were the only part-timers and we were working. But we were still, essentially, professional", Woods says.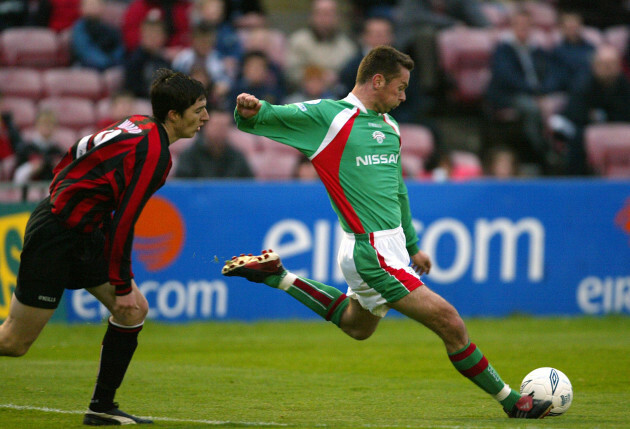 Lorraine O'Sullivan / INPHO Lorraine O'Sullivan / INPHO / INPHO
"Sometimes we'd have to meet him at the Rochestown Park Hotel at seven or half-seven in the morning – before work – because he wanted us to do extra stuff. There were the demands of training – four or five nights a week. He was training in the evenings because of us. And I think he was frustrated. If he went with a completely professional squad obviously we'd be gone but we were integral parts of the team. And he kept us on. It was demanding and that's why we clashed sometimes. I don't think he saw it from my point-of-view at times.
But when you look back and reflect, it was one of the best things that happened me in my career. The standards he set, the professionalism, the physical condition we were in – like, we were ridiculously fit – the training we did, the way he controlled diets. It was brilliant. For the young lads, he was the best thing that happened them – Kevin Doyle, Georgie, Benno, Kearns. But he was tough. He was tough to play for. When you lost, it was hell on earth for a few days. But when he was with you and you were doing well, he was a pleasure to play for. But he could be demanding".
"And then all hell breaks loose. During the off-season, Pat gets the sack. Boom! He's gone! And you're thinking, 'Oh, Jesus – what's happening?' And Damien came in and just let everything flow. He picked up the mantel, relaxed everybody and away we went".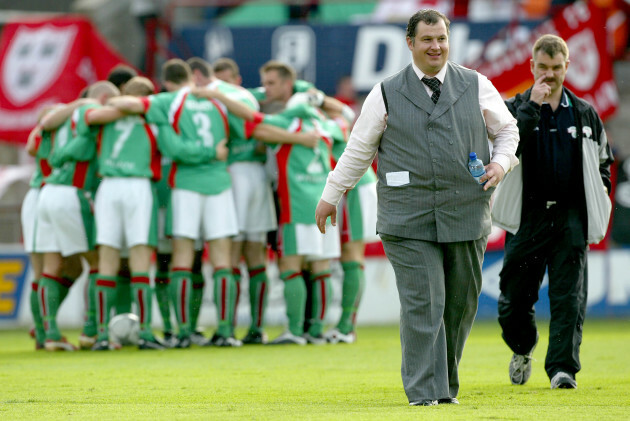 Morgan Treacy / INPHO Morgan Treacy / INPHO / INPHO
Dolan's sacking came just three weeks before the start of the season and Woods can instantly recall the night it all happened.
"We were training in Deerpark school and I looked up", he says.
"I saw Brian Lennox and some of the board members peering through the fence and I knew what was happening. We finished training, I had a shower, jumped in the car and I'd say I was just passing Turner's Cross when Dan Murray rang me and he goes, 'Dolan's been sacked'.
I was disappointed, obviously, for him to lose his job but a few of the lads were devastated – Georgie, Dan, Doyler – because they were very close to him. Georgie was really cut up because Pat had been really good to him off the field. But I knew we had finished second the previous year, that we had a brilliant squad and a huge opportunity to win the league. And by the time we played the first game of the new season against Finn Harps, Rico had got people on board. He was relaxed, wasn't confrontational and that helped to make the transition. It was good management on his part. He didn't change the team and didn't try to rule the roost".
Part 6: "Mistakes were made"
Richardson led City to the 2005 championship. In the final game of the season, they played a winner-takes-all game against Derry at Turner's Cross. The Northerners needed just a single point. City needed a win.
O'Flynn grabbed the opener before Kearney added a vital second in front of an electric Shed End.
Woods, finally, was a League of Ireland winner.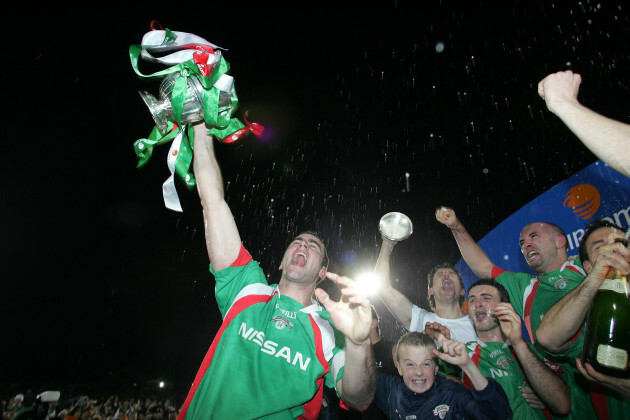 Morgan Treacy / INPHO Morgan Treacy / INPHO / INPHO
"The pinnacle of my career", he says.
"You look back and think, 'Fuck it, I underachieved a small bit – I don't have the medals I should have'. I remember that week we were training and I said to Hoggie, 'It's not like this every year'. And he was looking at me, y'know? And I said, 'It's not, Hog. I'm coming to the end and you don't get this close – you win the game and you win the league'. It was exceptional. I don't think anything will beat winning the league at home, in front of the Shed.
From the spine of that team, you had Mick Devine – an unbelievable goalkeeper. Bennett – an Ireland international. Gamble – an international. Doyle – an international. It was so strong. Damien handled different characters really well that year. He was able to deal with people. Some players were frustrated with Pat leaving but he merged them together and got them on side. Definitely the best team I played with".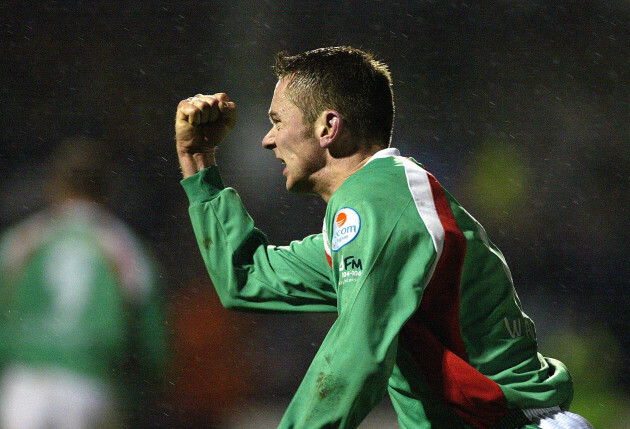 Lorraine O'Sullivan / INPHO Lorraine O'Sullivan / INPHO / INPHO
But when you discuss 2005 with Woods, it's clear that as much as he enjoyed the league triumph, the season is tainted by what happened a fortnight later.
Against Drogheda United in the FAI Cup, City were limp and uninspiring and suffered a 2-0 defeat at Lansdowne Road.
"We left the double behind us", Woods says.
We could've made history. We just didn't turn up against Drogheda. There was a two-week break. The celebrations were excessive. Mistakes were made. We were the better side. But we left it behind us against Drogheda. That's what galls me about that year. It was great to win the league but not winning the double really galls me. If you ask the majority of players, hand-on-heart, they'd agree with me. I don't think we were mentally focused on it. The celebrations dragged on too far. We had a week and then a week back in. And we left it behind us.
You think 'We'll get another chance' but how often do you get the opportunity to do a double? Personally, I was devastated. We got so close. You could've done something special in Cork, really. And we didn't do it. When's the next time we'll get that close? It's so difficult and we had an ideal opportunity and just didn't take it".
Part 7: "We had Arkaga and guys going on about getting greyhounds for players". 
A veteran of the City side by this stage, Woods did win the Cup in 2007 against Longford and subsequently pondered retirement. He'd won everything in the domestic game and it seemed a good moment to slip into the shadows. But when Richardson left the club a few weeks later, his replacement Alan Matthews asked Woods to stay on for another twelve months and he agreed. But the body was creaking and the part-time contributions weren't helping. He missed six months of the season after picking up an injury pre-season. And when he was thrown in for a game in Galway, everything finally caught up with him.
"I was taken off after about 70 minutes. I knew I was finished", he says.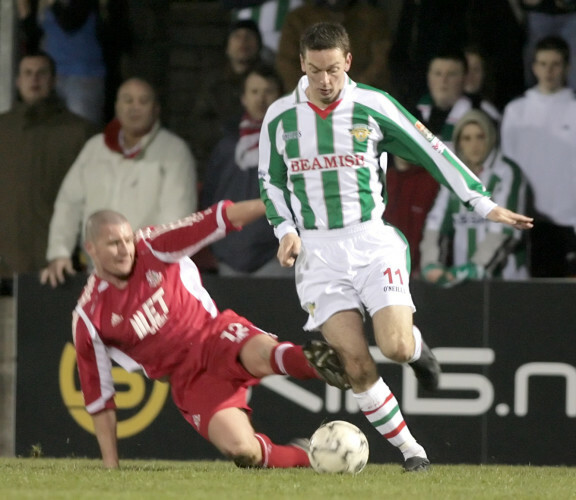 ©INPHO / Neil Danton ©INPHO / Neil Danton / Neil Danton
"Some of the lads still joke that I got Jay O'Shea signed for Birmingham that night. I was left-back and got absolutely tortured. It was time to go. The lads were a credit – going on to win the Setanta Cup – but I should've left at the end of the previous campaign. It was a full-time environment, you're part-time, you're missing training sessions, you can't get in in the mornings so you're effectively going from match-to-match."
In 2007, Brian Lennox sold Cork City to a private equity fund called Arkaga. And everything quickly descended into well-documented farce. The club disintegrated, swimming in deceit, debt and unpaid bills.
Woods retired at the end of 2008 but was around long enough to recall some illuminating anecdotes.
I remember going into Aidan Tynan (an Arkaga employee and who was, for a short time, Cork City's general manager) one time and they were offering me another year. They put the contract in front of me and I remember thinking, 'Do they know I'm not full-time?' I came home and said to my wife, 'The money is off its game here – it's ridiculous for a part-time player'. What happened was they actually thought I was 27. I said, 'No mate, I'm 34′. Tynan had my date of birth in front of him – it said something like 1980. And I was born in 1973. So I told him, 'Well, you might as well change the terms of the contract'. But they never did.
Then, when Tom Coughlan (whose ownership of the club brought them out of examinership but ultimately led to it being ran into the ground) came in, you'd get the promises of playing Barcelona, Real Madrid. How they were going to buy this and buy that. So I left with about three months of the season still to go. I felt sorry for the lads that they still had to put up with all of it and weren't getting paid. It was just a mess. It was bizarre. They were lucky that FORAS came in and saved them.
At other clubs you'd have the chairmen and board members chat to you at the start of the season and then disappear. We had Arkaga and guys going on about getting greyhounds for players. I walked into the office one time and he (Tynan) had a list of about 40 players he was going to sign. It was 2007. Shels had just hit the wall. And I was saying, 'You'll never get him out of Bohs. You'll never get him out of Rovers'. And Tynan would say, 'I will – I'll double his wages'".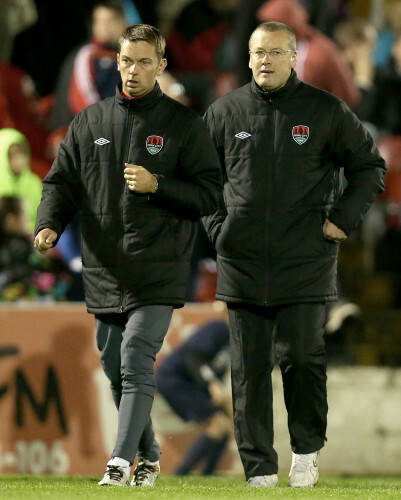 James Crombie / INPHO James Crombie / INPHO / INPHO
After FORAS rescued City, they were forced to start again in the First Division under Tommy Dunne. They had a new name: Cork City FORAS Co-op and that first campaign was about stability. The following year, Dunne asked Woods to come back and in 2011, on an incredible night at Tolka Park, the club won the title by beating Shelbourne on the last day of the season.
"That was an exceptional night", Woods says.
"We had to win it. And to do it the way we did – against Shels up there – incredible. And the support was immense. It's something I'll always remember".
Alan Mooney / YouTube
Until 2015, Woods was First Team Coach at City but left following the 2015 Cup final defeat to Dundalk. The juggling got too much. Nowadays, he runs three FAI programmes in Cork but the club remains a huge part of his life. Just recently, he was announced as co-manager of City's new U-15 team alongside Dan Murray.
"People have an interest in the club again", he says.
"There's a sound support base, it's in the papers, the presence in the community is back. A lot of that is down to John (Caulfield). People talk about his passion but he's a lot cuter than that. He's got more than that. Since he's been there, he's brought the club to where it was when he played for them: at the top".
And as the chat ebbs to conclusion, I ask Woods what he sees when he looks back.
"I had a good League of Ireland career. I probably should've won a few more medals. I won everything with Cork and that's all I wanted as a Cork supporter. I won Young Player of the Year award in my own country. I wasn't the greatest player but I had a good attitude and that's why I ended up playing for as long as I did. I would've liked 100/200 games in England but who wouldn't? That's life. That's reality".
(Amended:  08.34 to remove mention of Tallaght in Woods' 1997 move to Shamrock Rovers).