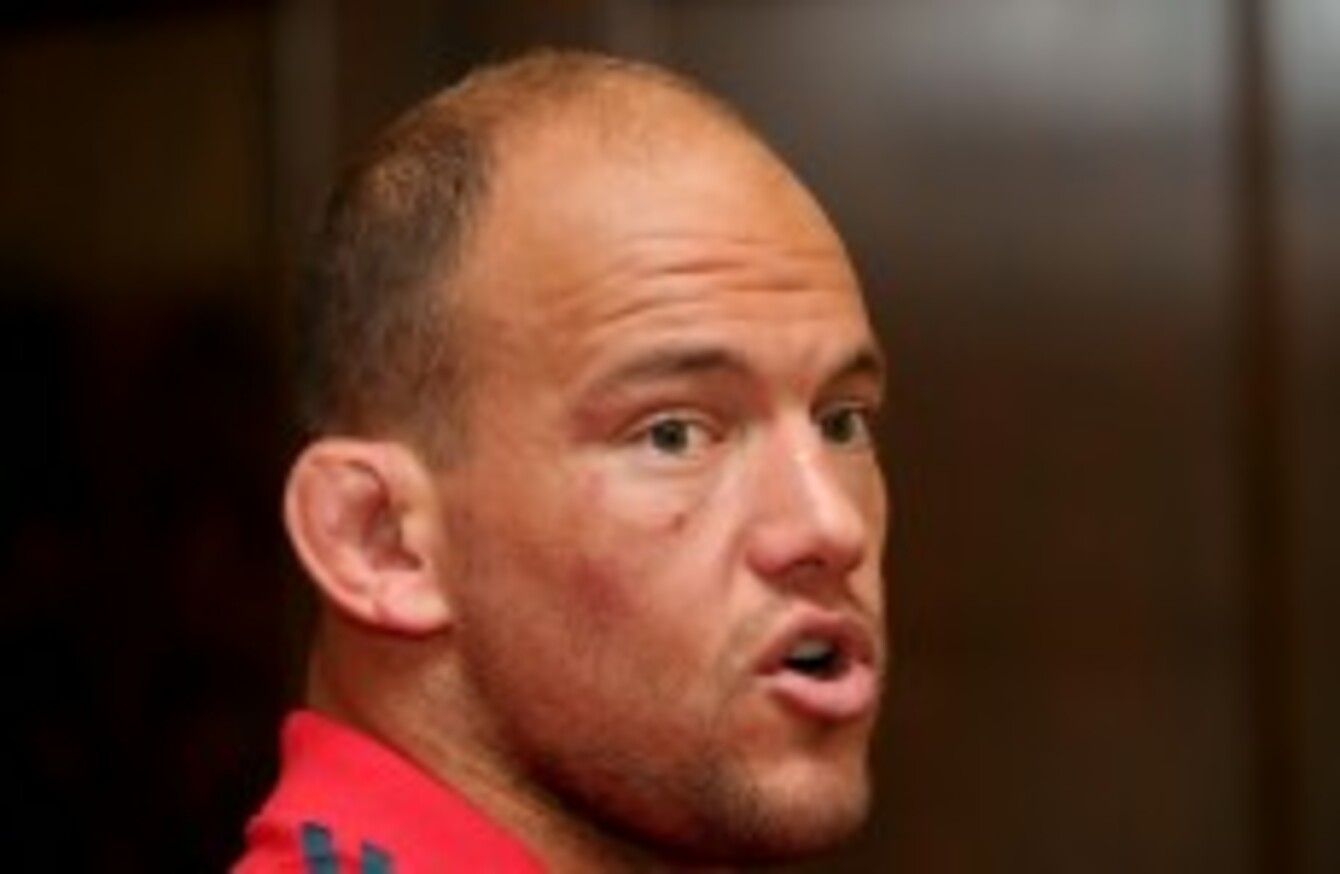 This guy loves a good scrum.
Image: ©INPHO/Dan Sheridan
This guy loves a good scrum.
Image: ©INPHO/Dan Sheridan
ONE OF THE more curious aspects of the build-up to Munster's season was the revelation that Rob Penney would be serving as scrum coach following the departure of Paul McCarthy from the province.
Penney was a back-row in his playing days and, no matter how much study and research a coach undertakes, nothing beats having front row experience yourself if you are hoping to improve your team's performance at the scrum.
The suspicion has always been that 33-year-old BJ Botha would be taking on much of the responsibility for Munster's scrummaging and indeed why wouldn't they turn to a World Cup-winning prop? The South African has been Munster's most important player since joining from Ulster in 2011 and the scrum is clearly an area he loves.
Over a month into the season, and with the real business of the Heineken Cup looming, Botha has been encouraged by what he has experienced and seen of the experimental laws the IRB have brought in at scrum time.
"There are obviously big, big changes up front. They've narrowed down the gap and obviously changed the binding. Everybody's got their own opinion. Everyone has to move in the same direction and the IRB have really come through hard on it.
We're just trying to formulate a plan going forward and really pushing that on. We have to really just react to what's in front of us. Each ref is going to referee it a little bit differently and has got his own take on it. We just have to react to that."
Romain Poite refereed Munster's clash with Leinster last weekend, and his interpretation of what went on at the scrum was certainly a variation to some of the Pro12 officials. With the Heineken Cup kicking off this weekend, Botha is aware that RFU referee JP Doyle, who hails from Dublin, may have a different approach.
"We've got our own plan there and tried different tricks. We're all still adjusting to this and I think all teams are. We see different competitions in France and the Premiership, as well as the Pro12. The Heineken Cup is going to be interesting with the cross-country involvement. And it will be interesting to see how referees judge it."
Botha returned from a knee injury as a second-half sub against Leinster. ©INPHO/Dan Sheridan
The 'bind' part of the new protocols has been the biggest change of all for front row players, with Botha highlighting that the reduction of the hit means a more stable scrum. He also points out that hookers have an increasingly important role to play.
"With the bind, what they're really trying to mean by it is taking out the impact of the engage. So it's hoping to get more scrums staying up and stable and formulating a stable platform for the ball to come in.
"But now we're obviously seeing it going back to times past where it was more of a hooking action and more of a competition in the hooking basis. It's exciting, it gives a new dimension but obviously you just have to react and adjust to it."
Safety concerns over the scrum were one of the reasons the IRB have brought in these changes, but Botha feels that the main goal is to speed up the amount of time spent at the set piece, allowing the ball to be in play for longer and therefore increasing the spectacle for the fans.
The hit obviously isn't as severe but I wouldn't say it was only safety. I think it was that we were spending three or four minutes with scrums, taking time out of the game.
"From a spectator's perspective, they want to see scrums with a good contest but also they don't want to spend five minutes re-setting scrums. That's moved on for sure, that's the positive side of it. Everyone's on the same page."
An exciting, open game at Murrayfield on Saturday would be greatly welcomed by all involved, but even if there is a sense that Botha is one of a dying breed of scrum enthusiasts, there is no doubt that he will be focusing on ways to get Munster going forward at the set piece.