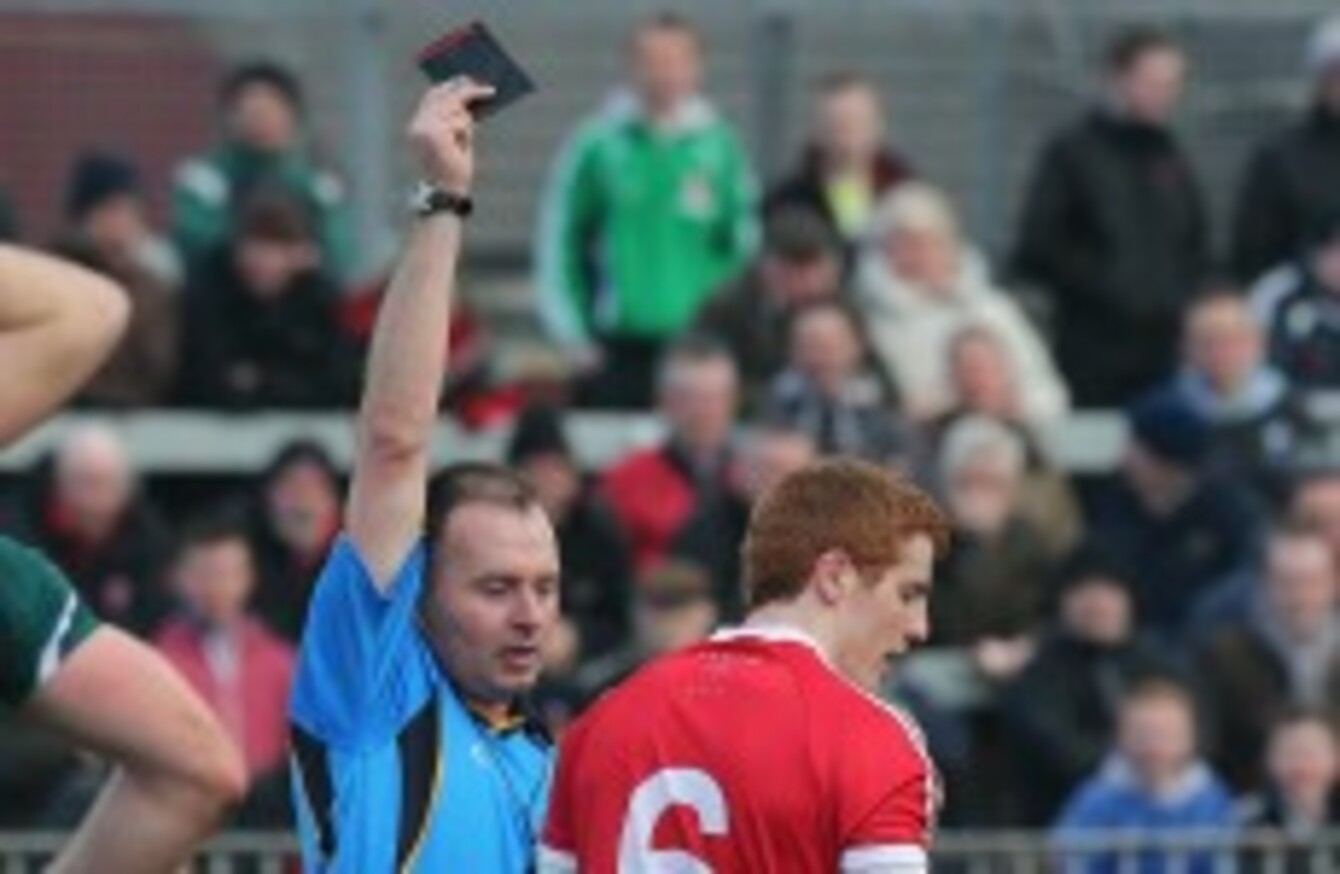 Tyrone's Peter Harte was one of the players shown a black card during the spring.
Image: INPHO/Lorraine O'Sullivan
Tyrone's Peter Harte was one of the players shown a black card during the spring.
Image: INPHO/Lorraine O'Sullivan
LOUTH BOSS AIDAN O'Rourke has warned that massed defences will become the norm in this summer's football championship as a response by teams towards the black card.
O'Rourke was one of the most ardent critics of the new rule at the start of the 2014 season and his views have not altered. Observing trends in recent challenge games have convinced him about what lies ahead for the summer.
"It was obvious the way it was going to go. As soon as the championship takes off over the next few weeks, the evidence will be there. Colloquial evidence would suggest from challenge games, they'd be fairly low scoring.
"In the games we've played, there's been a huge number of players in defence. The reality is with the lottery of refereeing at the moment, can you afford a one on one with a quality forward inside your '45? I'm not sure you can if players aren't inclined to tackle. I think that's the way it's going to go but the championship will be the proving ground for that."
O'Rourke disagrees that the new system has been a fantastic success due to the increase of scores and believes defenders have been 'handicapped'.
"I'm very interested in looking at the PR in all of this. It's been portrayed as a fantastic success. I'm not quite sure how that is judged. I hear this repeated that scores are up, therefore we have a better product.
"We have taken away the tools of the trade for a defender. In any field sport in the world, you have to have tools and the capacity to do your job. I would feel we've handicapped defenders considerably.
"I do agree with the ethos where the black card was going with trying to get rid of cynical play. But I just feel we're at a basketball stage, where it goes up and down the court to see who scores the most. The game is about tackling and defending as well, we have to have the capacity to do both.
"Players are reluctant to make the tackles that they would have naturally made in the rest of their careers to date. As many people or more come to see the physicality as the capacity for scores or wonderful attacking play.
"That is part of our game and part of our heritage. So to try and fundamentally adjust the mindset at the whim of somebody, I don't know who, is fundamentally flawed.
"I do agree with the ethos where the black card was going with trying to get rid of cynical play. But I just feel we're at a basketball stage, where it goes up and down the court to see who scores the most. The game is about tackling and defending as well, we have to have the capacity to do both."