Image: Getty Images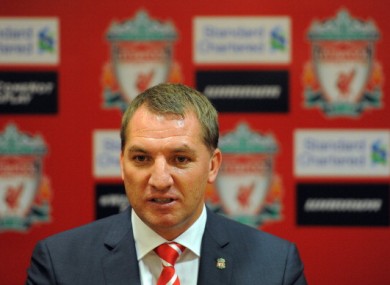 Image: Getty Images
BRENDAN RODGERS HAS handed over a 180-page blueprint on how to save Liverpool to owner John W Henry.
The Northern Irishman said he has spent more than 15 years compiling the report, which comprehensively details his vision of how a club should operate both on and off the field.
"I started more than 15 years ago and it's something I have been piecing together for many years since," he told reporters.
"When I became a manager, I put it into a format with a philosophy and methodology.
"I added to it since and when I came to Liverpool, I presented it to the owners. It's a document on the culture, philosophy and game plan going forward.
"It's a model, a shortcut to how I work, the kind of players I want tactically and the personality traits of players.
"The vision is simple — to win the most trophies we can.
"That's the bigger picture. The second is to play attractive, attacking football and the third is to bring through as many of the young players as we can."
Rodgers also insisted that his new club must remain united, and if they can achieve that then they have every chance of success.
'One-club'
"When I became a manager I always wanted to go into a club that had a clear philosophy in terms of everyone knowing where they're going," he said.
"Thankfully at two of my three previous clubs as manager I've been able to create a one-club mentality and it's been successful.
"At Liverpool, we need a one-city, one-club mentality. If we don't, if we fail, it will be because of not sticking together and nothing else. If we can stay as one, we have a real chance."