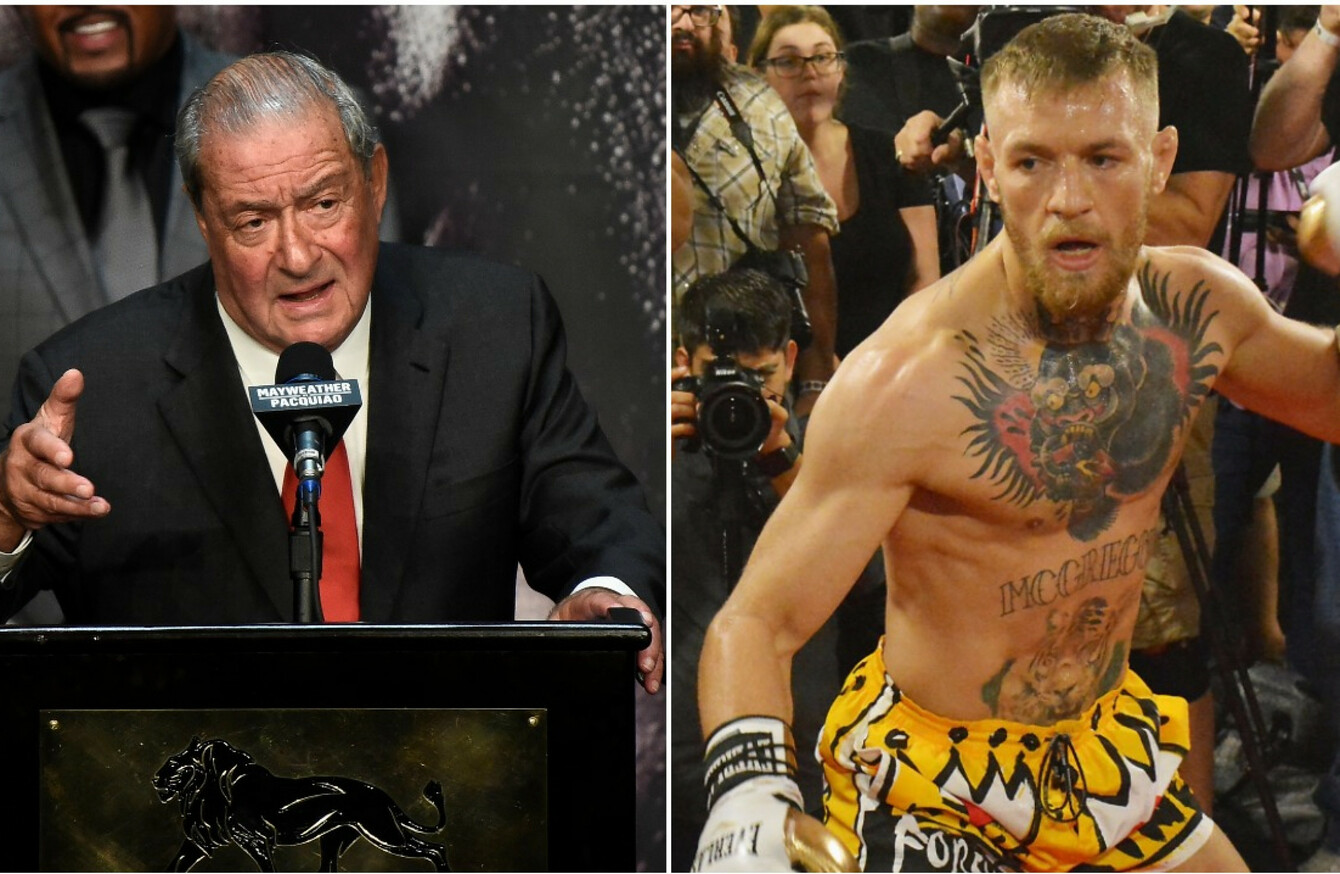 RENOWNED BOXING PROMOTER Bob Arum has dismissed claims that Conor McGregor might become a 'dual star' of combat sports, as the UFC lightweight champion's boxing match with pound-for-pound great Floyd Mayweather nears.
Speaking at his media workout on Friday, McGregor declared that he would rule both boxing and MMA "with an iron fist," explaining that "boxing has been dear to my heart my entire life."
According to Top Rank CEO Arum, however, the former Crumlin Boxing Club novice will be borderline unpromotable by 27 August.
"After he fights Mayweather, the only promoter I think who might be interested in promoting him is [less prominent, East Coast-based] Artie Pelulo," Arum told Lance Pugmire of the LA Times.
Who the **** would want to promote this guy? He can't fight for ****. Don't you understand? He's not a boxer. It'll take him years to understand. And there's so many more talented guys around.
"If you're going to get yourself in serious discussions about this guy winning, you're going to look like a fool."
Arum did admit that, when talks between McGregor's camp and that of Mayweather had stalled, he did want the Irish southpaw to throw down in the ring with his own money man, Manny Pacquiao, but purely for financial reasons.
The 85-year-old, whose company Top Rank also promotes two-time Irish Olympian Michael Conlan, maintains we won't see McGregor back in the squared circle after his showdown with Mayweather in Las Vegas.
"The ship will be revealed as having no ballast and once it's on the water it's the Sinkable Molly Brown," he told the Times. "Of course I wanted Pacquiao to fight McGregor. Because it was easy money for Pacquiao. It was an opportunity for Pacquiao to pick up big, easy money. This is a one-off thing.
"[McGregor] has absolutely no reason to be in the ring with a skilled, professional fighter. And if I was wrong, why didn't he fight some journeyman to show you belong in the ring?"
As for his own new star man, Vasyl Lomachenko – who recently offered his services as a sparring partner to McGregor to much excitement – Arum revealed that he's eyeing 9 December for the Ukrainian's ring return, versus either Orlando Salido in a rematch in Los Angeles, or Cuban nemesis Guillermo Rigondeaux in New York.
[LA Times]
Subscribe to The42 podcasts here: