Updated at 12.57
THE FOLLOWING PASSAGE is an extract from Quiet Genius: Bob Paisley, British Football's Greatest Manager by Ian Herbert.
It was the League Cup which afforded Paisley a Wembley valediction. 1982 ‒ 83 was the competition's second year under the sponsorship of the Milk Marketing Board, and Liverpool and Manchester United contested the final of the Milk Cup. Paisley was by no means overwhelmed by any sentiment attached to his last journey to what chairman John Smith had described as 'Anfield South ' over the years.
He and Ron Atkinson, the United manager, were linked up for a three-way phone interview with the presenter of BBC Radio's Sport on Four at 8am on the morning of the final.
'Good morning, Bob. How are you feeling at this time of day? ' Atkinson inquired.
'I'm OK, Ron,' Paisley replied. 'I've just got out of bed. But I suppose you have just got indoors.' The game's flashpoint came when Bruce Grobbelaar dashed 35 yards out to halt the advance of United's Gordon McQueen, which upended the centre-half. Grobbelaar's tendency to experience a rush of blood had receded, though United felt he should have been dismissed. He was not and Liverpool won the game the way they had so many Cup ties under Paisley.
Phil Thompson, who missed the game through injury, described Liverpool's passing across the turf as akin to 'water dripping on a stone ' and the newspapers saw it that way too. The Daily Mirror's Frank McGhee wrote of 'the patience this team have learned over the years'. Souness, Whelan, Lee and Johnston were 'faultless' he said.
Norman Whiteside scored early for United but Liverpool's patience paid off when the indefatigable Alan Kennedy – as effective as ever in a game's closing stages with the ball at his feet – equalised 15 minutes from time. In extra-time, it was no contest.
Ronnie Whelan, who had developed over two years into a player of vision, fine distribution and goals, bent in the winner. Paisley loved the way Whelan could play equally well with both feet.
The scenes on the pitch were much as they always were after Liverpool had won a trophy: euphoric players congratulating each other while Paisley padded around unobtrusively in their midst.
An aspect of the celebrations was different this time, though. It would be Paisley's last appearance as manager at a stadium in which he had never climbed the steps to lift a trophy, and Souness quietly suggested to him in the moment that he might wish to lead the team up. 'I didn't need to ask twice, ' Souness related much later.
Paisley left his cap behind, so his hair whipped up eccentrically in the wind as he clambered up the staircase, 33 years after watching from the stands as his teammates did so in the 1950 final from which he was excluded.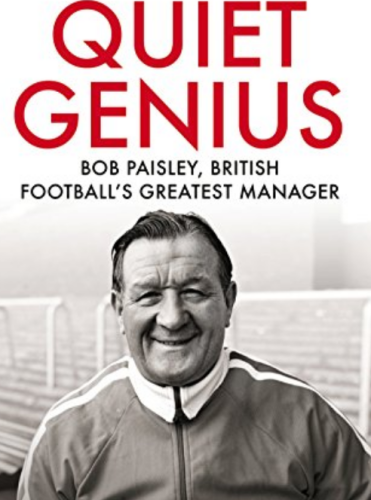 He was perhaps five steps from the top when a scarf was draped across his left shoulder. That was when he laughed. It balanced there precariously as he reached the top, took the trophy and raised it aloft. It was when the players had descended that Souness, rather more familiar with this business, beckoned Paisley to join in the team group.
The image preserves his last triumph in perpetuity. Paisley stands at the edge of the group – top left, just as in those Liverpool team groups in the 1940s – and there could be no doubt now that this team, who had swept all domestic opposition aside since the New Year of 1981, were anything but his own.
Only Fairclough – by now a bit-part player, who'd scored twice in a league match against Manchester City and still been on the bench for the next game ‒ remains from the squad he inherited. It is striking how young so many of them in that team picture still look: Rush and Whelan were both 21, Johnston 22, Lee 24 and Grobbelaar 25.
All still had so much spooling out ahead of them. Paisley placed a hand on the head of the player crouching in front of him, the one most akin to him – Alan Kennedy, the man still proving that the most important players are not necessarily the most technically proficient.
For many, he had been Liverpool's man of the match once again that day. The players were singing a triumphal song, though Paisley did not join in. He just stood there straight-backed, a small man in a grey suit, light brown shirt and diagonal-stripe tie, still clutching the scarf that had been pressed into his hand.
The fans were singing the players' names, so the group parted ways. The players went in their direction. Paisley went in his. It was on a post-season trip to Tel Aviv, where Liverpool were scheduled to play one of their regular friendlies with the Israeli national team, that Souness handed Paisley a carriage clock engraved with the words 'To Bob, from all the lads', though more chaos preceded the occasion.
The players' El Al flight out of Heathrow was scheduled for the night after the season's last league game, a 2–1 defeat at runners-up Watford, and the drinking started early – not least because Elton John, Watford's owner, encountered some of the squad at the airport and saw to it that they were treated to executive-class hospitality.
Exclusive Six
Nations Analysis
Get Murray Kinsella's exclusive analysis of Ireland's Six Nations campaign this spring
Become a Member
A heavy drinking session was followed by a free day on the Sunday spent drinking in Tel Aviv's sun-baked main square, ahead of an appointed 5pm rendezvous at the hotel. The players were worse for wear and some were better at handling it than others.
A fight ensued between the players which left David Hodgson running to the team hotel for help to break it up and saw Alan Kennedy emerge with a black eye. The next day, Monday 16 May 1983, there was a presentation ceremony for the manager as a prelude to a 4–3 defeat at the Ramat Gan Stadium before 38,000 people which constituted Paisley's last 90 minutes at the helm.
'Have you been fighting?' Paisley asked Kennedy, who did not pretend to deny it.
'Bloody hell,' continued the manager. 'What gets into you?'
It didn't affect a ceremony which was evidently touching in its informality.
'There were tears in his eyes when we handed the clock across and that was unusual for him,' recalls Mark Lawrenson.
'The present we gave him could not have been more predictable but it didn't matter. He seemed to like it more because of that.'
Quiet Genius, written by Ian Herbert, published by Bloomsbury on 4th May. Enter GENIUS17 at the Bloomsbury checkout online to receive 20% off, readers pay P&P, UK&IRE only.
The42 has just published its first book, Behind The Lines, a collection of some of the year's best sports stories. Pick up your copy in Eason's, or order it here today (€10):