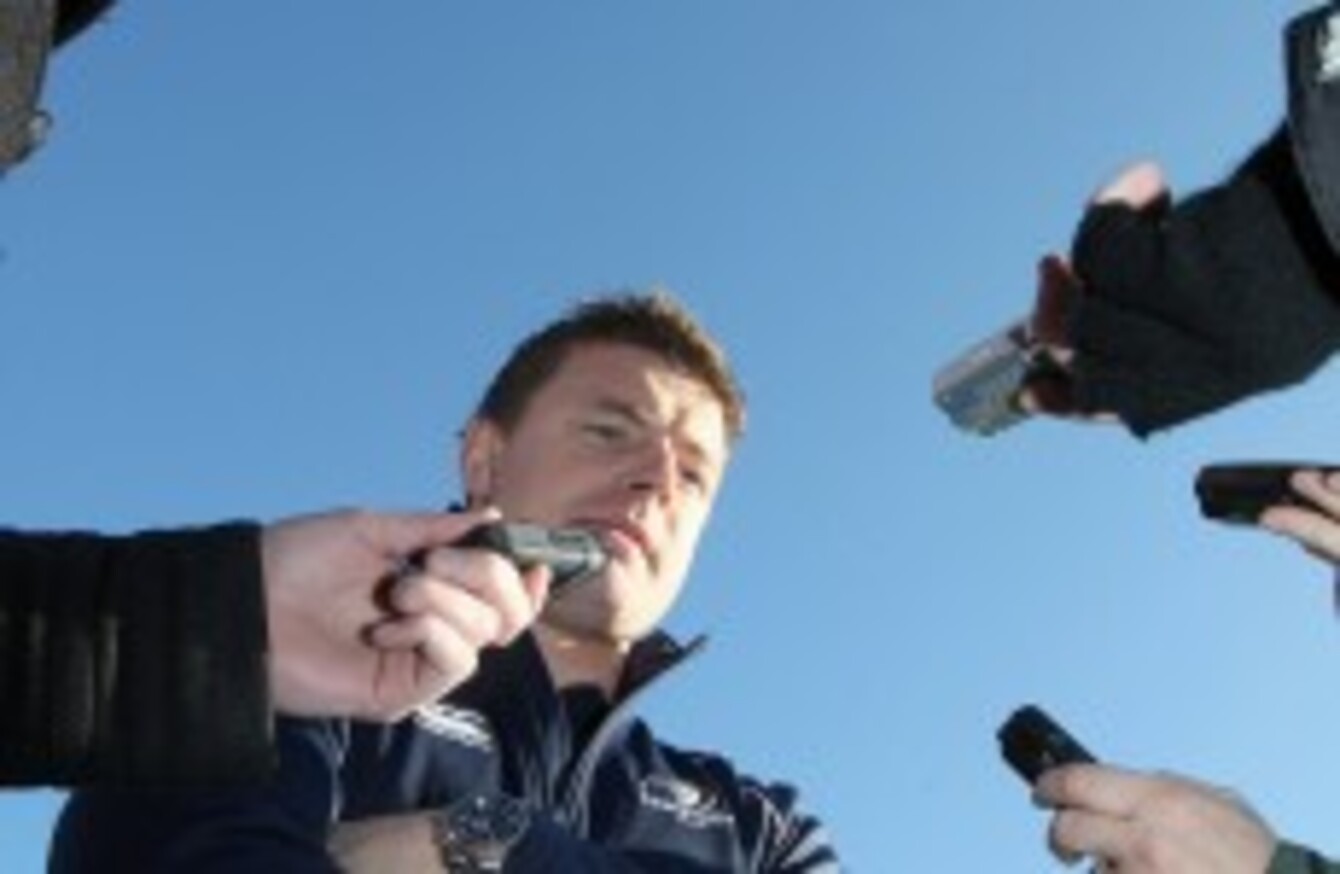 Brian O'Driscoll at this morning's Leinster media briefing.
Image: ©INPHO/Lorraine O'Sullivan
Brian O'Driscoll at this morning's Leinster media briefing.
Image: ©INPHO/Lorraine O'Sullivan
IN THE DECADE since Brian O'Driscoll publicly declared his talent, powering over the line three times during Ireland's Six Nations rout of France  in 2000– a wild, uninhibited scream of an introduction to the rugby world– he's become the pole star about which Irish rugby orients itself, the unwavering constant at the heart of the Leinster and Ireland back line.
And his evolution as a player, from mercurial genius to hard-running workhorse, has been mirrored by an at times turbulent journey from tabloid mainstay to sober, press conference specialist.
Without laying it on too thick: during that time, his omnipresence has elevated him to the status of cultural icon.
In BOD we trust.
Today's announcement, that the 117-cap international will likely be out for the next six months while he recovers from a scheduled operation on his shoulder, doesn't just deprive his province and the national side of the safety net that has become his presence in the outside-centre channel, it leaves both sides lacking their most articulate sporting philosopher.
But as bleak as the prospect of a Six Nations without his talismanic presence may appear, O'Driscoll's absence may yet prove a blessing.
Why?
In short, the two central tenets of Irish rugby– of the centre's indispensability and the immutability of his midfield partnership with Gordon D'Arcy– have, since 2009, crept the wrong side of the line separating truism from myth.
In thrall of the same seductive untruths to which the public at large has fallen victim, the national side's management has placed its faith in a skewed mathematical formula that declares the intangibles of experience and heart the equal of youth, speed and creativity.
It's an approach that, spiralling off into the realm of wishful thinking, has consigned Ireland to ever-diminishing returns in midfield and prevented the earnest development of replacements for Blackrock and Clongowes' most famous rugby-playing alumni.
Absent the vibrancy and excitement that competition for places and experimentation drag in their wake, Declan Kidney's side has developed a stultifying and plodding predictability: too often, phases lurch drunkenly from one side of the pitch to the other, momentum ebbs away in the form of increasingly lateral passing and, as desperation sets in, handling errors begin to punctuate proceedings.
Line-breaks– Test rugby's most vauable commodity– have all but disappeared.
The cruellest fact of Ireland's World Cup campaign, one only underscored by quarter-final elimination at the hands of Wales, is that its victories were earned in spite, not because of our first-choice centre pairing.
The solution to all this, of course, doesn't lie in a sudden and wholesale change of personnel, but in a renewed sense of adaptability and purpose.
What are they
really like?
Rare insights on sport's biggest names from the writers who know them best. Listen to Behind the Lines podcast.
Become a Member
O'Driscoll's impending shoulder operation helps achieve that end by conveniently side-stepping the trauma and hysteria attendant upon, say, (whisper it) an announcement of retirement, while gently compelling both Leinster and Ireland to engage with the prospect of life after BOD.
Like any other sudden revelation of mortality, the experience should yield both a coherent plan for the national side's future and a quiet, comforting realisation that generational change can be every bit as productive as it is inevitable.
In opting for a six-month sabbatical, O'Driscoll may well have granted Ireland a gift of far greater value than his most recent on-field exploits.
If that proves to be the case, then truly, nothing quite became his captaincy like his (temporarily) leaving it.