ON THE DAY before England's pack bullied their Italian counterparts at the weekend, Ireland and France fought out a seismic Six Nations title clash in Dublin that saw a ball-in-play time of 46 minutes.
Andy Farrell's men came out on top and are destined to arrive at the World Cup later this year as the global game's number one ranked team, while France have the talent to ensure the setback is only temporary.
England head coach Borthwick watched the match and admits his side have some catching up to do.
"It was an incredible Test match. The standard of those teams is phenomenal," he said.
"If you can use this four-year cycle really well, you should be in a good situation right now and they are. If you look at them they are strong. We are a bit behind them.
"I can't tell you how much but we are behind them. I can't do anything about where they are but we are going to work really hard to catch up as fast as we can."
Borthwick inherited a team that endured a dismal 2022, resulting in Jones being removed as head coach, and he insists there is no fast-track to success.
"We are going to do the best we can to be as good as we can be. This is a process of a rebuild," he said.
"I get the sense that people recognise this is a rebuild, I get a sense they recognise there is plenty to do here and we need to build some strengths here.
"The players have come through a tough time and I am asking them to do things in a different way and go out on the field and bring their strengths.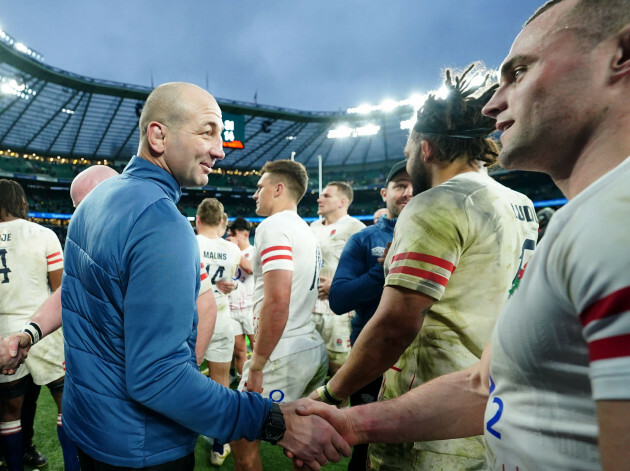 Alamy Stock Photo Steve Borthwick after England's win at Twickenham. Alamy Stock Photo
"I felt that against Italy they started to embrace that. Last week there was a reticence to really jump right in. That is what I want them to do."
Borthwick is to urgently investigate England's habit of fading that has been evident in his two matches in charge, knowing it could leave his players with regrets.
England threw away a 20-12 lead with half an hour remaining of their Guinness Six Nations opener against Scotland and were also one point in front heading into the final 10 minutes before ultimately falling 29-23.
And against Italy on Sunday they lost the second half 14-12 with tension hanging in the Twickenham air until Henry Arundell produced a slick finish in the 71st minute to quell the Azzurri uprising.
One win and one defeat places England third in the table, but with a fraught trip to Cardiff up next followed by clashes with the world's two best teams in France and Ireland, Borthwick is making a priority of identifying why they are vulnerable in the second half.
"At eight points up I would expect to win that game against Scotland. There was another point we were four points up and we let it slip," said Borthwick, who replaced the sacked Eddie Jones in December.
"As we move forward with this team, as we coach and understand, we will be debriefing those things really fully so we don't let those opportunities slide.
"You can't rewind the clock. I talked about my regrets as a player and I don't want these players to have regrets.
"We let one slip against Scotland and we made sure we fully debriefed it to learn from it.
"Against Italy, there was a period late in the game where we let momentum get away from us. I really need to understand why it happened and how it happened.
"We can't keep letting teams have momentum late in games against us. Clearly we let Italy out of their half, which is exactly what happened against Scotland. Systems take time."