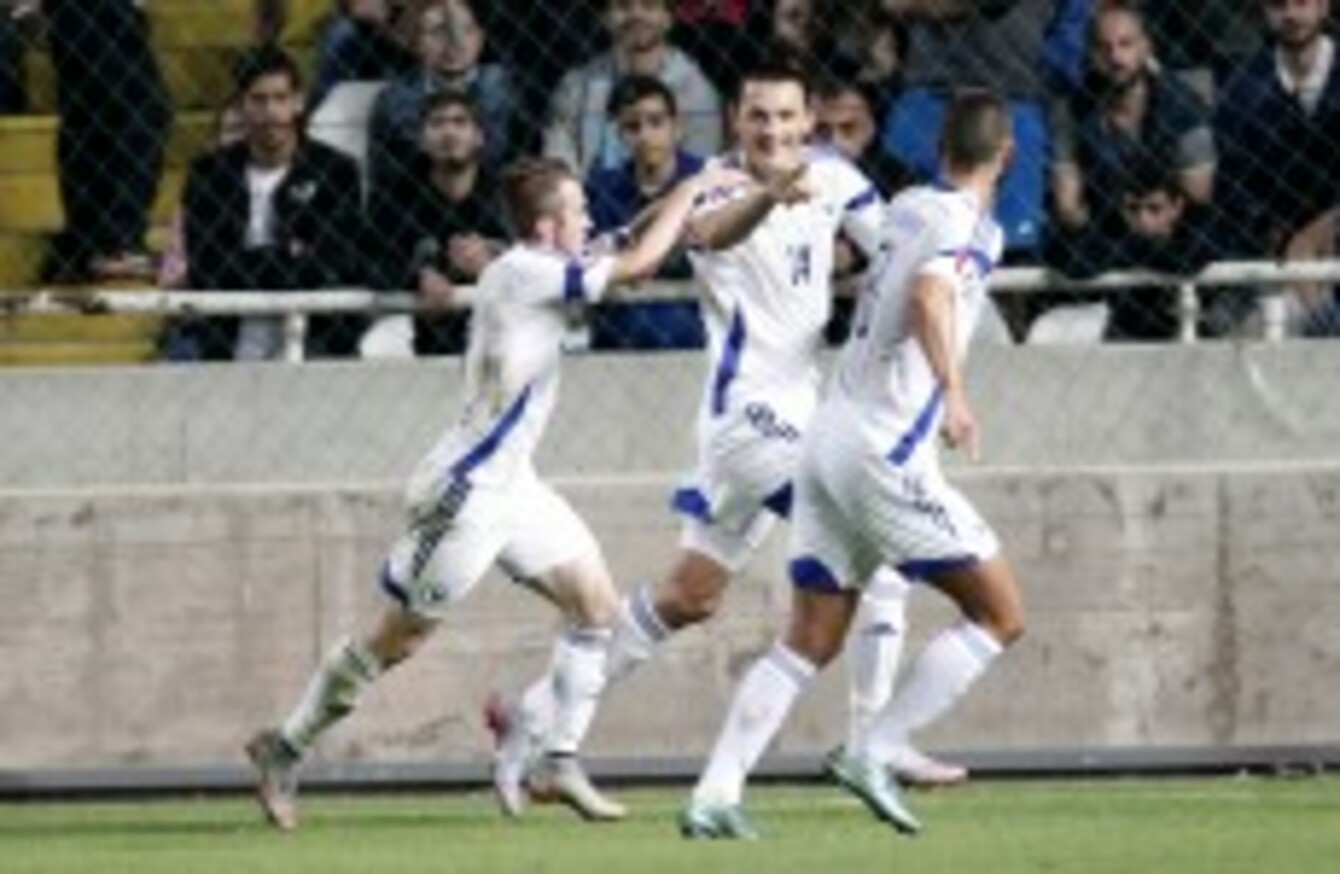 Image: Associated Press
Image: Associated Press
WHILE THE REPUBLIC of Ireland raced out of the traps during qualifying, accumulating seven points from their first three games, Bosnia were still stuck in their own recent past.
Ever since gaining independence, they had chased qualification for a major football tournament. They got close in 2010 and 2012 but twice lost to Portugal in the play-offs.
Finally, in late 2013, they reached the promised land with Vedad Ibisevic's goal twenty minutes from the end of a qualifier against Lithuania in Kaunas ensuring them an automatic spot at the World Cup.
Almost 50,000 people turned up in the streets of Sarajevo to pay tribute. The mood was one of jubilation, ecstasy, optimism.
Averaging three goals a game, with Edin Dzeko, Zvjezdan Misimovic and Ibisevic regarded as a particularly potent trinity and having strived for so long to prove themselves to the world, much was expected of them. They were many people's dreaded 'dark horses'. But the wheels started to come off quite quickly, as noted football writer and Eastern European expert Jonathan Wilson explains to The42.
"Safet Susic, the coach, played 4-4-2 all the way through World Cup qualifying, played Dzeko and Ibisevic up front and then he seemed to panic and almost thought 'We can't go into a World Cup with a midfield four, we've got to have an extra man in there'. So he dropped Ibisevic, who is very popular. He's been one of the great stalwarts of the side and, in a sense, deserved his place. The general thinking was 'Bosnia don't have that many great players – there are only five or six playing at the highest level. Ibisevic is one and you can't afford to leave him out so you've got to risk being over-run in midfield'. So that decision began to sour the mood."
Before the tournament, there was a late withdrawal and Susic drafted in his nephew – Tino-Sven. It was another mis-step.
Not that it would've mattered too much had Bosnia performed to their best in Brazil. Unfortunately for Susic and everyone else, they never got going.
"They lost to Argentina in the first game – no disgrace there," says Wilson.
But then they played Nigeria and Susic seemed unable to change things during that game – they were a little bit unlucky with Dzeko having a perfectly good goal ruled out for offside. But they lost that game and suddenly this great World Cup adventure, this thing they had been striving for for five or six years and had been getting closer and closer, it actually turned out to be a big disaster.
So I think there was a hangover from that. And a lack of faith in Susic was the reason they started qualifying so badly."
The road to Euro 2016 began brilliantly for Bosnia as they scored after just six minutes of their home clash with Cyprus. But that was as good as it got. They suffered a 2-1 defeat that day and took just two points from their next three fixtures.
Susic was sacked and the national team looked certain to miss out on yet another major competition. But under the former Yugoslavia captain Mehmed Bazdarevic, they staged an impressive turnaround.
"Bazdarevic came in, he was fortunate in the players he got back from injury but he also calmed everybody down. And beating Wales at home, going to Cyprus and winning – not the easiest things to do –  good results and suddenly everybody's firing and there's a great confidence about them again.
Ireland should be pretty worried, I think. The worrying thing from their point of view is the sense that everything is suddenly falling for this Bosnian team. They really struggled through qualifying but they won five of their last six games to get to this point and suddenly, everyone's fit again. Dzeko's back in form – he played very well for Roma at the weekend, (Miralem) Pjanic is in form, Sead Kolasinac is a centre-back who missed the start of qualifying due to injury – he's back. Emir Spahic – he's 35 now, the old captain who retired after the World Cup – he's come back as well and that shores them up. You look at the two teams and you'd say that Bosnia probably, just about, shade it in terms of ability but there's also this sense that everything is going right for them."
If there is a chink in the armour, it's certainly at the back. But perhaps not where you might expect.
Much was made of Asmir Begovic's summer move from Stoke to Chelsea – essentially swapping regular first-team football and undisputed number one status for more money and a place on the bench.
But since Thibaut Courtois's injury, Begovic has found himself immersed in one of the most inexplicable crises in recent Premier League history, as all around him seems in a perpetual state of collapse.
Though he made some poor mistakes in his final campaign at the Brittania, Begovic has not looked assured at Chelsea either – hardly surprising given the malaise sweeping through the organisation. Still, in Bosnia's final group qualifier, the stand-in captain was a bag of nerves. One incredible error directly led to a Cyprus goal while he got lucky earlier in the game when he dropped a routine cross.
"I think Begovic has been reasonable for Chelsea without being brilliant", says Wilson.
"It's understandable that his confidence has been a bit shaken by what's happened at the club. One of the goals in Cyprus particularly was as a result of a dreadful error and I remember him dropping a cross and getting away with it too. Bosnia generally have a weakness in the air and that's an area Ireland can definitely exploit – they don't deal well with high balls. Historically, Begovic has been one of the great strengths of the side but there may be a couple of doubts there, especially if he was to fumble a cross early on."
Since the play-off draw was made, much of the talk has been about Dzeko and the threat he poses. Having struggled during the latter part of his time with Manchester City and in his first few months at Roma, the 29-year-old is beginning to find his form again. And that's ominous.
"When Dzeko is good he looks brilliant and when he's bad he looks absolutely awful. Once his form starts to leave him, you almost think 'How is this guy a professional footballer?' But when he's playing well, he's big and strong, has a very powerful shot. He's always been a little clumsy but one of those people who almost uses it to an advantage.
There were very legitimate concerns, certainly towards the end of his time at City and at the beginning of this season, over whether he was ever going to get it back. But in the last week or two, there are little glimmers there and regarding Dzeko and the national side – he has carried them for a long time.
He's been the figurehead and that's a very difficult role, particularly in Bosnia. It's not just about being the highest-profile player. There's also a huge amount of work you have to do so that the football team essentially shows what Bosnia can be – the three ethnic sections coming together. You have a very important role to play in making sure all three groups feel involved and that nobody feels ostracised. He's handled all of that exceptionally well. And when he does play well, he does inspire. I remember being at a game against Turkey four years ago and he was playing by himself. There were ten others sitting behind the ball and him running at Turkey and they got away with a 1-1 draw. He's done that again and again so his significance to Bosnia as a nation shouldn't be underestimated."
Bosnia don't have the best of memories when it comes to play-offs. In 2009, they lost 1-0 to Portugal home and away. In 2011, they held the same opposition scoreless in the first leg before capitulating in the second half of the return fixture and losing 6-2.
So, will those dark days play on their minds in the build-up to their two-legged clash with Ireland?
"I don't think it will at all," says Wilson.
"No disrespect to Ireland but they're not Portugal. And there was a sense then that Bosnia bottled it, that they didn't really believe they could beat Portugal. Having experienced a World Cup now and without them facing anyone of the stature of Cristiano Ronaldo this time around – I think that makes a huge difference to the preparations for this."
And Wilson believes that as much as the players are desperate to right the wrongs of the 2014 World Cup, their coach is determined to exorcise some personal demons from over thirty years ago.
"There is a sense of destiny behind Bosnia at the minute and that stems from Bazdarevic, the manager, who is a fascinating figure. He played 54 times for Yugoslavia but only ever at one major tournament – in France in 1984 where his side lost all three games. It almost seemed that the rest of his national career was an attempt to put that right. They didn't qualify for the World Cup in 1986. They didn't qualify for the European Championships in 1988, they did qualify for the 1990 World Cup but Bazdarevic was suspended after spitting at a linesman. In 1992, Yugoslavia get kicked out. So he never got the chance to atone.
Also, in his personal life, he missed out first time around and got it right the second time. He was coming back from the World Under-20s in 1979 – the tournament where Diego Maradona really exploded onto the world stage – and he was flying back from Baelgrade to Sarajevo and he meets this student. He likes her very much but forgets her number and he doesn't have a pen on him. And it was a missed chance. But the following year, his club are heading on a pre-season tour of Tunisia and fly from Belgrade. So he catches a flight from Sarajevo to Belgrade and meets the same girl. And they're still married and have a daughter who lives in France because he played and managed in France, he and his wife even ran a sweetshop in France. And so France is his second home and so he's ready for his homecoming.
He's ready to go back to France, to go back to where he won nothing in 1984 and put that right. That's a culmination of his career and all of these steps have been laid out, as if this is what destiny has prepared for him."