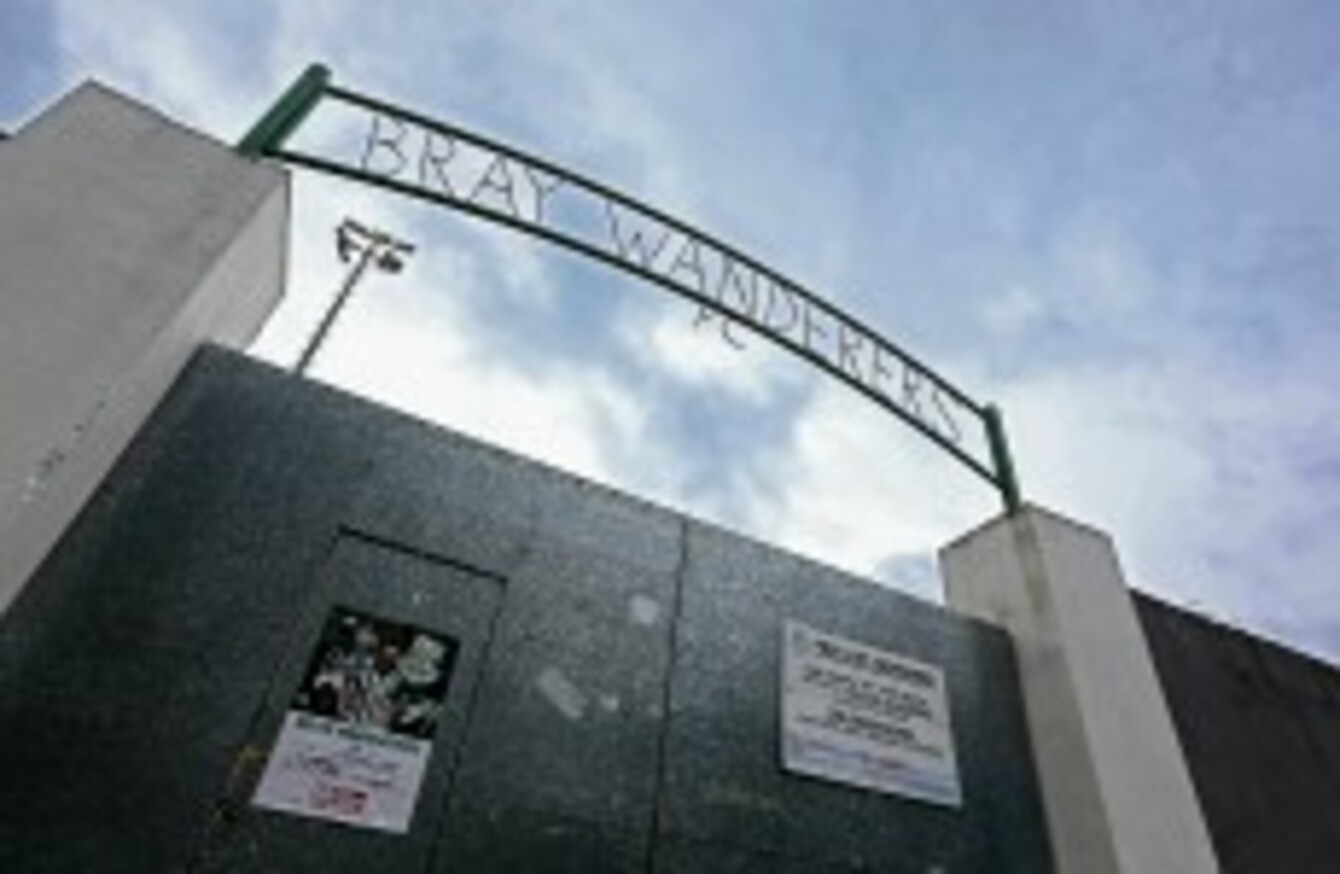 Image: Donall Farmer/INPHO
Image: Donall Farmer/INPHO
BRAY WANDERERS HAVE said they're 'entirely unaware of any Garda investigation' after a newspaper report claimed the club was at the centre of a fraud inquiry.
The front page of the Irish Mail on Sunday carried an exclusive story alleging the League of Ireland outfit were being investigated after €450,000 worth of state grants weren't accounted for.
The article details how the club received a total of €1,463,500 in Government funding between 1998 and 2009 – the money supposedly contributing to the development of the team's stadium, the Carlisle Grounds.
But, it's being alleged that only €927,212 was spent on upgrading the venue.
According to the report, two whistleblowers (believed to be former employees of the club) have contacted the Department of Transport, Tourism and Sport and claimed certain work referenced in invoices submitted in 2007 and 2008 wasn't carried out.
In a statement released on Sunday night, Bray maintained that 'its affairs are entirely compliant', that the club's accounts are independently audited every year and that no external body has expressed any concerns with the club's finances for the years 2006, 2007 or 2008.
Bray, whose expected new owners are the McGettigan Group, did hint at some apparent displeasure surrounding the 'proposed new administration' and insinuated that the newspaper reports could be linked.
The full Bray statement is printed below:
"In October last, Officers past and present of the Club met with officials from the Department of Tourism, Transport and Sport concerning grant-aid to the club under various Sports Capital Programmes.
One of the conditions attaching to grant approvals was that the project might be subject to inspection by representatives of the Department. The Club was selected to form part of the Department's 2014 Capital Inspection Programme.
This inspection duly took place on October 9th last. The Club provided all information requested and cooperated fully with the Department's inquiries.
The Club has heard nothing further since then and is not aware of any issue arising from any sports grants received at any time by the Club. It has never been contacted by An Garda Siochana and is entirely unaware of any Garda investigation.
The Club has been and is always prepared to provide the fullest cooperation with the Department of Tourism, Transport and Sports and An Garda Siochana."
The Club's financial books and records are and have been independently audited each financial year and its affairs are entirely compliant .There have never been any issues raised concerning irregularities in its accounts including for the years 2006, 2007 and 2008."
"Regrettably, over the past few weeks the Club has become aware of attempts to prevent the proposed new administration taking place and canvassing the Club to engage in a commercial property development of the Carlisle Grounds. The Club do not accept that this is the way forward.
Bray Wanderers are committed to keeping Premier League football in the town ,to keeping the Carlisle Grounds open for football and prevent it falling into the hands of property developers, and to move forward with the exciting plans for the coming season and beyond with new investors, local youth and football clubs and the involvement of an enthusiastic community
As is well known the new administration were not involved in the years 2006 to 2008 when there was an entirely different Board of Directors in control. However, we will cooperate with any official enquiry and will continue to try and get the community of Bray focussed on our football and community endeavours."