BRENDAN DEVENNEY HAS heaped praise on fellow county-man Michael Murphy following the Glenswilly man's superb start to the summer in Donegal colours.
Devenney acknowledged that he has always been a massive fan of Murphy, but insists the forward's game is improving all the time and he's capable of doing things other footballers simply can't do.
"I've always been his biggest fan, no matter what. I thought he could play the top eight positions, and be the best in any of those positions. I've always said that," he said.
He's hitting points now that are nearly from hurling range. He's that far out, it's ridiculous.
Murphy has often been deployed in numerous positions around the field throughout the last three years, rather than his customary full-forward role, and it has hampered his scoring return.
Cathal Noonan / INPHO Murphy contests a high ball with Justin McMahon of Tyrone. Cathal Noonan / INPHO / INPHO
The last time he found the net was in the 2012 All-Ireland final win over Mayo, but Devenney insists that he is more of a controller of the play now for the county side.
"I know he hasn't had a goal in championship since the 2012 All-Ireland final which is a mad stat but he hasn't had goal chances. He's not missing them. His role has become more withdrawn," he said.
"He has a different type of speed. Once he goes, the power he has, he has good control on the ball, he can handle whatever is going."
He just pulls the strings. He reminds me of Jan Molby in his pomp in his Liverpool days, he can just control the play.
"Those dead-balls are so vital. Armagh had no one like that."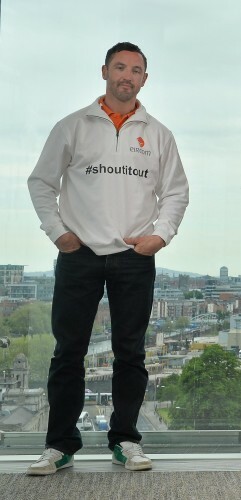 Brendan Moran / SPORTSFILE Brendan Devenney was speaking at a recent Eircom GAA launch. Brendan Moran / SPORTSFILE / SPORTSFILE
There has been plenty of questions raised as to whether this Donegal team is better than the one that won the All-Ireland in 2012, and Devenney thinks it is. The former Donegal star feels that teams have just began to handle Donegal's tactics a bit more wisely.
"I think they are a better team. In 2012 nobody tried any tactics against Donegal, nobody tried to counteract it, we actually walked it. But you seen last year Armagh caused us a lot of problems counteracting it and ultimately we lost to Kerry," he said.
"So I think Rory probably realised that after the All-Ireland final in particular we need something else because we had no platform for attack."
"We couldn't get the ball forward but when McBrearty came on then we had a platform. I love the way Donegal played against Armagh."
Presseye / Lorcan Doherty/INPHO Devenney says Patrick McBrearty has added an edge to the Donegal attack. Presseye / Lorcan Doherty/INPHO / Lorcan Doherty/INPHO
Donegal play Derry in the Ulster semi-final this weekend, bidding to secure a place in the Ulster final for a fifth successive year. Devenney bemoaned the fact that he never won an Ulster title throughout his own career however.
"We kept getting into the finals, we just couldn't f****** win the thing. As I said to someone recently, why couldn't Armagh play like that when we played them."
He also stated that the increased fitness levels and the tactics of teams ensures that there are very few upsets in championship football nowadays.
"I think it all comes down to modern football, there is never a level drop.  Before there used to be this thing, 'it's about who turns up on the day.' That's kind of put to bed now because everybody is so drilled."