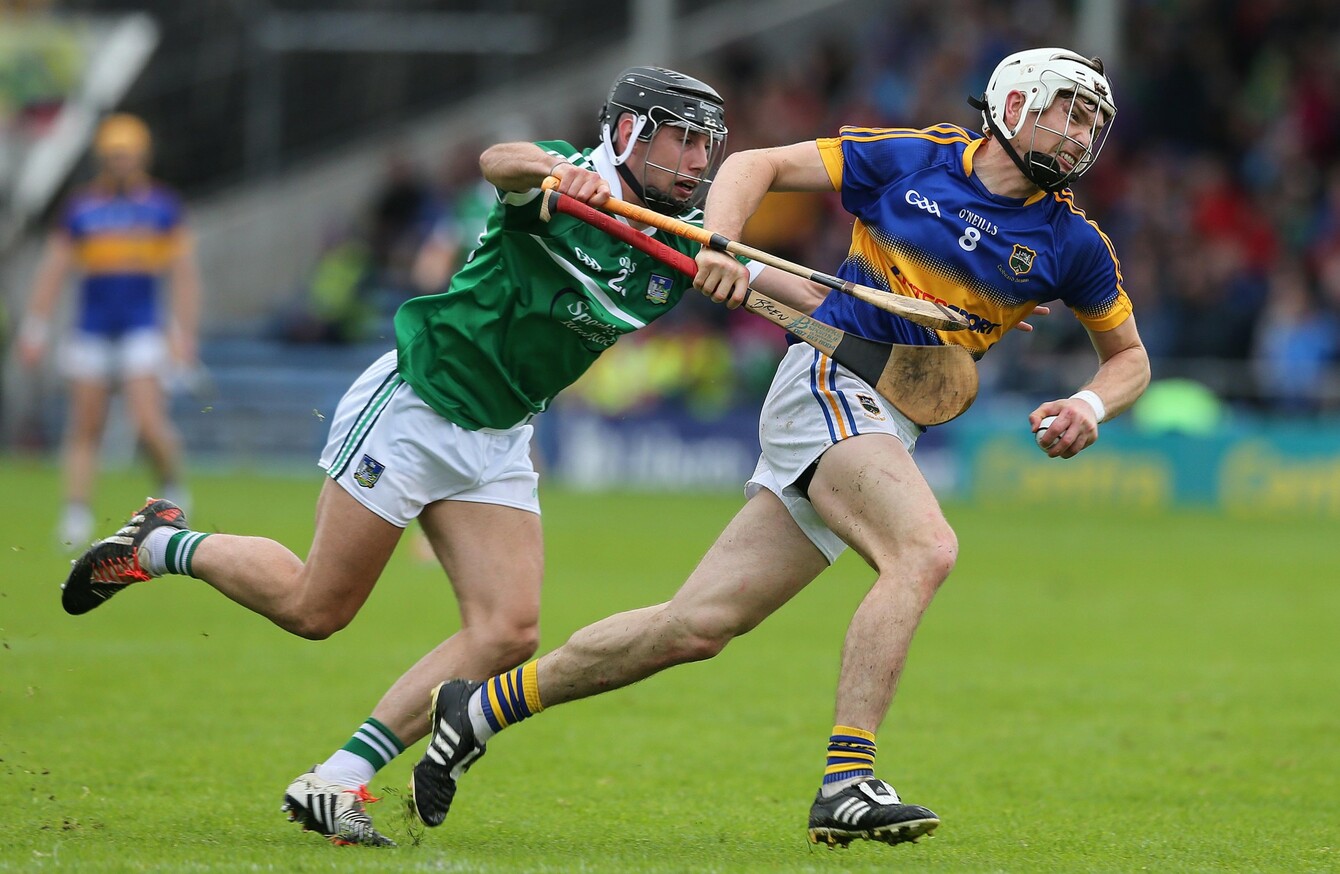 Image: Lorraine O'Sullivan/INPHO
Image: Lorraine O'Sullivan/INPHO
WHEN TIPPERARY CAPTAIN Brendan Maher travelled to Australia for his part in 'The Toughest Trade', his new friends at the Adelaide Strikers were shocked to learn about the severe alcohol bans imposed on GAA players.
Maher traded places with former England star Steve Harmison and one of the more memorable clips from his visit Down Under was when he told incredulous Strikers players that he would be "crucified" if he was caught drinking two weeks before a Tipperary match.
Ahead of this afternoon's Munster senior hurling final against Waterford, Maher has lived a monastic life since the semi-final victory over Limerick. Work, train, rest – that's been his routine over the last few weeks.
But he did notice pictures of the Republic of Ireland soccer players celebrating their Euro 2016 victory against Italy with a few cans in the dressing room – just days before meeting France in a knock-out clash. 
Maher smiles when asked how local people would react if pictures emerged from a victorious Tipperary dressing room of players clutching cans of beer shortly after a game.
"Shot, I'd say! That's not going to happen in the GAA, I don't think it ever will.
"It's still an amateur sport but we're trying to replicate professionalism so much and it's seen as something that would not be professional, I suppose.
"But when you see the likes of the soccer players doing it, and I know the rugby players do it as well, it would make you think twice about it. But look, we still do what we do. We do it the way we want to do it."
In a recent interview, Tipperary's AFL export Colin O'Riordan revealed how there's no issue with players enjoying a few drinks if they have an eight-day break, within certain guidelines.
And Maher admitted: "The culture is a lot better with the social life in Australia. There's no binges.
"That probably happens a bit in the GAA – we stay off it for so long and then, it's not even that you drink a lot but you're not used to it.
But I don't think it will ever be accepted for me, eight days out from a Munster final, to go and have two pints in the local.
"To be honest, I wouldn't expect it from myself. It wouldn't be right, in my own head, I wouldn't feel comfortable doing it. It's not that it's going to physically hinder me but in my head, I'm going home thinking 'I'm after having two pints, I'm not right.'
"It probably comes from the public perception of what you should be as an inter-county hurler or footballer. And unfortunately, that's the way it is now.
It is a bit unfortunate that you don't have a little bit more leeway but then again, the standards that we set ourselves, I wouldn't be happy if I heard a fella was out for 3 or 4 pints.
"It gives a sign to the rest of the team – 'he's not thinking, he's not tuned in'. That's the way I look at it, if everyone's willing to agree on the same thing.
"We have agreed on what we do and the way we do it, how we approach training and how we do everything. As long as everyone's on the same page, that's the most important thing."
Maher shakes his head when asked if these are written rules, or a charter, that exist within the Tipperary set-up.  
"No rules, Mick has never said to us, 'ye can't drink' or 'ye have to be in bed by 11 o'clock.'
"We don't work that way at all. There's no such thing as a charter or written rules. We set the standards ourselves, players set the standards," said the Borris-Ileigh man.
"Experienced players who have been there will say, 'right lads, this is what we're going to do for the next month.'
"And that's the way we operate. It's something we have found has worked for us and we'll continue to do the same."
Maher went for a few drinks after Tipp beat Cork in the Munster quarter-final, and again when they overcame Limerick, and he rightly sees no problem with that, considering the amount of time and effort invested as an inter-county player.
Of course. I went out for a couple of drinks in Borris', out with my girlfriend, got up and went to work on Monday morning and carried on with everyday life. Most lads did the same, some lads didn't, but it's gas the way if we had to lose by a few points against Limerick, and if you were to go for those few pints, there would be uproar.
"That's the one thing that would get to players, that you sacrifice so much and give up so much of your time. For me, to go for a few drinks with my girlfriend was nice because I don't get to do it. If it was on the back of a loss, I wouldn't have been able to do it."
And Maher's also aware that it's important to conduct himself properly when in the public eye.
"Social media, camera-phones, they've changed everything, changed public perception, changed social lives and not for the good in certain cases.
"We have to be wary of that but I think most players now at this stage know what works for them and what's right and wrong.
"As I said, we're pulling together. We have a good, close-knit group and if we decide to do something, we'll all stick to it and that's the way we try and keep things."
Social media is certainly a game-changer, especially when you consider that there are people out there who consider the off-field exploits of leading inter-county stars to be fair game.
"Yeah, it is crazy, and some of the stories that go around," Maher says.
We would be telling stories to each other about stuff we would have heard through conversations, different things, it mightn't even be related to social lives. Someone said to me last week – 'I heard Michael Breen is going working in your school.' He is not even a teacher! The rumour mill is crazy and it would make you laugh a lot of the time.
"Of course, once a rumour starts, a player's reputation and his personal life can be ruined. And that's what unfortunate about it. And when you are in the public eye, that is what you have to put up with."
Former Tipp star Shane McGrath also revealed in a recent newspaper interview that he received letters of a critical nature to his house when, as captain, his form dipped in 2013. Thankfully, Maher has not experienced anything of that nature.
"No, luckily enough, never got any letters.
"Everyone at some stage has got someone say something to them that was out of line, whether it was on a night out or after a game or that.
"Unfortunately, that is what we have to put with. We are lucky enough to be put in the situation that we are in to be representing our county and lucky enough to play inter-county hurling.
"There are some negatives that come with it but to be honest, it doesn't bother me."
Maher acknowledges, however, that Tipperary's senior hurlers are some of the most scrutinised players in the country.
They're heroes when they win, scapegoats when they lose, but Maher can understand the viewpoints of supporters.
As a Tipperary supporter myself, I would be the same way, would always have high demands and that filters in through us, we would have high demands of ourselves.
"And when it doesn't work out then, the downfall is drastic. But that's just the way it is and I don't think it is going to change so there is no point in fighting it."
Maher admits that his experiences as a teacher at Loughmore National School has changed his outlook on certain things in life.
In September 2013, Loughmore NS established an ASD (Autistic Spectrum Disorder) class, named 'Solas.'
Those facilities were extended in September 2014 and a second class was added, which Maher now oversees.
"It is very rewarding and it has opened up my mind to the challenges in life and how sport is sport.
"It definitely changed my outlook on a lot of things, the challenges that children with ASD face every day, simple things are massive challenges for them.
It has made me think differently about how I approach things, to relax a lot more and take it for what it is and that is probably why the public stuff doesn't bother me as much, I just laugh at it.
"And when you go into school and look at the challenges these children face, it does really open up your mind to a lot and it's opened up my mind to way I treat people as well.
"You don't have to have ASD to have challenges in life or challenges socially, it has definitely helped me an awful lot to progress as a person, not just as teacher."
The42 is on Snapchat! Tap the button below on your phone to add!