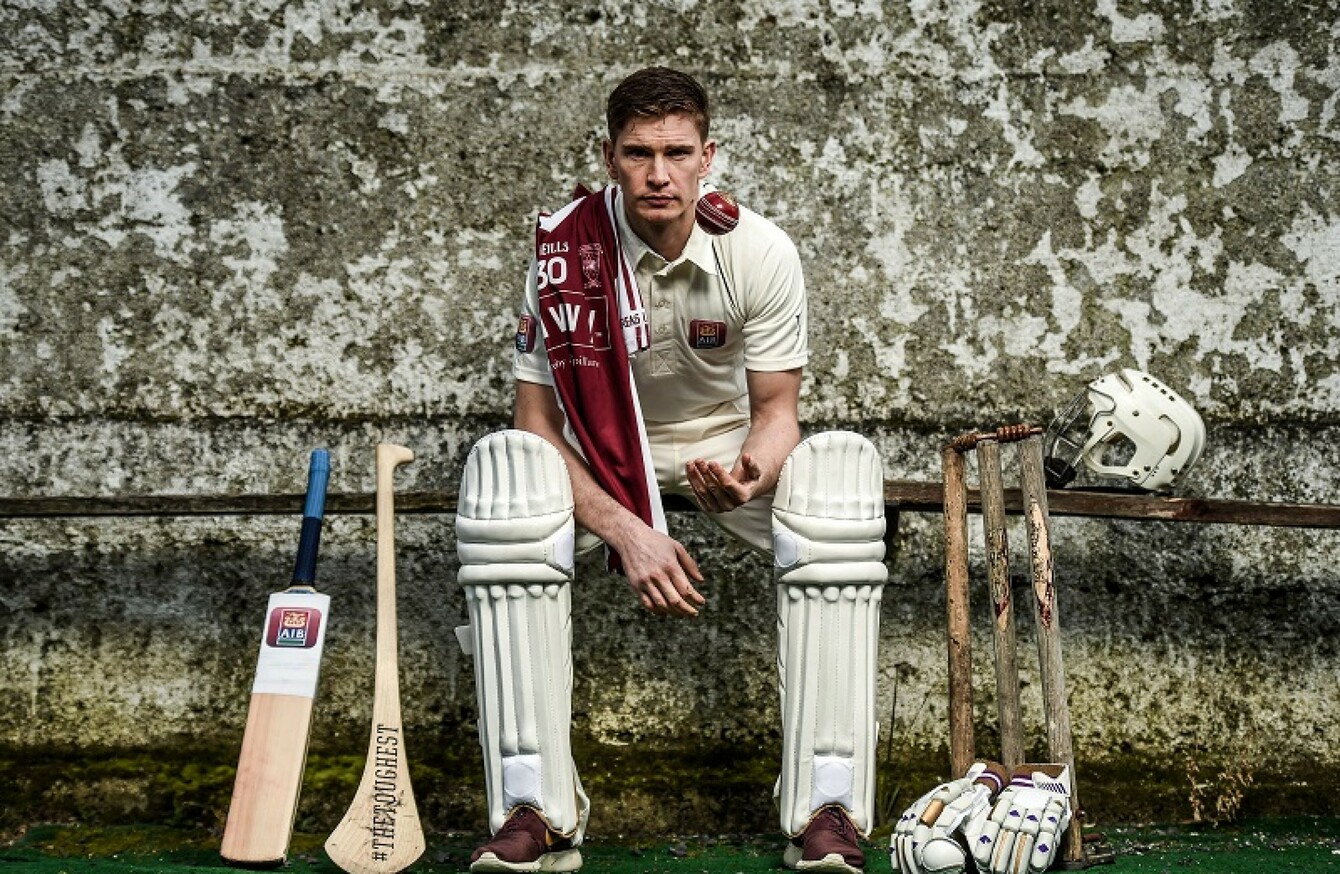 Maher spent a week with the Adelaide Strikers last month.
Image: Stephen McCarthy/SPORTSFILE
Maher spent a week with the Adelaide Strikers last month.
Image: Stephen McCarthy/SPORTSFILE
'What was the most played sport in Ireland in the early 19th century?'
THERE'S A POPULAR pub quiz question which is used to catch the unwitting know-all off guard – and even to this day the answer confounds many.
Rewind as far back as 1792 and there will be some trace of cricket being played in all four corners of Ireland. For much of the 19th century, it was the most popular sport in this country.
So when Brendan Maher reveals there is cricketing blood in his family, it comes as little surprise. In the heart of what's become Tipperary hurling territory, cricket was once the sporting religion.
"Would you believe before there was any GAA clubs in Borrisoleigh there were three cricket clubs?," he asks. "Pat Bracken he wrote a book, 'Cricket in Tipperary' I think it was called, and he traced the history of cricket.
"He found a game being played out in Fantana that my great grandfather played in so there was a history of cricket in the family, swear to god. I couldn't believe when he said it to me.
"Denis Treacy, my mother's grandfather played cricket back in the 1800s."
Maher could have been speaking of any town or village in the country. After cricket's seeds were sown across the island, the sport – just like the GAA club has become – was the cornerstone of the parish.
However, it was ultimately the emergence of Gaelic Games which led to the decline of cricket and the relationship between the sports was a long-standing cause of political and national friction.
The national sport became a rallying point for the working-class Irish tenants against the upper-class, cricket-playing, landlords. Class and creed separated the two.
Yet scratch beneath the surface and the relationship between GAA and cricket runs much deeper, as Maher now appreciates.
The Tipperary hurling captain's fascination with cricket was stimulated by his trip to Australia as part of AIB's 'The Toughest Trade' documentary.
He spent a week with the Adelaide Strikers, rubbing shoulders with some of the game's most high-profile players, during the Big Bash League.
"From start to finish it was an amazing experience," the 27-year-old said, ahead of the airing of the documentary this evening (RTÉ2, 9.55pm).
"It was something very alien to what I'm used to sporting-wise. Completely different to the GAA.
"The whole approach to it is far more relaxed. Maybe that's the way it is with professional sport, they're at it every day so maybe they're naturally more relaxed anyway. Like the whole approach to a game, the whole approach to training was far more controlled and very methodical but that's the game.
"Like before the game that I was at while I was over there, I was in the dressing room and it was just all conversations going on, there was no big speech. It was different. It was a very enjoyable experience, to get to see the way they operate.
"I wasn't a fan of cricket like. I didn't know much about cricket before going over but definitely found myself now when I'm watching Sky Sports now I'm flicking on the cricket because you know the game a bit better."
As cricket's popularity is being pushed to new levels on the back of international success, new clubs are sprouting up in GAA strongholds around the country.
Thurles Cricket Club, established in the town where the GAA was founded, has been a member of the Munster Cricket Union since 2011 while Nenagh CC and Tipperary CC are bringing the sport to a wider audience in the county.
Exclusive NZ - IRE
Rugby Analysis
Get Murray Kinsella's match analysis and Garry Doyle's updates from New Zealand exclusive to members
Become a Member
Although the sport has exploded in growth with swelling participation and interest levels, it was never something Maher took much notice of in the past.
"It was lot different than I thought it was going to be," he admits. "The pace they are able to throw the ball, the concentration levels have to be massive especially especially for Test cricket, you are out there for hours like.
"Mentally, it's very challenging. For the batting when you have ball after ball coming at you, I didn't find it difficult physically, it was just the concentration, am I standing in the right place? Are my hands right?
"You have to think of a lot of things before the ball actually comes at you and before you know it, it has whizzed past you, and timing, there is an awful lot in it.
"To be honest I am a fan of it now. I would actually sit down and watch it now because I have experienced it and I know what it's like to be in their shoes now, so to speak.
"It definitely, definitely has changed my perception."
As two sports which require an immense level of hand-eye co-ordination, it is perhaps a bit surprising that there is not more of a crossover between the two.
In his book, Pat Bracken discovered there were almost 260 cricket teams playing on a weekly basis in Tipperary in the 19th century and one of Maher's forefathers was an active member.
Source: AIB Bank/YouTube
For obvious reasons, the sport didn't filter down through the generations and the All-Ireland winner agrees that it was something he would have liked to pick up from an early age.
"It's similar to hurling in that it is very technical and technique has a lot to do with it, in terms of batting, so if I had a bit more time, I might have done a bit better," he continued
"From talking to the lads over there, it's something you need to do from a young age. I suppose the attributes you have as a hurler do cross over, the hand-eye co-ordination.
"If someone said to me, 'do you want to go to a game?', as a pastime I would definitely do it. It is enjoyable because you do have a lot of things like the fielding, that's good craic, you're standing out there trying to catch it, I enjoyed that.
"I definitely would. There's one of the lads at home and he's a fanatic, he was onto me, 'oh, we'll start playing a few games during the summer' and I was 'yeah, yeah, yeah'."
The Big Bash League, which is arguably the leading Twenty20 tournament in the world, is a completely different form of cricket to the one Maher's great grandfather would have played all those years ago.
After immersing himself in the professional set-up for a week, the Borris-Ileigh man was then tasked with facing one of the Strikers' fast-bowlers after one of their home games at the 53,000-seater Adelaide Oval.
While the speed of the bowling stood-out for the Tipp Allstar, he was intrigued by the difference in the training methods and lifestyles professionals are allowed to live.
"One of the things I took out of it was the atmosphere in training. I think in most GAA teams training is very serious and everything is like, you can't laugh or you can't smile nearly.
"And I just noticed that in the warm ups for the training it was all laughing and joking, it was really relaxed and everyone was laughing and I was thinking, maybe we should have that approach a little bit more in the GAA.
"That you bring a little more element of fun into your sessions. You talk about this time of the year, togging out to go out into muck and rain and hail, you need something to get you into the buzz and it really is probably a testament of a GAA player that he has the motivation to go out and go through torture in January and February every night without that.
"I won't say it's not fun, it is enjoyable but it's tough going, going out in those conditions.
"They couldn't get over it the fact we don't get paid. I had a few conversations about different things, about the way it is in the GAA and the way it is with them like.
"They would have a few beers after each game, or even there was a BBQ a few days before one game and they were all there with their coach having a few beers.
"There's no way we'd do this in the GAA. If you had a beer two or three months before a game you'd nearly be lambasted for it.
"That's the kind of stuff that would annoy you, that you can't even be seen to be seen out in a social setting with your friends even though you're just sitting there drinking a sparkling water. You're told, 'you shouldn't be out' or 'you shouldn't be here'."
For Maher, it's back to reality now but he's returned with a greater appreciation for the core values of the GAA and why, despite the obvious chasm between amateur and professional, he is in the sport of hurling and not cricket.
With summer around the corner and pre-season nets already under his belt, Maher might just follow in the footsteps of his great grandfather and don the whites this summer.
"I'm definitely a fan of it and I think I'll put on the pads again at some stage."
The42 is on Snapchat! Tap the button below on your phone to add!