PHIL THOMPSON SAYS Liverpool manager Brendan Rodgers deserves praise for getting more out of his players in the second half of the season.
After finishing runners-up to Manchester City in the Premier League title race last May, the Reds boss came under pressure as his team lost early ground due to defeats to Aston Villa, West Ham, Newcastle, Chelsea, Crystal Palace and Manchester United before Christmas.
However, since that 3-0 loss at Old Trafford, Liverpool have gone seven games unbeaten in the league — taking 17 points from a possible 21.
Former assistant manager Thompson, who these days works as a pundit on Sky Sports, says: "I think a lot (of credit) has to be given.
"He was searching for his new players to get started because he had invested a lot in them. Instead of going for experience, he has gone for youth in the hope of getting benefits of it later on and that is taking a chance in this modern game of football.
"There is no guarantee as we saw with Spurs. Their influx of players were a lot more experienced than who Liverpool brought in and that didn't hit the ground running.
"It was a chance, he took a big risk. It didn't work out at first and obviously people were complaining. As a manager you would have to look at how to turn this around. Hopefully your players will start playing better to started and that did happen. Then you have to find a formula of how it's going to work and he came up with this 3-4-2-1 formation.
To me, it's a piece of genius. People might say it's luck but I think he was looking at his players and how to get the best out of them.
"I think it has worked like a dream for him. We're not playing as well as last season but we're not far off it. The only thing we were lacking was having a striker."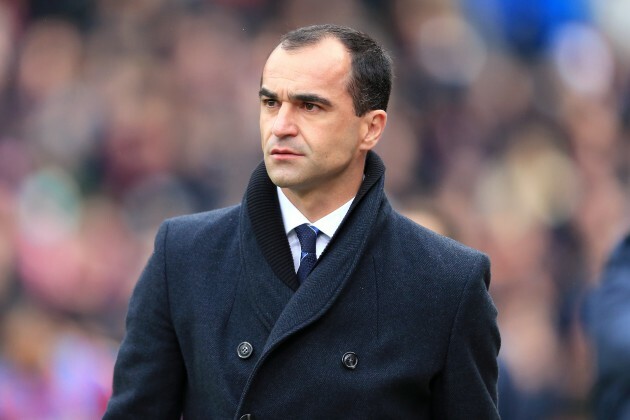 Stephen Pond Everton boss Roberto Martinez. Stephen Pond
Daniel Sturridge scored on his return from a lengthy lay-off last weekend and is likely to be given a starting role against Everton in this afternoon's Merseyside derby. The Toffees are 12 points adrift of their city rivals and Thompson is expecting an away win.
"I think you would have to (back Liverpool) on the form of the teams," he added. "Everton will feel like it has been a monkey off their back with that win (against Palace).
"Sooner or later, Everton were going to get a result — playing well or playing poorly. So I wanted them to have that result before the derby."
Watch Liverpool vs. Everton exclusively live on Sky Sports 1, or wherever you are with Sky Go, from 4.45pm this Saturday. Existing Sky TV customers can get more of the action for less by upgrading to both Sky Sports and Sky Movies for €28 a month for 8 months by calling 0818 904 078 or visiting sky.ie/sportsandmovies.