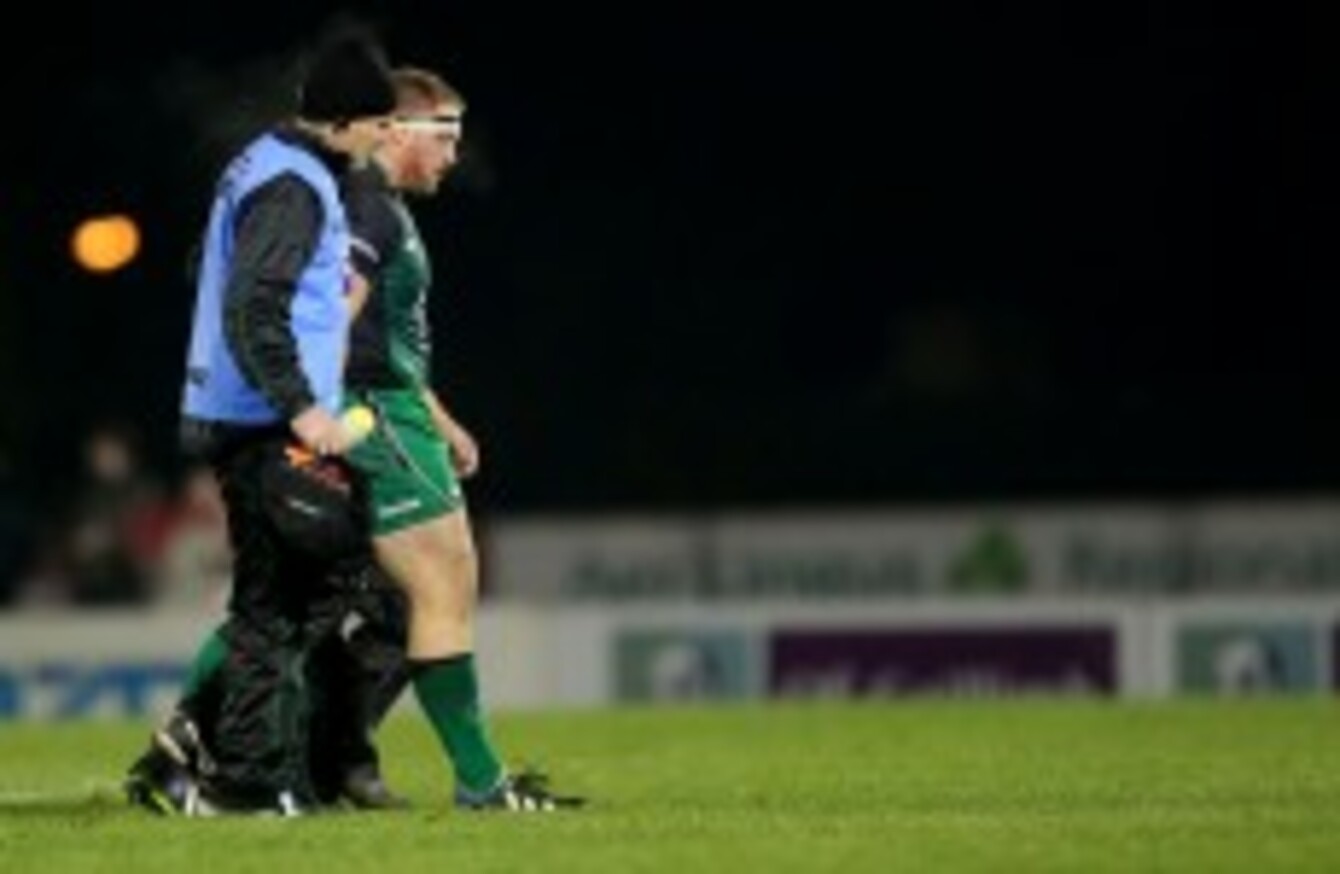 Brett Wilkinson leaves the field injured last November.
Image: James Crombie/INPHO
Brett Wilkinson leaves the field injured last November.
Image: James Crombie/INPHO
CONNACHT PROP BRETT WILKINSON has been forced to retire from rugby after sustaining a serious neck injury in his team's Heineken Cup loss to Saracens in January.
The 30-year-old damaged a ligament in the upper part of his neck in the away defeat and medical experts have advised him to cease contact sport with immediate effect. Wilkinson, who has played 183 times for Connacht since 2006, will have to wear a neck brace continuously for three months to stabilise the damage and rule out the need for surgery.
The South African prop, who was Irish qualified, said, "It has, of course, come as a big shock for me that I have to retire so suddenly. I'm devastated that I won't play again but the nature of my injury was very serious and I have to appreciate that I have my health."
"It's strange to find myself in this situation," he added, "but I've had time to get over the initial shock and now I am just really grateful for all the opportunities I've had through rugby.
"I'd like to thank my fiancée Patrice and my family and friends, both here in Ireland and in South Africa, for their constant support.  My team mates at Connacht, former and present, are some of the best friends I have and the memories of sharing the highs and lows of professional sport with them is something I'll have forever."
Wilkinson thanked Connacht's backroom staff and medical team, adding a special word of praise for the club's supporters for welcoming him to 'a place I now call him' — Galway. He continued:
Being with Connacht for eight years, I've worked under some great coaches and I have to thank Michael Bradley and Eric Elwood for their guidance. I've only worked with Pat (Lam) for one season but I've learnt a hell of a lot from him in that short time and I have to thank him for that. But I'd like to particularly thank Dan McFarland, who has coached me since my arrival at Connacht and who influenced my game in so many ways."
Wilkinson played five times for Ireland Wolfhounds and played with the senior team in an uncapped match against the Barbarians. He toured with Ireland to New Zealand in 2012. McFarland declared him 'an unheralded but talented club player' while Lam said he was 'a true team man'.
Wilkinson added, "My whole rugby career has been with this club and I've witnessed some massive changes but one thing remains and that is the decent people here. Connacht has been building and building every year and while I'm sad I won't be a part of it in the same way any more, I'm excited to follow its progress as a supporter and friend."