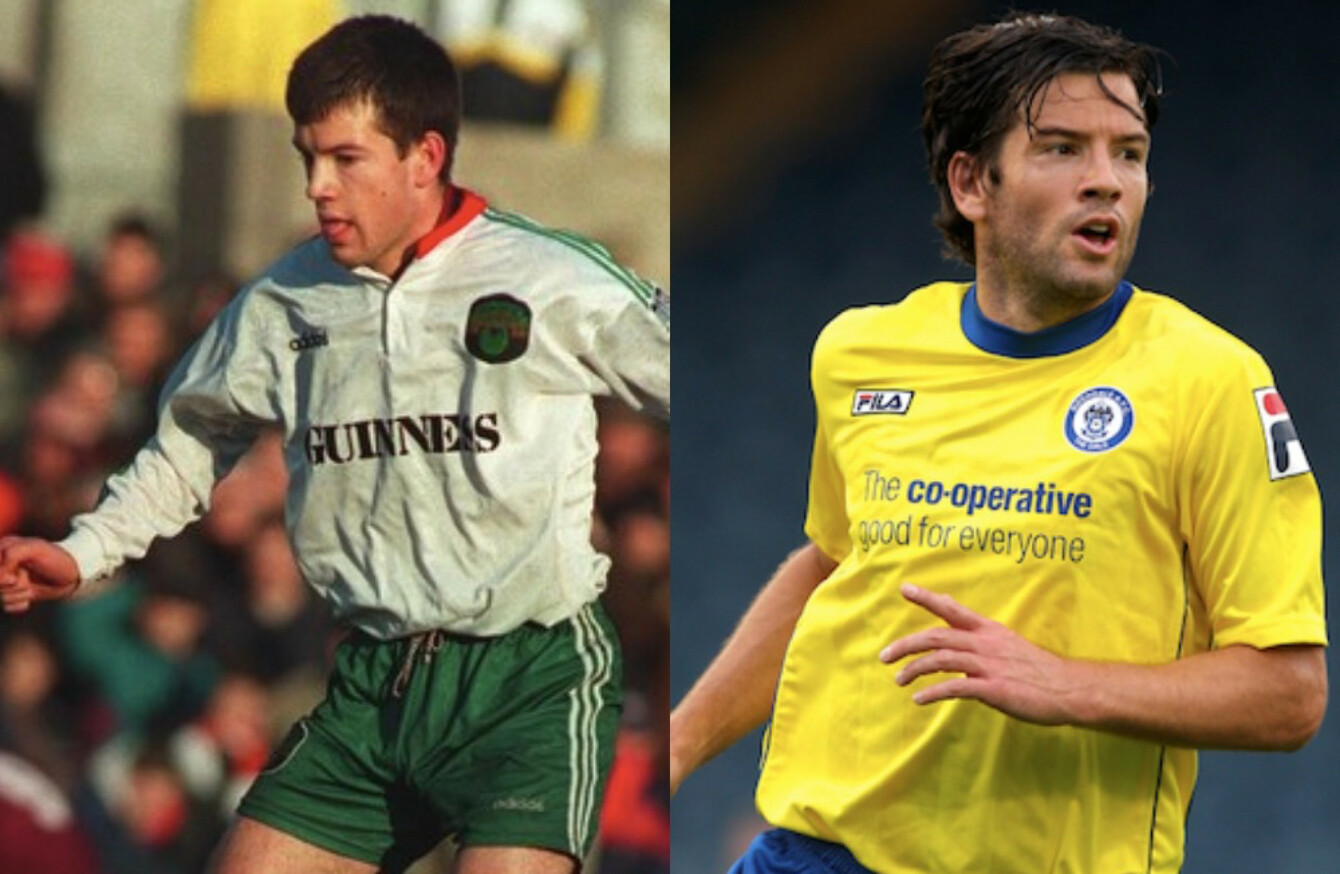 WE'RE SUPPOSED TO be chatting about Sunday. Tottenham at Spotland. The FA Cup Fifth Round. Arguably the biggest game of Rochdale's history. But we get a bit sidetracked.
Brian Barry-Murphy wants to chat more about the League of Ireland.
"I feel quite strongly about this, to be honest," he begins.
"I think there's still a sense of ignorance in the UK towards the League of Ireland. Clubs still see that there's cracking players that come out of the league like Kevin Doyle, Shane Long, all the boys that went over to Preston. But I still think they don't really rate the league over here. They'll be players coming over to England and clubs will still be humming and hawing about taking them.
"The league has been outstanding over the last three or four years particularly. There's such a draw to staying at home now because of European football so maybe you don't see as many players come over as before. But I think the players get an unbelievable grounding in the League of Ireland. One of the best things that I found out when I came over was that my grounding in the league was harder than any apprenticeship you would have had over here in club academies. Different, I suppose. Now, there's still a route for the guys who go over really young and progress but I think there's a huge upside to guys staying and playing in the league and coming over as more developed players."
One of those players is Ryan Delaney.
The defender arrived at Rochdale in January on a two-and-a-half deal from Burton Albion but it was his superb loan spell at Cork City that reinvigorated him and provided a much-needed confidence boost after a difficult cross-channel initiation.
The 21-year-old has gone straight into the first-team and started the last four games for the club. Later today, he'll face Fernando Llorente, Lucas Moura et al.
"Delaney is a prime example," Barry-Murphy continues.
He came over to Burton and never got a chance after doing well at Wexford. He went back to the League of Ireland and had an unbelievable season with Cork City and people still didn't seem to realise who he was over here. Which is strange for me."
It's almost 20 years now since Barry-Murphy left Leeside and pitched up at David Moyes' Preston. Across two decades, there have been just three further permanent clubs, a testament to his character and dedication. Sheffield Wednesday was enjoyable but brief. There was a long stint at Bury before he signed for Rochdale in 2010.
But, since 2013, he's taken a step back. Initially there was a player/coach role, with manager Keith Hill keen on using Barry-Murphy as an on-field mentor for the team's younger charges. But injuries were becoming more frequent and his last game was back in November 2016.
These days, at 39, he concentrates on being first-team coach and he's quick to point out just how much of an influence his formative days in the League of Ireland have been to him both on and off the field.
"I've done study after study over here and I enjoy them all but the facilitators and educators go on about different coaching experiences and teaching the players different ways," he says.
"Some of the best things I ever learned were from playing in the League of Ireland against certain players. At the FA, down in St George's Park, they'll say to me, 'Where did you learn this?' and I'll say, 'I saw Paul Doolin do it against me one day. I didn't know what hit me but I remembered it forever.' Like, I remember playing against that Dundalk side and Johnny C (John Caulfield) and Deccie Daly saying to me, 'Yer man Doolin is some player now so you'll have to watch his runs from midfield'. And I was prepared for it but I never saw the runs because he was always making them when I wasn't watching. I picked up all these things that you could never coach. Paul Doolin? Fuck. He was unbelievable. As long as I'll live, I'll never forget the stuff I picked up against those type of guys."
There's a brief pause. I move to ask another question and get a couple of words out but Barry-Murphy is excitable now. He's lost to nostalgia. He's on a roll.
"LIAM COYLE, EOIN! LIAM COYLE!" he roars, defiantly.
They used play the ball into Liam Coyle's feet and he'd flick it around the corner or over his shoulder and they'd be in behind you and you'd be green as grass thinking, 'How did they get in behind me there?' Unreal, like. And Liam was crippled! He'd be going around with those big bandages on his knees. He was a wizard though, wasn't he? Like, that group of players were unbelievable and they've been consigned to that sort of mentality of, 'Ah well, they mustn't have been good enough to go over because they never did' but it was because they never really got a chance. A different time, I suppose."
Barry-Murphy doesn't have much of a hankering for his playing days. Certainly, there's been a buzz and an energy in the build-up to today's fixture but having battled through about 400 games in the lower leagues, he knows these days are the exception rather than the rule.
And he's been a bit-player in recent seasons anyway. It was a slow, patient transition and one he had prepared for.
"It was inevitable, really," he says.
"My body just had loads of issues. I'd had so many knee surgeries. And even last season, I came back to play in one of those Checkatrade games and I snapped my Achilles and it was a bollocks, like. You miss the days like Sunday, don't you? But it wasn't a big transition for me. It was very easy, to be honest.  I was in a coaching mindset from quite a while back anyway.
"I was on the verge of retiring five years ago, but Keith Hill came back to the club as manager. I'd had loads of injuries but I continued in this player-coach role, though I didn't really consider myself a player. He knew I'd played really well for him in his previous stint at the club so after he came back from Barnsley he wanted me to instil his beliefs in the players through action rather than words. So, what he was doing verbally, I was doing it on the training pitch. And it just worked brilliantly. We had loads of players who came through our academy so it was used for that purpose – to bring on those younger players.
I was gaining unbelievable experience from the manager while I was finishing my training and doing my A licence and things like that. So in return I felt like I owed him. If I was going to be a player-coach, I wanted to give him something back in terms of doing things properly on the training ground, even though I was rarely, if at all, selected for games. I felt some sort of justification in that I thought I was helping the younger players and all the players at the club, really. And there came a time about a year or two ago when players started to overtake me so much and I wasn't able to keep up with them on the training ground and I started dropping out of training more and more and that's what we were after, really. Once the players became too good for me, I was like a horse that had served its purpose. But it was worth it because the guys progressed so much in such a short space of time."
This season has been a traumatic one for Rochdale. They're currently rooted to the bottom of the League One table and time is running out if they're to avoid relegation. But the FA Cup has been a distraction for them.
They went to Doncaster and won in the Third Round. They forced a draw against Millwall at The Den and were unfortunate not to win. Still, they made up for it the following week by squeezing past them in the replay at Spotland and securing an unusually lucrative and high-profile tie with an elite Premier League side.
Inexplicably for someone who has spent 20 odd years in English league football, it's also a pretty rare glamour fixture for Barry-Murphy to be involved with.
"Down through the years we've had nothing, really," he admits.
"We had some good home draws: Leeds and Nottingham Forest but nothing from the Premier League to have a go off. So, it's great for the club, the manager but especially the academy. Our academy has brought through some unbelievable players and sold them on: Craig Dawson, Rickie Lambert – some great calibre players – and it's good to get some recognition by facing a top team, really."
Barry-Murphy has been heavily involved in pushing talented youngsters into the first-team. 16-year-old Daniel Adshead made his debut for the club in the drawn game against Millwall and could feature against Spurs.
The teenager is still in secondary school and was doing homework on the team bus as it made its way to south-east London for the Fourth Round clash. A reminder, if ever Rochdale needed it, of just how wide the gulf between the two sides is.
"It's the biggest game in the club's history, really," Barry-Murphy says.
It's a bit of a fanfare for the team at the moment and the town too, because they've had some tough times, so it's brilliant for them. It's been really hard going for loads of different reasons in the league but we've had some unbelievable results in the Cup, in tough fixtures, so it's a reward for the lads. It's great for them. But this is a completely different kettle of fish altogether. It's a step up from anything we've played against at any level over the past three or four years. Tottenham are a top European team now. They're established.
"But we just try and give the players as much information as we can so they're prepared. Our manager is very strong, even though we've had a tough season. We stick to the way we play and we'll try and be aggressive and be on the front foot. There will be times when we won't be able to but a lot of our group is made up of players from our academy. They seem genuinely excited by it and want to have a go. They're not showing any signs of nerves or apprehension so we'll go with that and encourage them to be themselves and express themselves. There's no real point in trying to be cautious. They're keen to have a go off it so why not let them have a go? That's always been the attitude at our club. Why hold them back?"
The42 is on Instagram! Tap the button below on your phone to follow us!