IF YOU THINK you've had a tough week at work, spare a thought for the producers of Up For The Match. Tipperary and Kilkenny meet in the All-Ireland hurling final on Sunday for the sixth time (including replays) since 2009.
Save for a dubstep version of The Rose of Mooncoin, its difficult to see a new angle or quirky connection that hasn't been mined between these two.
But away from the mouldy old banter, for the rest of us there a surprising sense of intrigue about this game. That, of course, is the sense of intrigue that generally arises when we think there's a smidgeon of a chance that Kilkenny might get beaten.
That said, it's hard to want Kilkenny to get beaten as much as usual. A bit like Robbie Keane, there's been something approaching affection afforded to Kilkenny of late, a grudging admiration at the sheer statistical weight of their success.
They have bludgeoned us into submission, like an early round Leinster championship opponent, forcing us to give in to their enduring indefatigability.
I like Kilkenny. There I said it. How could you not like a team that reaches into its soul time and time again to win games, when it would be perfectly entitled to lie down and have a nice rest and let somebody else win for a change?
Still, most neutrals will want them to lose on Sunday, because that's just the way things are. It's one of the truisms of autumn in Ireland, like the sun shining when the schools go back and Pat Kenny having a new TV show.
The intrigue about this final is over whether Tipperary have become Kilkenny enough to actually beat Kilkenny. Can they outdo Kilkenny for that maniacal intensity, that insatiable appetite for work, that ruthless slaughter of the vulnerable and all that other voodoo that they do so well?
That was something that Waterford manager Derek McGrath realised when he got his team – hitherto regarded as the pointy headed boffins of modern hurling science – to the ferocious pitch that almost took them clear of Kilkenny in the semi-final.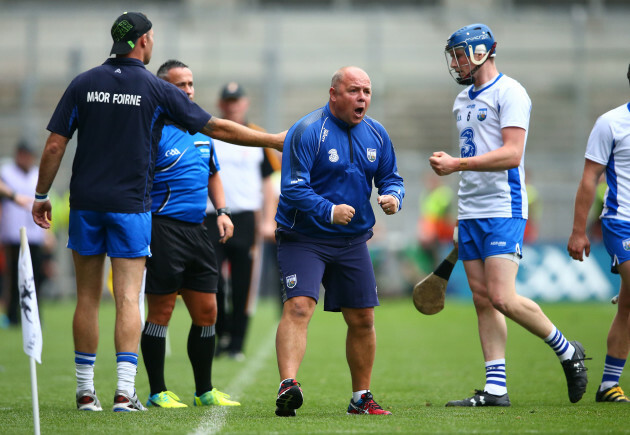 Cathal Noonan / INPHO Waterford manager Derek McGrath Cathal Noonan / INPHO / INPHO
They blinked at the last, allowing Kilkenny to pluck their still beating hearts from their chests in the replay, in that charming way Kilkenny do. It was a reminder that while there is a way past this Kilkenny team, there are no short cuts.
It was also a reminder of something more fundamental. Forget about sweeper systems, zonal marking, puckout strategies, rotating forward lines, short passing, possession or whatever else dominated debate about inter-county hurling earlier in the season.
It has turned out that a year during which the state of the game was discussed incessantly, has ended in the sport being defined by one simple, enduring thing: the personality of Brian Cody.
Doesn't it seems ridiculous that Cody could even exist in the modern world? Sometimes you wonder what he makes of it all. Imagine explaining Pokemon Go to Brian Cody. Imagine how he'd look at you.
"So you see, you chase the characters around the place…then you catch them with these Poke-balls…then you…er…take them to the…em…gym…and then….."
[SILENCE]
Does Brian Cody watch Strictly or the Great British Bake-Off? What does he, the man in whose image Ireland's greatest ever sporting dynasty was created, make of our Snapchat, gluten-free, self-obsessed times? I imagine he shakes his head a lot these days.
Can there be any organisation whose culture embodies their leader's personality more than Kilkenny with their pugnaciousness, belligerence, honesty and commitment?
Cody could make a killing in the management guru circuit; The Cody Code – Be The Top Cat In The Boardroom. Savage Intensity – The Kilkenny Approach to Business Success.
Have no doubt: Cody whipped Kilkenny into this final like a farmer driving cattle. He saw how they dawdled at times in the first game against Waterford and, a growling and cajoling presence on the sideline for replay, set the tone for their subsequent victory.
He can't actually play himself, so he is helped by like-minded onfield lieutenants; how big a factor on Sunday will the absence of Michael Fennelly, wrecking ball to Waterford's hopes, be for Kilkenny?
Exclusive Six
Nations Analysis
Get Murray Kinsella's exclusive analysis of Ireland's Six Nations campaign this spring
Become a Member
To illustrate how Kilkenny, and by proxy, Cody, define the terrain on which this All-Ireland final will be fought, consider these comments from the Tipperary camp after the semi-final victory over Galway.
Tipperary manager Michael Ryan: "I think we're going to have to find a level of intensity far more consistent than what we were able to show out there today…We're playing the masters of intensity, they showed it again last night, that level of intensity that got them through their semi-final."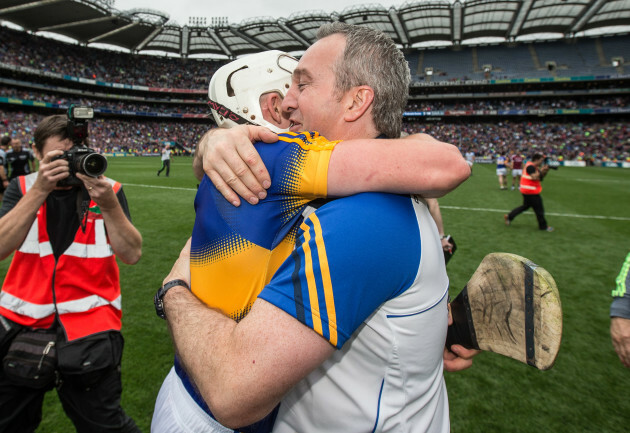 Cathal Noonan / INPHO Michael Ryan celebrates Tipperary's win over Galway Cathal Noonan / INPHO / INPHO
And Tipp midfielder Michael Breen: "It has been said that we die down in tight games, but not this year. We've developed that mental toughness."
Tipperary's high hopes are based, not on the carousel of forward movement that won them their last All-Ireland in 2010, but on intensity and mental toughness, and the hope that they can do those quintessentially Kilkenny things just that little bit better on the big day than the market leaders.
This may not be a great Kilkenny team when compared with some of Cody's earlier iterations, but with him, certain things are non-negotiable.
The producers of Up For The Match aren't the only ones dealing with a very familiar formula this weekend.
The42 is on Snapchat! Tap the button below on your phone to add!