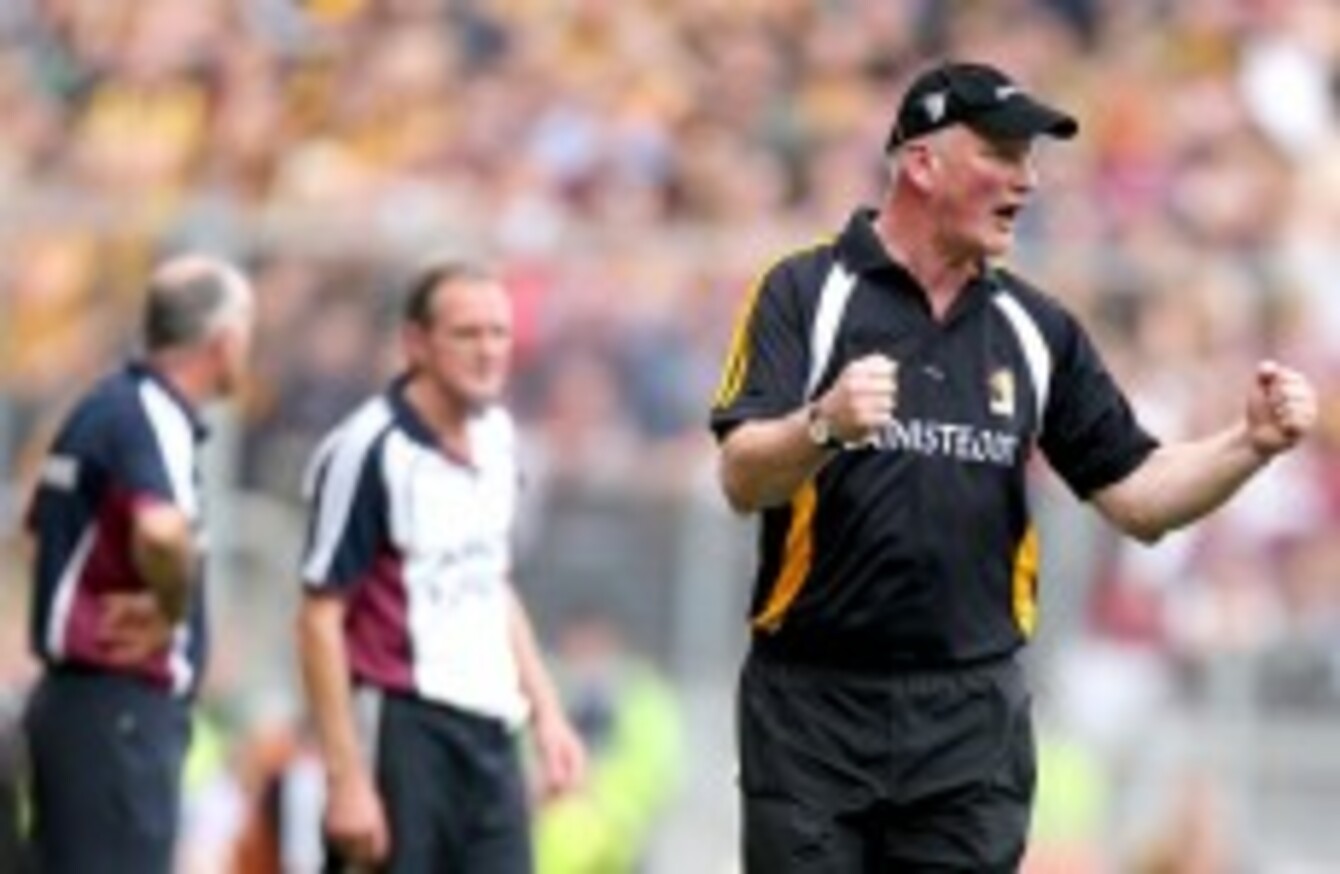 Cody during yesterday's game.
Image: INPHO/James Crombie
Cody during yesterday's game.
Image: INPHO/James Crombie
BRIAN CODY HAS REFUSED to put Kilkenny's failure to win the All-Ireland SHC title down to a late refereeing decision.
The Cats were leading Galway by a point when Barry Kelly awarded the Leinster champions a free in stoppage time.
Joe Canning held his nerve to point meaning the teams were level at the full-time whistle and, for the first time in 53 years, a replay will now be held in three weeks' time.
Cody was clearly furious with the decision and got into a heated exchange with Galway boss Anthony Cunningham but is eager to move on from the incident and focus on what will be a third meeting in this year's championship.
"Look, I don't referee the game," Cody said. "I saw it in a split second. We don't have any excuses for not winning this game, we weren't robbed in this game by a long shot.
I'm sure there were different incidents during the game I might have disagreed with and Anthony Cunningham might have disagreed with. That's the nature of the game.
"Galway scored the same amount as us, we scored the same amount as Galway. I don't have any problem at all with the referee. He has a tough job to do – we all have a tough jobs to do.
"I'm sure I made several mistakes out there during the year's hurling as well. He'd be some man if he didn't make mistakes. I'm sure every Kilkenny person thought it wasn't a free and every Galway person thought it was a free. The only thing that matters was that Barry Kelly thought it was a free."
On his conversation with Cunningham, he added:
"There were about 81,000 people there today and every one of them was fairly excited and roaring and fierce passionate at that stage of the game. Surely to God the two managers are entitled to be excited. If that's a strange thing to see then you haven't been at too many hurling matches. It happens every week in club matches and everywhere else.
"It was a bit of excitement – no big deal."
The GAA confirmed last night that the replay will take place on September 30 and as a result the Ladies' football final triple bill will be pushed back a week to October 7.
"It beats losing," Cody replied when asked whether he was satisfied with the draw. "Obviously the plan was to win the game. You couldn't be satisfied with not winning but you would certainly be very, very dissatisfied with losing.
"It's just it means we start all over again and that's it. It doesn't really matter whether I'm satisfied or dissatisfied.
It was a decent second half display for us after a first half in which Galway were definitely the better team. So we put ourselves in a position where we were at least competitive in the second half and we brought ourselves back into the frame to win the game.
"I mean, they kept themselves in there too and they got a huge score in the second half with that goal. That was a massive score obviously and that's the way it panned out. It's over now and we'll start planning ahead."