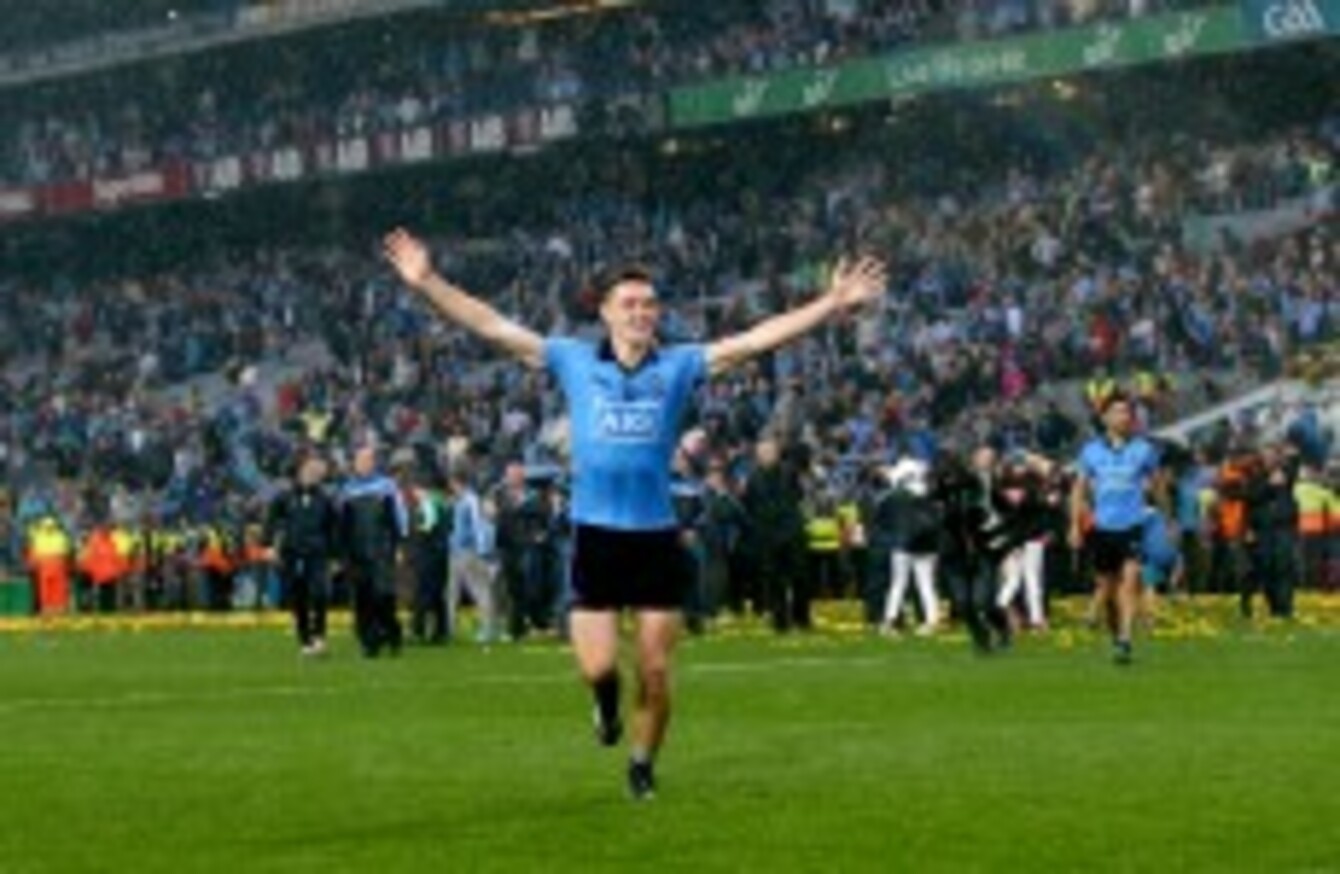 Fenton has played himself into Allstar contention in his first senior season.
Image: James Crombie/INPHO
Fenton has played himself into Allstar contention in his first senior season.
Image: James Crombie/INPHO
A FIRST ALL-Ireland senior football triumph is bound to be emotional but for Brian Fenton there was added poignancy after last Sunday's triumph.
The man-of-the-match was central to Dublin's success in his breakthrough season in 2015 and had plenty motivation to succeed this year.
"My mother actually passed away just a little bit over two years ago. She remains quite the motivation for me.
"I met Dad and my family at the final whistle, thinking of Mam, thinking of Mam always. It was an emotional time."
The Raheny man also remembered a guiding influence in his football career, the late UCD stalwart Dave Billings.
"Dave was a huge, huge inspiration to me. He definitely looked after me in UCD. I wasn't on any sports scholarships or anything like that but he'd always have that little bit of advice for you to add to your game.
"Dave was a true, true inspiration, along with Brian Mullins, there in UCD as well. Dave, we had his picture up on the wall yesterday in the dressing room and I just went over and gave it a little touch (before the game).
"He was definitely looking down on me yesterday, himself and Andy Kettle, two Dublin legends. They were in the dressing room with us I suppose."
Fenton's father, Brian Senior, is a native of Killarney and the football pedigree of Sunday's opponents was something he was always aware of.
"Father a Killarney man from Spa – outside the town. He's always telling me how he's won. Down there O'Donoghue Cups (East Kerry), they're very much sought after awards down there, they're East Kerry Championships.
"Having dad as Kerry man, and going down there, I am always down in Kerry. Basically, we have a house down there. It's a lovely place to go and lovely people, and you meet great footballing minds and footballing people
The Kerry blood definitely helps. I was lucky to have him and I'm still lucky to have him. He is always there for me, he's been brilliant, my main support, the main man.
Football is his focus now but growing up another sport competed for Fenton's affections.
"We have a huge swimming history. My uncle (David Cummins) went to the Olympics. I have three older sisters and I was just carted along with them. We were in a club called Cormont in Donaghmede.
"I swam up until about U16 and was winning titles in Ireland, but when push came to shove and I had to make a decision it was football from there on."
In his club Raheny, Fenton had the ideal Dublin midfield role model to look up to. Ciaran Whelan may not have landed an All-Ireland medal but winning six provincial titles and two Allstars affirmed his prowess.
"Whelo was always an inspiration of mine," 22-year-old Fenton remarked.
"All of us in the club looked up to him and he was definitely the king of Raheny for a long time.
"It was unfortunate — the stats came out during the week — that he never played in an All-Ireland final and obviously never won an All-Ireland which, for the player that he was, was mad.
"For me to come in, in my first year, play in an All-Ireland final and win it, it probably doesn't do justice for Ciaran but we'll take it anyway.
He sent me a text last night and I just thanked him for everything.
"He's been brilliant to me. He was club manager two years ago and really looked after us well."
Fenton was on the scoresheet after just 15 seconds on Sunday, slotting the opening point with a cool head that belied the occasion.
In brutal conditions, only the width of a Hill 16 post denied him a second-half goal that would have made the Dubs' victory that bit more comfortable.
Lifting Sam, and then getting the nod over Rory O'Carroll and Philly McMahon for RTÉ man of the match, was the perfect cap to a dream debut season in which Fenton pitted himself against the best in the country and came out fighting.
When his break came against Monaghan in the National Football League, his first senior start, he seized it with both hands, scoring a goal after three minutes and finishing with 1-1.
"I remember meeting Jim that week and he told me that I was going to start and I was obviously delighted.
"But I knew I had to put in a performance.
It was late in the league, it was coming up to the Championship, and I knew that my chance was there and I had to take it, that sort of way.
"I went in playing half-forward and I was delighted to get on a bit of ball and the goal came early and that just settled any nerves that I had."
He added: "It was nice coming under the radar as a rookie in my first season.
It was nice that people didn't expect too much of you, people didn't know you, so it was nice to get involved and put your name out there as saying, listen, we were never going to lie down to any team.
"The likes of the O'Sheas, Tom Parsons, then the Kerry midfield obviously as well, it was a great challenge for us and something which I embraced. Thankfully we didn't let ourselves down.
"Working with Michael Darragh (Macauley) all year and (Denis) Bastick was just incredible, for the younger lads like myself, Shane Carthy, Emmet O Conghaile. For us working with them and them teaching us so much has been unbelievable."