THE MAJORITY OF IRISH rugby concern is centred around this weekend's Heineken Cup action, but for one Cork native this afternoon's Pro D2 clash between Aurillac and Narbonne is all that matters.
Having completed three years in Munster's academy set-up, Brian Hayes is now midway through his first season with Aurillac in France's second tier. The 23-year-old lock is enjoying a growing reputation in the league thanks to his increasingly powerful performances for the Jeremy Davidson-coached side.
A 2009 Munster Schools Senior Cup-winning captain with Christian Brothers College, Hayes says that his move to France came about due to the realisation that "I probably wouldn't ever be a professional player if I stayed in Munster". With the likes of Paul O'Connell, Donncha O'Callaghan, Donnacha Ryan, Dave Foley and Ian Nagle all with the province, his chances in the second row would have been slim.
Despite a "brilliant" time in the province's academy, where "everyone there did everything they could" to push him into the senior squad, Hayes says he was "interested in getting out of Munster for a few years". Finishing his commerce degree in UCC was what kept him at home, but having graduated last summer, his agent was notified to find a club, with France Hayes' preferred destination.
Aurillac expressed their interest, and with the iconic 1997 Lion Davidson in charge of the club, it was an ideal fit for Hayes.
"Definitely. Everything's done in French here, so if you need to ask any questions, he'll explain things. And just the fact that he was a Lions players, he played for Ireland and he was such a good second row. It was influential in my decision.
Hayes is an excellent line-out operator, thanks to a good leap and perceptive anticipation.
"He's very good at picking out stuff you're weak on and trying to help you get better. He's always on to you for that, so there's loads I'm learning from him. He's been very good at improving the things I came over weak at and hopefully I can keep getting better at them."
With the mobility and pace of a back row, Hayes has never had any issue with his ball carrying, while his line-out work has long been a strength. Glimpses of those skills came in senior Munster appearances against Australia and the Dragons, but it was the more confrontational aspects of the game that Hayes was focused on improving.
Aurillac and the Pro D2 have certainly helped in that regard.
It's tough rugby. It's stuff where I need to improve. Probably the biggest weakness in my game was the nitty-gritty stuff. I was grand getting the ball in a bit of space and all that, line-outs were always good. It's the kind of rugby I needed to get better at, and hopefully I am."
The overriding impression is that Hayes is doing exactly that, and with Aurillac currently eight in the league but just one point off the promotion play-off spots, all is going well. With the third-lowest budget in the league [around €3.65 million], the Cantal-based club have had to figure out how to beat the wealthy, physically superior clubs in the Pro D2.
Davidson's answer has been at odds with what one might expect from a former second row.
"It's almost surprising, but Jeremy is quite liberal in telling us to play to the space. There's no real set game plan, it's see the space and play to it. We're quite lucky to have a lot of players who can do that. Whereas we're playing against teams who like to carry it up, we're kind of more inclined to throw it around.
"It's good to stretch your legs as opposed to being stuck in the mud."
Another key element of Davidson's coaching philosophy is the encouragement of an off-the-field togetherness, a culture that makes the environment more enjoyable for all involved. Having fellow Irish youths Conor Gaston and Charlie Simpson at the club has been useful for Hayes, while Kiwis like Jack McPhee and a handful of South Africans make it easy to integrate.
Save Tokula, who spent three injury-curtailed months with Munster in 2012, joined the club this season too, with himself and Hayes now like "long lost buddies." Hayes gets on well with the "good clutch of islanders" Aurillac have on their cards too, with New Caledonian tighthead Bernie Tokotuu a particular favourite.
"He's a 140 kilos and he's the kindest man you'll ever come across. He's French-speaking, but he's the best at English among the lads. We taught him 'What's the craic?' a few weeks ago, so every morning now we get, 'What's the craic?'"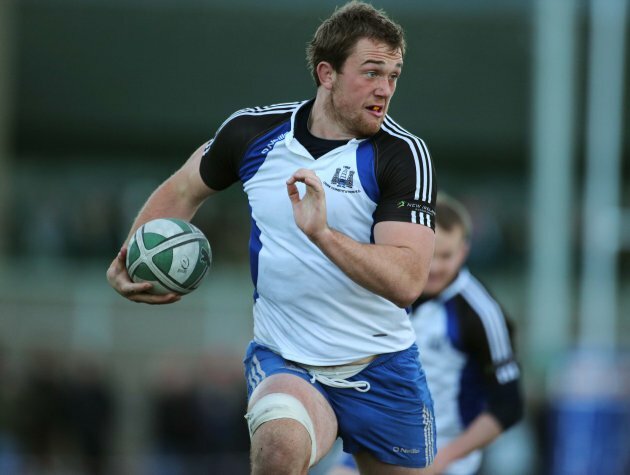 Hayes previously played in the AIL with Cork Con. ©INPHO/Lorraine O'Sullivan.
Halfway through the first season of a two-year deal with Aurillac, Hayes says it's too early to be considering his next move along the professional path, but given his growing influence for Aurillac it would be no surprise to see him in demand elsewhere.
I'm here for two seasons. I haven't thought about that [the next move] yet. I suppose it's a long way to go. I've a lot of things to get better at and a lot of things to do. I suppose this time next year I'll start thinking about that.
"For the moment, I'm just trying to think about getting better and nailing my place down."
Like rugby? Follow TheScore.ie's dedicated Twitter account @rugby_ie >