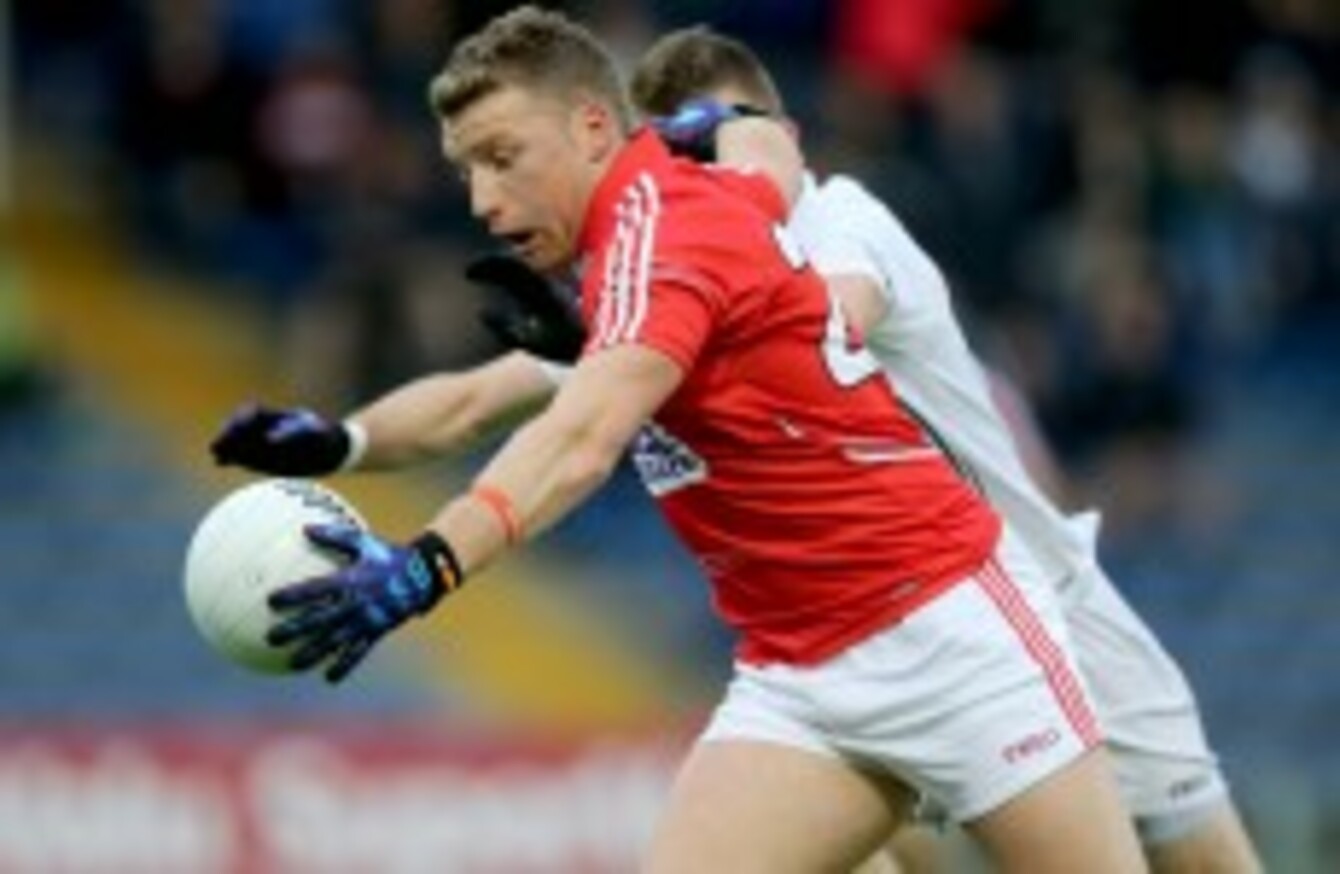 Cork and Castlehaven forward Brian Hurley.
Image: Donall Farmer/INPHO
Cork and Castlehaven forward Brian Hurley.
Image: Donall Farmer/INPHO
THEY'RE CASTLEHAVEN'S BROTHERS in arms, preparing to do battle with neighbours O'Donovan Rossa in this afternoon's Cork senior football championship semi-final.
Brian Hurley was two when Castlehaven beat the Skibbereen men in the 1994 county final, a game that continues to echo in eternity.
He's too young to remember that but he does recall a fourth round victory four years ago when goalkeeper Paudie Hurley (no relation) popped over a stunning late free.
They'll go again today –Shane (the eldest), Stephen from centre forward and Michael in the opposite corner to Brian.
"They'd (O'Donovan Rossa) would be a lot bigger than us in terms of community and stuff like that, but we're mad football here as well," Brian smiles.
He loves the rivalry, immersed in it by now as his Dad, Haulie, played for O'Donovan Rossa back in the day before marrying into Castlehaven stock.
He's grown up on tales of '94 but in recent years, the latest batch of Castlehaven stars have been busy writing their own history.
They were county champions in 2012 and 2013 and now find themselves 60 minutes away from another final.
Standing in their way are the men from Skibb but Castlehaven have a bond that will prove difficult to break.
"The biggest thing we have down here is the tight knit community," says Hurley (23).
"You might see each other at the weekend but it's so small and you bond more, go everywhere together like a herd of sheep.
"Even if it's a game of pitch and putt or to watch a match, it could be ten of us, not just one or two. That's the good thing about the place and it makes us more together on the pitch."
The '94 decider is a fabled affair and Hurley reveals: "I've seen clips and stuff from it, the crowds, the pictures in the clubhouse, a good few of them are framed.
"You could see what it meant to the boys at the end of it, jumping around the place. If there was an altercation, if anything happened there would be fellas from either side in.
"The pictures tell a thousand words. Looking at the pictures, it feels like being there."
Captaining that Castlehaven team was former Cork star Niall Cahalane – and Hurley's a big fan.
"It was one of the biggest wins for Haven GAA at the time.
"We came from a long way. Look at the history, playing junior football and then coming to a senior final from a small place with 1100 people to beat the (1993) All-Ireland champions in a county final.
"That was something special."
Cahalane, despite winning All-Ireland and Munster medals with Cork, rates that club success as the highlight of his career.
And Hurley reflects: "Niall was to hell and back with injuries and what not.
SEE SPORT
DIFFERENTLY
Get closer to the stories that matter with exclusive analysis, insight and debate in The42 Membership.
Become a Member
"It was the crowd, the atmosphere, playing with legends like Larry (Tompkins) and (John) Cleary. All of those moments came in together for Niall.
"When he was at his peak he won two All-Irelands but that (club win) really put the icing on the cake for him.
"Niall doesn't look for praise, he's that kind of fella. I wouldn't be the footballer I am now only for Niall.
"I've been working with him since eight years of old and this is the first year that he's not been involved as a mentor.
"Even then, at the start of the year, things weren't going great on the field and who did I get a phone call off only Niall.
"He's a mentor and leader to me and steered me in the right direction to be honest. He never once asked for anything in return. I owe that man a lot of things."
In the heat of battle, Hurley is determined to remain cool.
It's O'Donovan Rossa, it means a lot, but for Hurley, process is everything.
"100 per cent. If you see in any other sport out there, it's all about keeping the cool head, not letting the blood rush to the head.
"It's a local derby but my main aim is first ball, next ball, put the ball over. It doesn't matter who you're playing or marking.
"It just might bring an extra bit of heat to the battle and put that extra bit in you to go that bit further."