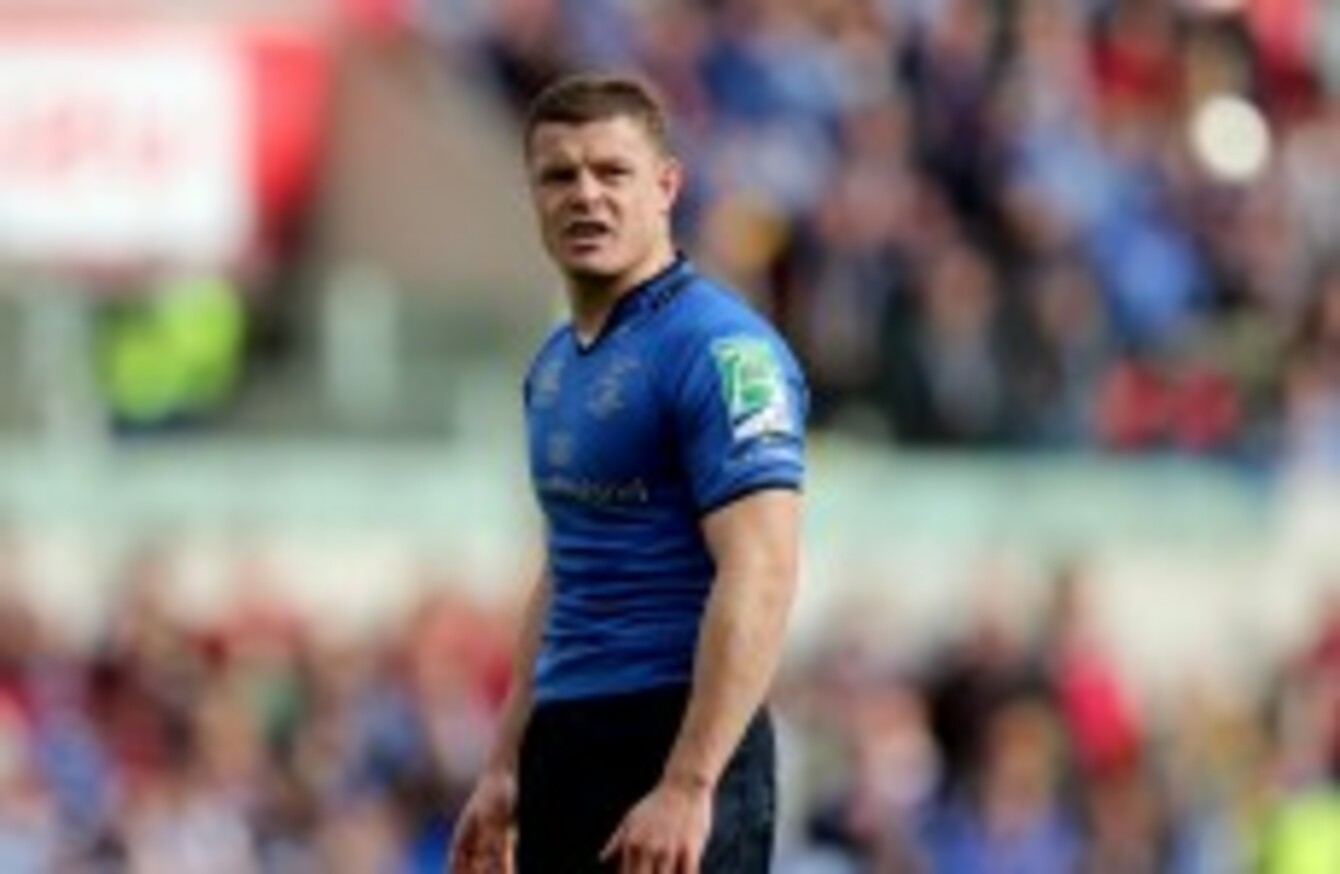 O'Driscoll is in his 14th season with Leinster.
Image: ©INPHO/Dan Sheridan
O'Driscoll is in his 14th season with Leinster.
Image: ©INPHO/Dan Sheridan
BRIAN O'DRISCOLL HAS revealed how close he came to making an irretrievable error and ending his playing days with Leinster.
In 2005, O'Driscoll travelled to France as the guest of Biarritz Olympique for their Top14 game against Stade Francais.
The Ireland captain was angling for a new contract with the IRFU and told Total Rugby TV that he believed a trip to France would provide some impetus to the negotiations.
"I did go down to Biarritz to be spotted at a game," he admitted, "to encourage the IRFU to come back with a counter-offer that (showed) they didn't want to lose me.
"But, the way it worked out, in the pre-match lunch I was called up in front of 200 people to stand in front of the French Championship trophy and people were invited to come up and take pictures of me beside it.
Then, there's a tradition in France where certain people are asked to take the first drop-off of the game before the actual game takes off. And I had to stop the president from pulling a Biarritz t-shirt over my head as I went out on the pitch."
"It wasn't my finest hour," O'Driscoll added. "Thankfully the IRFU came back with something and I didn't have to stay over there. The rest is history."
Super ship has sailed
O'Driscoll played six games in succession for Leinster in September and October and, despite his best attempts to shoo them away, he was linked to Lions tours to Australia and a fanciful tilt at the World Cup in 2015.
An ankle injury has ruled him out of action until January and tempered expectations, including that of O'Driscoll playing Super Rugby in Oz.
"As regards the southern hemisphere," O'Driscoll said, "I think that ship has well and truly passed.
I kind of said, tongue-in-cheek that Michael Cheika has my number if ever he wanted to call me. Maybe at 33 I should know better than to be throwing those sort of comments out there.
"If I do play for another year next year, it will most definitely be with my one team that I've been involved with from day one."
Life coach
O'Driscoll also told Total Sports about 'a low point in my career' in 2008.
Between January and October that year, O'Driscoll scored just one try [for Ireland against Australia]. He visited former Armagh GAA star Enda MacNulty, who now works as a successful sports psychologist.
"I wanted to try and get a kick-start of some sort to try and find where I could re-find form," O'Driscoll revealed. "He just told me a couple of simple things; he said 'why don't you go back and look at your clips on YouTube.' He said ' have you lost that?'
"I said, 'I don't think so.' He said, 'okay, well just have a look at what you have been capable of. Maybe when you look at it it will remind yourself that you're still up to it.'
"Now, even though I'm out of that darkish place I use him a bit more a kind of a life-coach whether it be for public speaking or preparation, or compartmentalising my life.
"It's progressed on from someone giving you a bit of an ego massage to being able to structure your life a bit better."
*Additional reporting from Sean Farrell.