THE WAY EDDIE O'Sullivan described it, 'all hell was breaking loose' after the butchering at Twickenham.
'There was blood on the walls,' said the assistant coach. Frankie Sheahan was hauled in front of the IRFU and fined £2,500 for headbutting an Irish fan, but the embarrassment that it caused was the least of the problems.
Ireland had to beat Scotland for Gatland to survive, the difficulty being that Ireland hadn't beaten Scotland in twelve years. Even though the Scots had suffered similar humiliation in the opening round of the Six Nations – losing to new boys Italy – they travelled to Dublin as favourites.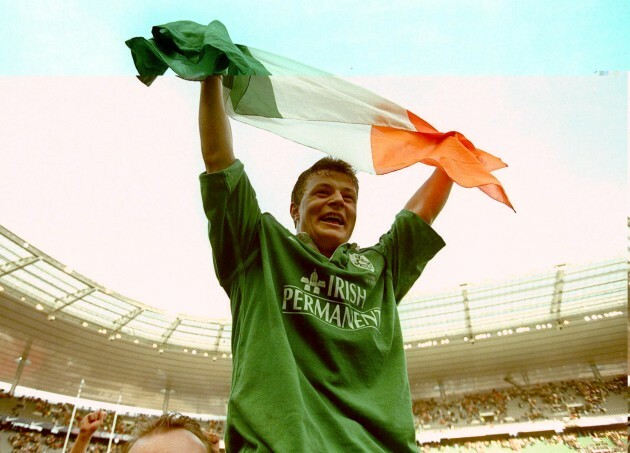 Billy Stickland / INPHO Billy Stickland / INPHO / INPHO
Eddie O'Sullivan: I felt we really had to make changes to the team. We had to have a crack. We had the basis of a very good backline. We had Peter Stringer, who was the best passer in the world at that stage. We had Ronan O'Gara, who was just about ready. We had what turned out to be the greatest outside centre in the history of the game in Drico. We had Maggsy who could run down that inside centre channel like a freight train and we had finishers like Denis Hickie and Shane Horgan. We needed to unleash these lads together. We had a selection meeting below in Cork. I was actually uncomfortable about calling for all these changes because I was only the assistant coach.
Eddie Coleman was on the IRFU committee and I rang him before I went to Cork and I said, 'There are things I believe we need to do but I'm reticent to play a strong hand because I don't want to be seen as the guy causing trouble. There's enough friction already.' He said, 'If you believe it's the right thing then you have to say it.' I went to Cork and in fairness to the lads, Warren and the manager, Donal Lenihan, they had both come to the same conclusion. That was a paradigm shift.
Mick Galwey: There were five new caps against Scotland – Ronan O'Gara, Peter Stringer, Shane Horgan, John Hayes and Simon Easterby. It was 'shit or get off the pot' time. All our heads were on the line. It was a big gamble.
Denis Hickie: It was my first international in nearly two years.
Mick Galwey: It was my first start in more than three years.
Warren Gatland: We brought back Mick Galwey. You couldn't deny the Munster element. Galwey, Anthony Foley, Peter Clohessy – when those guys put the Irish jersey on they could go to another level and it took me a while to understand that. They weren't the best players but they could get themselves to an emotional pitch that others couldn't. The Munster factor was a turning point and bringing in Mick had a big influence. He was brilliant at getting the best out of other players.
Brian O'Driscoll: For me, the big long-term change that happened for the team was that the self-proclaimed saviours of Irish rugby were the five guys that were capped in that game – Rog [Ronan O'Gara], John Hayes, Peter Stringer, Shane Horgan and Simon Easterby – and you look at the careers that the five of them subsequently went on to have, you have to take your hat off to Gats for going with them.
I think that injection of youth – and Hayes – just meant that you were bringing in personnel that had no baggage and, importantly, that were used to winning at under age level. We didn't have the expectation of many Irish teams before us to go hard for 50 or 60 minutes and then capitulate; we were used to winning at under age levels, winning at schools level, we were always in the hunt for winning Five Nations, winning Grand Slams and being very, very nearly there. So we brought a whole new mentality to the senior set-up when we were selected. We brought a positivity that changed the game in Ireland, hopefully, forever.
John Hayes: I don't know why they started calling me the Bull – must have had something to do with my farming background, I suppose. I don't mind it. I've been called a lot worse. Cappamore's a hurling parish. Rugby was unheard of here. I remember saying that when I was growing up, if you'd showed somebody a rugby ball they'd have thought it was a football that had been rolled over by a car. The first game of rugby I was ever at. I played in it. I was 19.
Mick Galwey: There's a famous picture from that day of myself standing between Ronan and Peter cuddling them into me. They were like anybody else when they're winning their first cap, they didn't know where to stand. The boys were like little sheep in one sense but they were hard at the same time. Stringer was one of the most mentally tough fellas I've ever come across. The more players who tried to get at him the better he got. And even at that age he wasn't afraid to give you a kick in the hole when you needed it.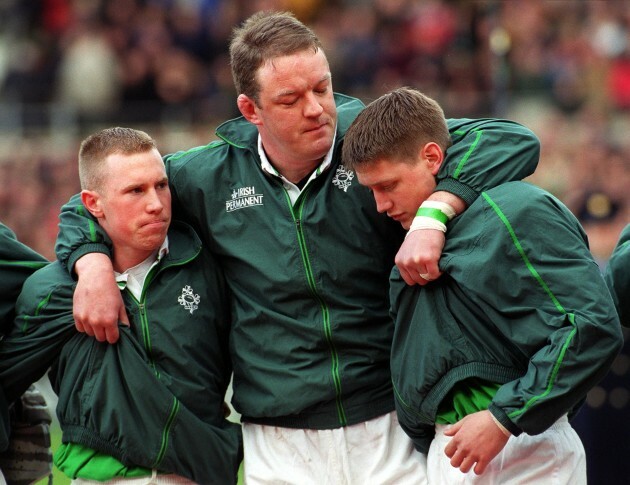 Patrick Bolger / INPHO Patrick Bolger / INPHO / INPHO
Peter Stringer: When I was a boy people would say I was too small to play rugby. I'd get looks from the opposition, fellas saying, 'What's this guy doing here? Is he for real? The size of him!' Comments like that are still in my head. It was only when I was older that I found it was coming from other parents, too. They were saying to my mother and father, 'You're not going to let him play rugby, are you?'
I was much smaller than everyone else. Mum and Dad were worried that I wasn't going to grow at all. Then Mum heard about a relative of hers with a son who was small like me. They took him to hospital and gave him growth hormone injections. He shot up in no time. My parents were looking out for me, they've always had my best interests at heart. They thought if I was to have the treatment I would shoot up too. But I just thought, 'I'm happy the way I am.' I never entertained the idea. There were some arguments. I remember saying to them, 'Look, leave me out of this. I'm happy as me.'
Mick Galwey: We actually went behind very early in that match against Scotland.
Warren Gatland: Kenny Logan scored a try in the opening minutes and I was thinking, 'OK, this is horrendous, I'll be gone before the night is out.'
Mick Galwey: We battered them in the end, thank God. If we'd lost that then we had nowhere else to go. We'd played all our cards with the new lads. If that didn't work we were totally goosed. But it worked great; 44-22. Grand, says he. Then we put sixty points on Italy in the next game. It was the first time in seven years that we'd won back-to-back games in the Championship. And we'd scored a bucket of tries – 11 of them. Shane Horgan had three of them in his first two internationals. That kind of thing was unheard of in Ireland.
Ireland travelled to Paris more in hope than expectation. Nobody expected them to win, but there was optimism that they might perform, maybe run the French close, give them a scare again, like they had done in the previous two meetings. The French had won two out of three, hammering Wales in Cardiff, then losing in Twickenham before taking care of Scotland pretty comfortably at Murrayfield.  Injury had beset them, though. For the Ireland game they were missing their full-back, Thomas Castaignède, their wing, Christophe Dominici, and their first-choice centres, Richard Dourthe and Thomas Lombard. Also out were the half-backs, Christophe Lamaison and Fabien Galthié and the wondrous openside flanker, Olivier Magne. What they put on the field was still reckoned to be too hot for Ireland, a belief that looked to be justified when France came out of the blocks like a greyhound from the traps. They were 6-0 ahead inside ten minutes but it should have been more. Then things started to get interesting.
Shane Horgan: I didn't play in Paris. I injured my knee in a game against Dungannon – or some other team that really weren't worth me injuring my knee against. I was living in an apartment in Dublin and I was watching the game with a couple of mates of mine and I just saw this thing evolving, this Brian O'Driscoll thing. I knew he was good, but not to that degree.
Mick Galwey: Brian had been on the scene a season. He was a nice fella. You knew there was an honesty and a toughness about him. He had all the skill in the world and that was grand, but there was a hardness about this young lad that you couldn't miss.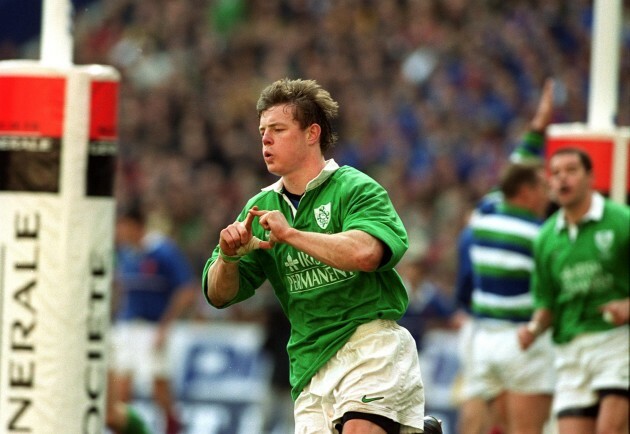 Tom Honan / INPHO Tom Honan / INPHO / INPHO
Malcolm O'Kelly: I gave him the pass for his first try, which put us ahead 7-6. We were under their posts and in previous years I might have tucked it under my jumper and had a blast myself. I wouldn't have made the line, we'd have had a nice slow ruck and France would have got a penalty. I always said that I created the Butterfly Effect. I read about that once. A butterfly flaps its wings in Japan and sets off a chain of events that leads to a tornado on the other side of the world. I've had a bit of crack with that over the years. In the creation of Brian O'Driscoll, I was the butterfly.
Peter Stringer: I have no doubt they didn't respect us fully. The Ireland team going to France had rarely put in an eighty-minute performance. It was probably only natural for them to think they were going to win the game. From that point of view we caught them by surprise.
David Humphreys: For a long time when Ireland played France there was an aura about their players because we had seen them on TV but not had an opportunity to play against them very much. Because we started playing against them in the Heineken Cup, and with Munster and Leinster in particular winning against their club sides home and away, it stripped away that aura.
Rob Henderson: France got back in control of the match. They scored a try and converted it and Gerard Merceron lobbed over a penalty and fairly early in the second half we were other year.
Mick Galwey: History told us that you might get on top of France in Paris in the first five or 10 minutes but then a wave would usually come and drown you.
Rob Henderson: At 16-7, France broke away and were going to score under the posts. We were hanging on by our fingertips at that stage and Marc dal Maso was about to score. There were 80,000 people in the ground and 80,000 of them would have put their life on Dal Maso. There was only one guy who thought he could be stopped and it was Denis Hickie. He sprinted in from nowhere and carved him down just under the sticks and made him knock the ball on. Whenever I see that moment on TV I still find it unbelievable. Dal Maso is a certainty to score. There's nobody home in our defence. The try and conversion would have taken it to 23-7 and there'd have been no coming back from that. Then Denis appears out of the corner of the screen and catches him. It's incredible.
Peter Stringer: I have no idea how Denis managed to get him because he seemed to come at him from the side and get his head in front of him and threw his body in front of the guy but yet managed to get his arms around him to pull him up short.
Denis Hickie: If I tackled him around the ankles then momentum would have got him over the line, so the only way to stop him was to get in front of him and chop him down and hope that he wouldn't go any further. A conventional tackle wouldn't have stopped the try. As I got closer I knew I was going to have to get my body in front of him. We were under the pump at that stage.
Shane Horgan: I don't know how he stopped yer man. Momentum should have taken him over, but Denis just dropped him. It wasn't pretty and it wasn't safe. It was totally selfless. It personified Denis Hickie.
Brian O'Driscoll: The most impressive and important tackle I've ever seen.
Keith Wood: A guy who never got the credit he deserved. I've big time for Denis.
Rob Henderson: Gérald Merceron put over another penalty and now the gap was 12 points.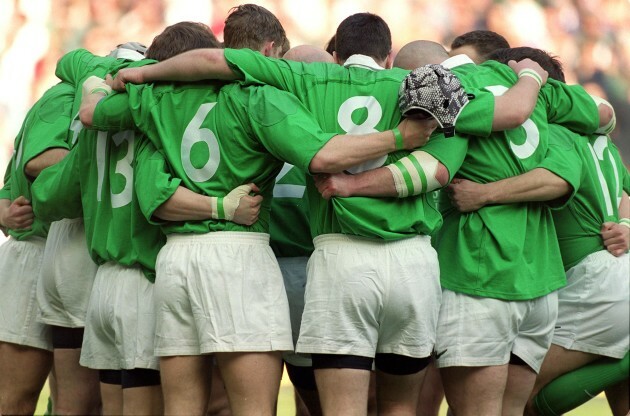 Billy Stickland / INPHO Billy Stickland / INPHO / INPHO
John Hayes: I was blowing out of my hole at that stage.
Rob Henderson: We were 28 years without a win in Paris and you wouldn't have found a single person on the planet who would have backed us when we were trailing by 12. Then Brian scored again. I had a bit of involvement. I broke the line and found him on my inside and away he went. Rog converted it.
Peter Clohessy: Paddy Johns got sin-binned and I remember saying, 'For Jesus' sake, Paddy, don't do this to us.' We got together right away and said that if we didn't win the match, Paddy was going to hang himself.
Rob Henderson: The gap was down to five, then it was eight, then it was five again, then it was eight again. We couldn't get level but they couldn't shake us off either. There was only six minutes left when yer man made it a hat-trick.
Peter Stringer: The French players just seemed to be extremely static and they just didn't seem to be capable to cope with Brian's footwork and pace.
Keith Wood: I was captain that day and I'd experienced all those times when we got hockeyed by France in Paris, and I don't want this to sound like a total Drico lovefest, but I remember that moment, looking over from about thirty yards away, and seeing Brian scooping the ball up with one hand and running in to score his third try, and I remember thinking, 'Anything is possible now. This young kid has got some real magic about him.' He was a very special talent. He was an extraordinary threat on the field. Even without the three tries it was still one of the greatest ever displays by an Irish rugby player. And that was the change for me, but it was also the change for the team because we knew that if things weren't going well we still had somebody who could score tries like that from nothing. It's not an overstatement to say how much changed in that moment.
Johnny Sexton: I was fourteen and I'd been playing golf at Milltown in Dublin that morning. The match had already started by the time I got back to the clubhouse. The place was heaving. I was shocked and excited watching it. In my lifetime, Ireland had never beaten France so that was an amazing moment. I don't remember much from when I was fourteen, but I remember that. When Brian scored his third try the whole place erupted. These were the guys who transformed Irish rugby. I probably didn't even know it at the time but it left a deep impression on me.
Robbie Henshaw: It was the first rugby match I ever remember watching. I was six. I went into the garden afterwards and beat a rugby ball around the place.
Mick Galwey: I was up in the stand by the time Brian scored his third try. I was sitting beside Donal Lenihan, our manager, who I got my first Munster cap with many years before. We watched Humps land the conversion to put us just one point behind and then we held our breath as Humps stood over a penalty to put us in the lead.
David Humphreys: The year before I had missed the kick to beat France in a wet and windy Lansdowne Road and I still remember standing over the kick I had in Paris and thinking, 'I cannot possibly miss two years in a row.' It would be easy to stand here and say, 'I blocked it out and didn't think about it,' but when I missed the one in Dublin I was desperate to have another chance and to get it a year after was a bit of vindication for me
Mick Galwey: He landed it. When the final whistle went myself and Donal gave each other a big hug. Jesus Christ, we had a lot of hard days between us.
Rob Henderson: The end? I can't describe what that was like. I'd love to bottle that feeling and whenever I feel a bit down I would open it up, take a little sniff and everything would be all right again.
Mick Galwey: I went to the Claw and it was hugely emotional.
Rob Henderson: The pair of them were like Walter Matthau and Jack Lemmon. The odd couple.
Mick Galwey: Claw got a right doing in Paris in 1994 and then there was the Roumat thing in 1996 and he couldn't have seen this day ever coming. To be on a winning Ireland team in France? That was the stuff of fantasy. We always gave it our best shot and it wasn't good enough. At last it was.
Peter Clohessy: I knew then that I could die happy.
This is an extract from Tom English's No Borders: Playing Rugby for Ireland, published by Birlinn. More info here.