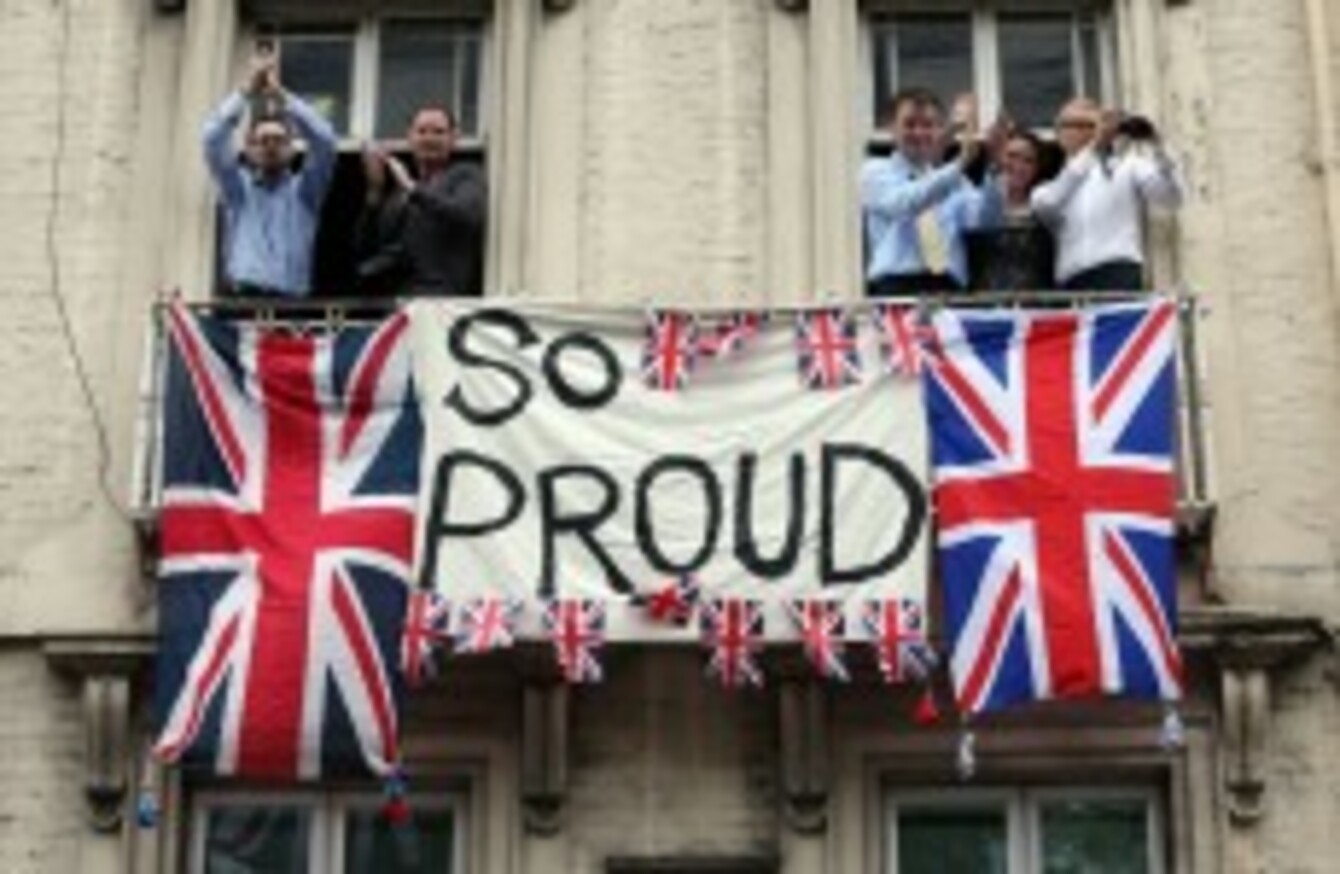 Crowds cheer from windows along the route of the parade through London.
Image: avid Davies/PA Wire/Press Association Images
Crowds cheer from windows along the route of the parade through London.
Image: avid Davies/PA Wire/Press Association Images
HUGE CROWDS CHEERED Britain's Olympic and Paraylmpic athletes during a victory parade to Buckingham Palace today amid hopes that the golden sporting summer will give the country a long-term boost.
Hundreds of thousands of people packed the streets of central London to show their appreciation for the athletes, who both surpassed expectations by finishing third in the medals table in both events.
Meanwhile leaders hoped the feel-good factor and can-do spirit of the Games would stave off the pessimism of recent times and help drag debt-laden Britain out of recession and into a new era of self-confidence.
London 2012 faced plenty of predictions that the Games would be a badly-organised flop, with concerns about the £9.3 billion (€11.6 billion) cost, security and transport capacity. But the efficient running of both events and the public response has defied naysayers who predicted chaos and a lack of enthusiasm.
Sports fans were leaning out of windows and waving flags to show their support for Great Britain's athletes, who won 29 gold, 17 silver and 19 bronze medals at the Olympics, and 34 golds, 43 silvers and 43 bronzes at the Paralympics. The parade began at Mansion House, the official residence of the lord mayor of London, before passing St Paul's Cathedral and the former newspaper industry headquarters Fleet Street, en route to the packed-out Trafalgar Square.
The athletes in their Games tracksuits, travelling on 21 open-top floats in alphabetical order by sport, headed down The Mall, the processional route leading to Queen Elizabeth II's Buckingham Palace residence.
The Mall was open to 14,000 ticket-holding volunteers, the emergency services and the military who worked on the Games; athletes' coaches, support staff and family; plus schoolchildren from across London.
Juliet Holden, 42, who works for a law firm, held up a sign reading "Well done Richard Whitehead", the double above-the-knee amputee who won the T42 200m gold in a world record time of 24.38 seconds.
Mobot: Mo Farah gestures to the crowd during today's celebrations. Pic: Stefan Wermuth/PA Wire/Press Association Images
"I wasn't looking forward to it beforehand particularly, in a typical English way I was moaning about it and thought it looked like too much hard work," she said of the Olympics. But since it's started, it's been amazing.
"London's changed. It's got a real sense of community. It's going to be a let-down after today."
Outside his Downing Street office, Prime Minister David Cameron, surrounded by volunteers in their purple and orange shirts, said it had been a golden summer for Britain, with the Games following celebrations for the queen's diamond jubilee.
"For countries to succeed in this competitive and difficult world, you need to have confidence that you can do big things and get them right… that you can take on the best, be the best, beat the best," Cameron said.
"We've absolutely done that as a country. Once the celebration has ended, some of that spirit inevitably will fade as everyone knuckles down and gets back to work after this magical summer. But I think we'll always have that knowledge of what we can be as a country.
"This summer brought out the best in Britain for the world to see and that spirit we must cling to."
Last night's Paralympics closing ceremony extinguished the flame in the Olympic Stadium, bringing the curtain down with a spectacular celebration of the human spirit, amid claims the Games had led to a "seismic" shift in attitudes towards disability.
"The Olympics showed that we can carry out the most difficult logistical operation demanded of any country in peacetime, and do it with efficiency and style," London Mayor Boris Johnson wrote in The Daily Telegraph newspaper.
"The Paralympics have shown that Britain remains a beacon of enlightenment. The Games have changed not only much of London; they have changed the world's attitude to Britain, and our own view of this country and what it can do."