BROCK LESNAR WILL return to mixed martial arts next month for the first time in four-and-a-half years.
The former UFC heavyweight champion is booked to fight at UFC 200 in Las Vegas on 9 July, with an announcement regarding his opponent expected tomorrow. The news of Lesnar's comeback was revealed during tonight's UFC 199 broadcast, following a report earlier in the day from MMAFighting.com's Ariel Helwani.
Lesnar, who has a 5-3 record, hasn't competed in the octagon since a first-round TKO loss to Alistair Overeem in December 2011. The 38-year-old then retired from MMA and returned to professional wrestling with the WWE.
According to a report from FloCombat, Lesnar remains under contract with the WWE but the company "has given their blessing" to the former NCAA champion wrestler's MMA return, "and will likely be involved in promoting the fight on their cable television shows and digital platforms".
The development will be a significant boost to the UFC's projections for pay-per-view buys for the landmark event, which looked set to suffer from the removal of Conor McGregor's rematch with Nate Diaz from the bill.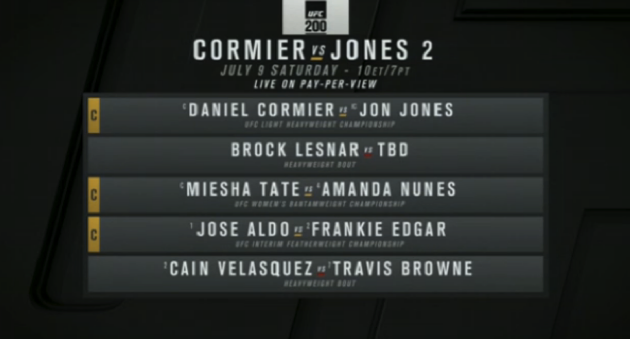 UFC UFC
Lesnar's victory over Frank Mir at UFC 100 in July 2009 did 1.6 million in PPV sales — a UFC record. Lesnar overcame Randy Couture to win the UFC heavyweight title in November 2008 but, after two successful title defences, he was dethroned by Cain Velasquez in October 2010.
UFC 200 will be headlined by the light-heavyweight title unification bout between champion Daniel Cormier and interim title-holder Jon Jones.
https://www.facebook.com/UFCUnitedKingdom/videos/1034327923269824/