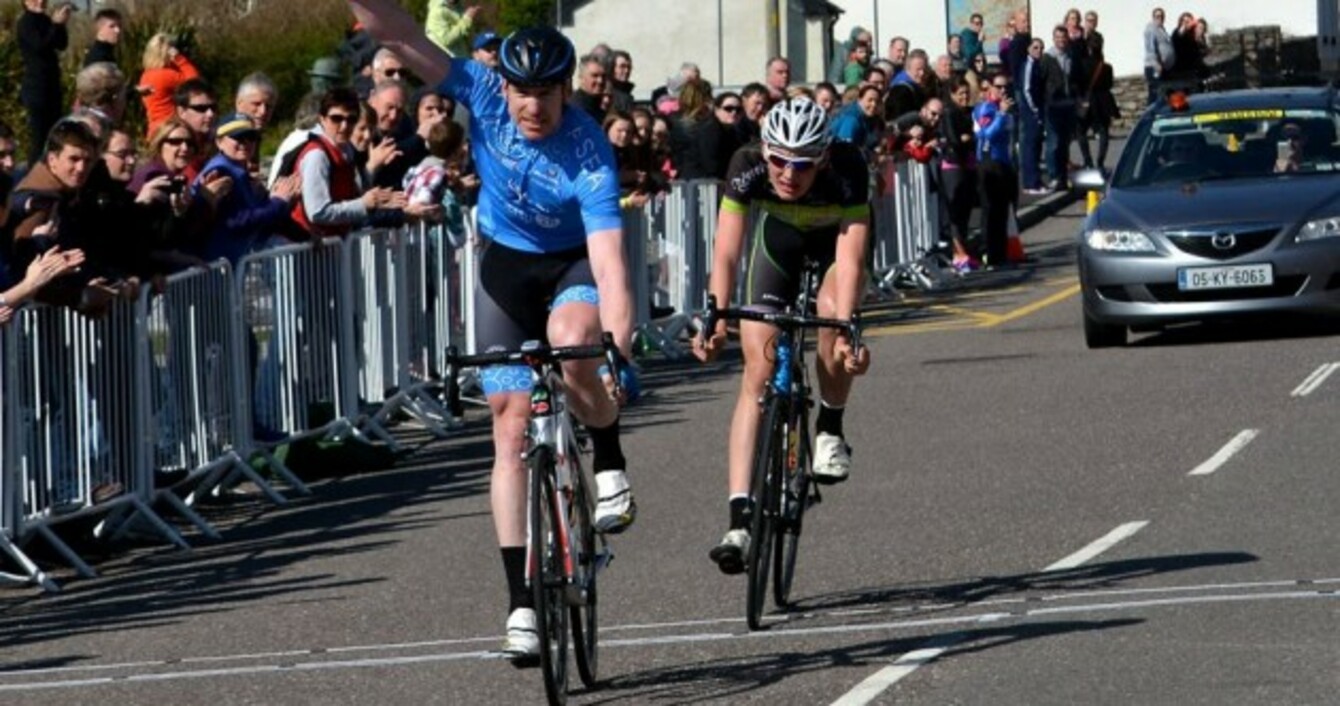 McCrystal in full flow during last year's Kerry Group Rás Mumhan.
McCrystal in full flow during last year's Kerry Group Rás Mumhan.
PROFESSIONAL FOOTBALL MAY have given him the best years of his life but despite turning 34 in January, having two young kids and a steady job, Bryan McCrystal isn't finished on his sporting bucket list just yet.
The Dundalk-based jeweller is one of the best domestic amateur cyclists at present and is on a mission to do what very few amateurs can or have done for a decade in the An Post Rás – win a stage.
The eight-day event is Ireland's biggest stage race and starts next Sunday, 17 May in Dunboyne, Co. Meath, with McCrystal spearheading a team of fellow amateurs with the ASEA squad.
Of the 200 riders who'll start, around half will be like McCrystal, in so far as they are not professional cyclists and better known as 'county' riders.
Since 2004, only a few county riders have won a stage of the Rás. Sam Bennett and Conor Dunne are two and they're now riding professionally.
McCrystal knows the day of making a living from cycling are long gone but that isn't dimming his ambition a jot.
"You need to work hard but you need a damn bit of luck to make that happen," he said of his chances of winning a stage.
Hard work is something McCrystal has never been afraid of and he'll be the first to admit he's an athlete of modest talent but with enormous desire.
When he was with Leeds United he was on the training ground before anyone else. When they let him go and he ended up in the Conference with Exeter City he trained harder than ever.
And when that fell through and he found himself back in the Irish League with Newry City he almost quit because few could match his own insatiable appetite for work.
"I've no regrets about anything I did, like quitting professional soccer so early," he reflects on his previous career which lasted around a decade.
"People think I quit because I was injured but that's not true. I quit because I stopped enjoying it, I was coming back from injury and breaking down a lot.
"I was playing with Newry City at the time and the manager came in and just didn't like me, he didn't rate me and I wasn't getting a game, but I loved training.
"I trained five days a week, twice with the club and the rest on my own, I loved it, absolutely loved it.
"And that's why I've probably taken to endurance sports, because I'd have gotten pissed off in training if lads weren't working hard enough, that's the way I am."
That attitude worked well when he took a change of direction and tried running in 2007.
"I quit professional soccer in April 2007 and I signed up for Dublin Marathon the following October and I just started running, just to get into something and the following year I got into triathlon," he recalled.
What are they
really like?
Rare insights on sport's biggest names from the writers who know them best. Listen to Behind the Lines podcast.
Become a Member
No sooner had he taken it up that he was competing for Ireland and in 2012 he took up cycling, and cycling only.
His transition has been extraordinary and every year he's made huge improvements. Last year he won two of the biggest one-day races on the calendar and after four months into this season he's leading the Classic League, a prestigious league table which takes a cumulative tally of points based on riders results in select races.
That all lends to the notion he can now contend in the An Post Rás, especially as the course is suited to a strong all-rounder like him.
"The Rás is a totally unpredictable race and anything can happen. You need to have so many things fall your way.
"You have to realise if you want to win you need bloody good teammates who want you to win as much as you do. The likelihood of you winning a race is slim but you have to believe you have a chance.
"Belief does amazing things for guys and I've seen it in every sport I've done. The most talented guys don't often win. Guys like my team mate Roger Aiken has far more talent than me so I have to make up the shortfall with hard work."
McCrystal's race ended last year after three days when he came crashing down in a horrible high speed collision with a wall outside Charleville. It happened so quickly he doesn't recall much of it but the pain in his back stemming from that takes constant management.
"That's a day I'll never forget. I had pain like you couldn't imagine and it still takes work. Bending down to pick up the kids can be hard, but I know I'll manage it fine if I get on the podium next week at the Rás – they're always a bit curious about what I'm actually training for."
– First published 07.30