'ACCURACY' HAS BECOME one of the most common words uttered by Irish athletes in search of greatness in recent years.
It relates, not just to hitting the target with a ball or putting your feet in the right place during competition; it encompasses everything within the daily grind of trying to become fitter, faster, stronger, better.
So, every Tuesday we'll aim to bring you the best technical advice on an individual exercise that can make all the difference to both your physique and performance. This week, the Burpee.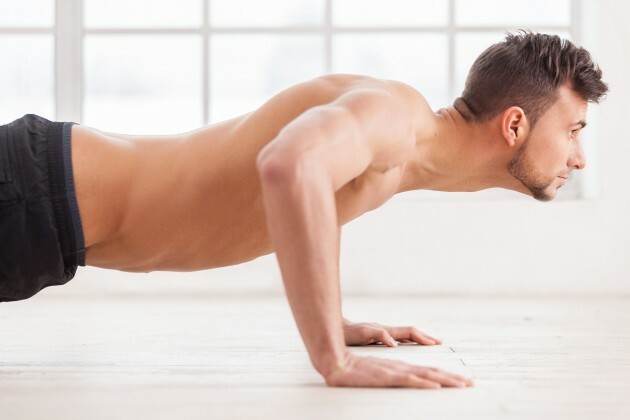 Shutterstock. Yeah, that's one part. Shutterstock.
What's that? Well, it's the time we put together two of our previous Training Techs together in one fluid (as long as fluid requires a whole lot of energy to move) motion.
So if you haven't yet got the technique down for push-ups and squats then now's your chance to go and make sure you know how before taking on this, considerably tougher, routine.
Here's how to squat, and here's how to do a good push-up. Now here's how to use them in tandem to work out your (deep breath) hip flexors, quads, hamstrings, glutes, calves, abs chest and shoulders.
Phew! Let's go.
1. Turn down for squat
Stand with your feet  shoulder-width apart and squat down. The next move will require your palms on the floor, but try not to reach for the floor. Keep your back straight and get your knees to lower you down.
2. Kick back
Yep, put your weight all on your arms for a second as you thrust your legs backwards and land on your toes to put you in plank position.
Scott Herman Fitness / YouTube Scott Herman Fitness / YouTube / YouTube
3. Push-up
From there it's a straight-forward push-up. Down. Up. Simple, right?
4. Frog jump
After your push-up keep your hands on the ground while jumping your two feet back to their original position.
5.  Prepare for lift-off
Take your palms off the deck. Now you're in squat position so you might as well finish the rep with a jump squat.
xHit / YouTube xHit / YouTube / YouTube
If all that's a little too much you can curtail that Burpee by leaving out the push-up and the jump to end the move with a momentary plank and regular squat in place.
But we reckon that if you're fit to start off with five reps of the above you're better off doing that than 10 of the lower intensity version.
If you're fit for five, do five more. Coasting through 15? Do them faster – let's not make this an endurance event at the expense of good technique.