LAST UPDATE | Feb 15th 2023, 12:07 PM
IN A SUN-SOAKED Dublin park just up the road from the scene of Ireland's statement Six Nations defeat of France a few days earlier, Caelan Doris makes his way over from a photoshoot, asks if we've been waiting long and where we've travelled from, before taking a seat on an empty bench nearby.
We've plenty of questions ourselves; starting with who he can thank for the fresh stitches lining his left eyebrow?
"Dave Kilcoyne, around the 75th minute." 
A permanent souvenir from a game Doris left his mark all over.  
That brilliant 32-19 win was arguably Doris' finest outing in an Ireland shirt yet, and at just 24, the backrower can already point to quite the CV.
In the last 12 months alone he's been instrumental in wins against the All Blacks (twice), South Africa, Australia and now France, his role in those victories seeing his status on the global stage sky-rocket. 
It's the kind of year players dream of having. It's also projected Doris into somewhat uncomfortable territory. 
I was just saying to my Mum earlier on that sometimes after a win like that at the weekend, getting a bit more attention – a certain part of me feels pressured to live up to people's expectations. There's an insecure part of me that doesn't feel like I can do that.
"It's funny. It's class, my dream job but it does add a bit of pressure and awareness that there's more eyes on me; sort of 'How do I deal with this?'"
It's a fascinating peek inside the mind of a player at the top of his game, and a young man who is fully aware of the value in paying attention to one's mental health.
"I think everyone has struggles, insecurities, worries and anxieties; the more we can talk about them and get them off our chests the better," Doris continues. 
James Crombie / INPHO Pictured lining up for ISPCC's latest fundraising campaign, Let's Sweat it Together, are Victoria Little (aged 10), Brittany Hogan, Caelan Doris, Alasdair Little (aged 13). James Crombie / INPHO / INPHO
"Personally, I wasn't very good at it when I was younger. Both my parents are psychotherapists, so it was encouraged quite a lot but I wasn't good at it at all. It was a bit of a running theme that whenever I was asked I'd just say: 'I'm fine, I'm fine' and not give much more than that.
"It's only the last few years that I've gotten better at talking about these sort of things. I'm fortunate that with my parents, it's their profession, so they're very good at dealing with that sort of stuff. It's comforting, but it still can be uncomfortable having discussions with those sort of things.
I've spoken to friends about things more. Even, I was out having coffee with Rónan Kelleher earlier on and was saying I was nervous doing this shoot. Something like that, years ago I'd have kept that to myself. I'd say it was fine."
Doris dips a little deeper into an upbringing he's shed some light on before.
He spent the first 12 years of his life in Mayo with parents Chris and Rachel, and older brother Rian. The accent didn't follow him from the west coast but he remains proud of his roots. Elements of his childhood in Lacken will sound familiar to anyone raised away from the towns and cities of Ireland. He remembers "a great upbringing in a very rural area, with a very small school." Thirty-five students, to be exact, with just two in Doris' class.
He first laced up his rugby boots at Ballina RFC but a busy young sporting life involved GAA, basketball and even a short time practising Karate. 
Then at 12 his world changed – a move to Dublin and a place boarding at Blackrock College.
"It was a massive change going from that environment," he explains. "There was 200 in my year.
"I did love it. There was a feeling of being a bit different (growing up), both in Mayo when my parents are psychotherapists – which is a little bit out there compared to the professions of some of my friends. We were blow-ins in a way, even though I lived there all my life, my parents moved from Dublin and the others are locals. 
Lorraine O'Sullivan / INPHO Doris playing for Blackrock in 2013. Lorraine O'Sullivan / INPHO / INPHO
"Equally, in Blackrock; being from Mayo and with my parents' profession compared to what some of my friends' parents did… It was a bit of a factor, that's one of the things I wouldn't have discussed back then at all through a bit of embarrassment with my parents. I've spoken to them more recently and it's dissipating, thankfully."
Doris appears completely comfortable revealing this side of himself now, but he hasn't always been so quick to open up.
"I kind of, from an early age, learnt to deal with things myself, I was also sort of pretty calm naturally. My parents always say I was from a young age.
I liked that tag, I didn't want to forego it for something I felt wasn't that big. So, if I was feeling sad I'd say to myself 'I'm fine, calm. I can deal with this myself'. People from the outside couldn't see it, so it wasn't necessary for me to say it.
"Now, I realise it's extremely important that instead of bottling things up and letting them build it's about having little conversations about everything, that's important."
During our conversation a couple of passers-by glance over, recognising a face they may or may not be able to put a name to. We're not sure if Doris notices, but it comes with the territory now.
That part of being an international rugby star can't be avoided. Headlines and hype, for the most part, can.
"I actively try not to read too much. Things slip through on social media, on family WhatsApp groups and stuff like that. But, I try and stay clear of as much of it as possible," he continues.
"I also try and think of me as a kid, of how much I'd love this – being where I am. It's probably something that others would resonate with as well.
"I do therapy every week, partly just out of interest. I studied psychology, my parents are psychotherapists. I've been doing that for a year now, I find it beneficial in being more comfortable in my own skin.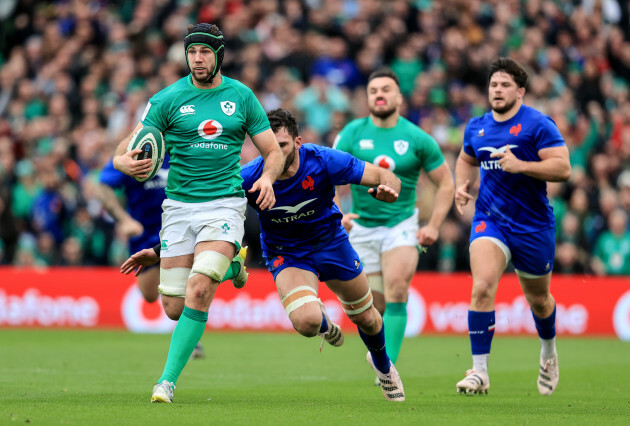 Dan Sheridan / INPHO Doris makes a break against France. Dan Sheridan / INPHO / INPHO
"It's helped me to be more open with friends and family, with talking like this. It's been good."
That kid back in Mayo would have enjoyed watching Saturday's Six Nations classic against France. The Leinster backrower was influential throughout an absorbing 80 minutes but two key involvements stood out. Before our chat ends, we may as well touch on some actual rugby.
First, his strong carry and smart footwork as part of the pre-planned move which saw Ireland turn a France goalline drop-out into their opening try – Hugo Keenan searing through after Doris and Finlay Bealham laid the foundations.
"I thought he'd (Keenan) pass it to Johnny (Sexton) or Garry (Ringrose), but he backed himself," Doris says, replaying the move in his head.
Sometimes I confuse myself as much as the players (with the footwork), I think it comes from being a kid, playing tip in Blackrock, always trying to go for space instead of running at people.
"It probably came naturally from doing it so much, but also playing with older lads as well where I wasn't the biggest. As I've gotten older, it's something I've worked on."
The second was his sublime assist for Ringrose in the lead-up to Ireland's bonus-point score, Doris executing a precision skip-pass despite having the considerable frame of Gael Fickou hanging off him.
"I'm not sure exactly (what the thought-process was), it's definitely a bit of instinct," he admits.
"I'd first of all given a poor pass to put us in that situation in the first place, but I remember going to the ball, picking it up and seeing that space on the edge.
"I saw Garry putting his hand out and I just managed to fling it to him. I've had a few where it hasn't gone that way in the past, but it worked out well."
Time to call it. Despite this being a day off from Ireland camp, Doris has another task that requires his attention – he recently started a Masters and there's an essay due the next day.
No prizes for guessing his line of interest.
"Applied Neuroscience. My undergrad was psychology, my brother actually did this one. It's in King's College in London. It's part-time, fairly flexible. Broad ranging, a good bit of psychology in it as well with the neuroscience which is a good bit more rooted in science than psychology.
"It's a good blend, I'm enjoying it so far."
Childline ambassador Caelan Doris was speaking at the launch of the ISPCC's latest fundraising campaign, Let's Sweat it Together, which takes place nationwide from 27 March to 2 April.
The42 is on Instagram! Tap the button below on your phone to follow us!