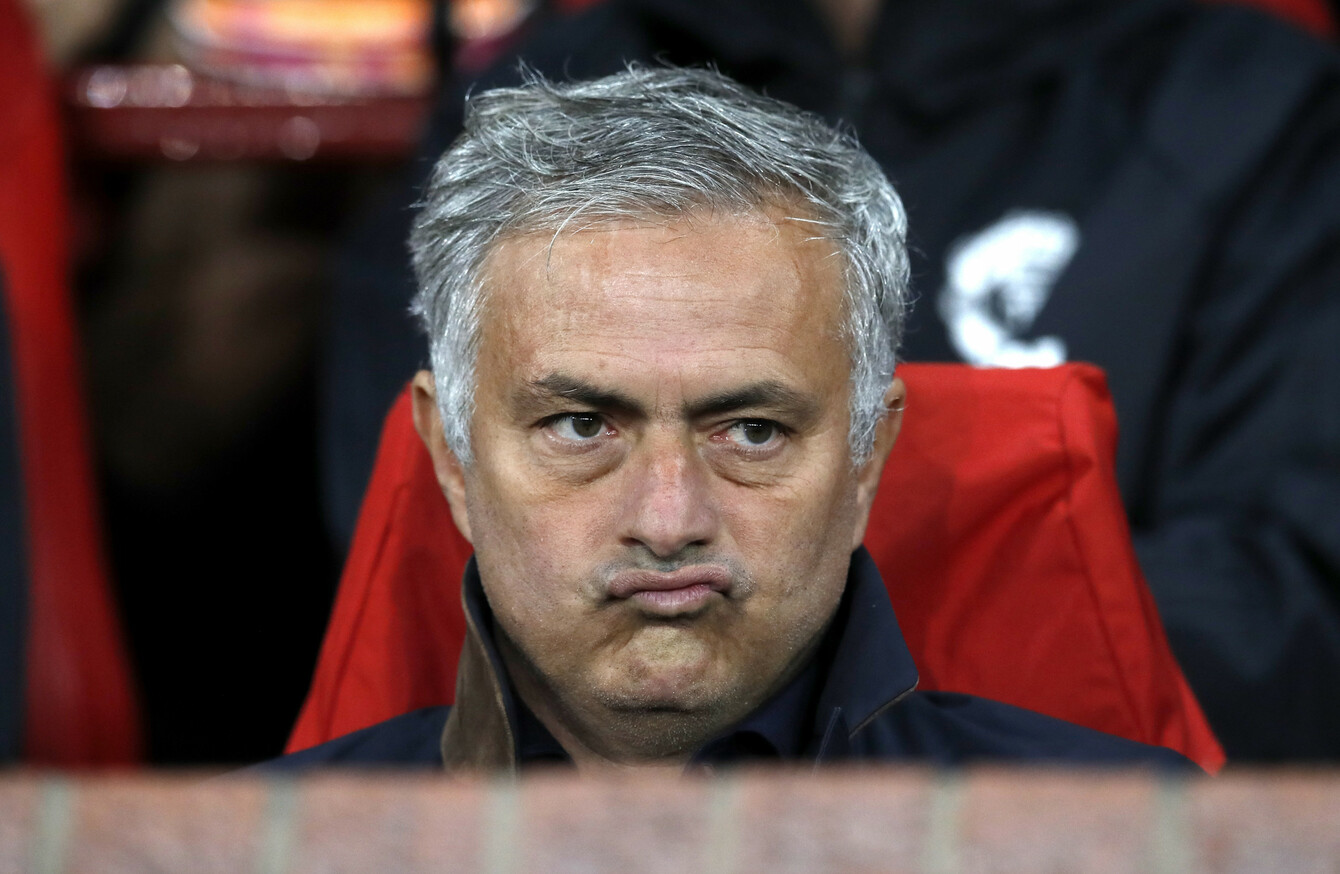 Jose Mourinho is under pressure following a series of disappointing results.
Image: Martin Rickett
Jose Mourinho is under pressure following a series of disappointing results.
Image: Martin Rickett
Updated at 18.26
THE INTERNATIONAL BREAK seemingly came at a good time for Jose Mourinho and Manchester United.
Despite the stirring 3-2 comeback win against Newcastle that was reminiscent of the style of play often employed during Alex Ferguson's glory years, there were a couple of caveats to that triumph.
The victory came against a Newcastle side who are second from bottom and have picked up just two points all season.
In this context, the first half, in which the Red Devils went two goals behind, was as poor as the subsequent 45 minutes was impressive.
Even in the aftermath of the triumph, there was signs that all was not well at Old Trafford.
"Marcus Rashford was sad, Scott McTominay was scared on the pitch," Jose Mourinho said afterwards, continuing what some critics consider to be an unwise policy of criticising his players publicly.
The latest reports indicate the young midfielder is likely to make a January loan move away, having fallen out of favour, despite Mourinho frequently praising the Scottish international until recently.
"Scott McTominay is a kid with a special character, very humble, aggressive in a positive way, brave, he's a special kid," Mourinho said only last month.
"He's a special character, a special personality that a team in a negative moment needs. Do my other players have that mentality? Not all of them. Everybody is a different person."
To speak in such a contrasting manner about a 21-year-old twice within the space of a month perhaps says more about Mourinho than McTominay, and the pressure the Portuguese boss is feeling right now.
Just prior to the Newcastle clash the Daily Mirror published a report suggesting Mourinho would be sacked regardless of the outcome of that match.
The club reacted strongly, firmly denying the reports and banning the journalist who put his name to the story.
And while claims of Mourinho's imminent demise may have been greatly exaggerated, his present situation still appears to be precarious.
The much-publicised disagreement with the board over the signing of players during the summer transfer window, coming after a season in which Mourinho led the team to their best Premier League finish of the post-Alex Ferguson era, was the first indicator of trouble.
The recurring controversies involving Paul Pogba have added to the sense that Mourinho is losing control of the club in a way that has been also evident in previous spells in charge at Real Madrid and Chelsea.
There also appears to be a lack of conviction in some of Mourinho's statements and decision-making. When asked about dropping Alexis Sanchez recently, the boss responded: "For many months people have been saying that Alexis Sanchez has not been playing well enough.
"So this week it was time to agree and to say let's give a chance to Martial and let's leave Alexis out."
Admitting that public pressure is contributing to such calls is hardly the sign of a manager with full confidence in his own ability, and for all the regular reminders about what he has achieved in the past, there have been signs of late that even a manager as illustrious as Mourinho is not immune to considerable feelings of self-doubt.
And while the club have insisted publicly that Mourinho's job is safe for now, continual reports linking the Red Devils with an approach for former Real Madrid coach Zinedine Zidane suggest there is at least a few reservations in the boardroom about whether the Portuguese manager remains the right man for the job.
After last season's improvement in the league, United have struggled for much of this campaign. They endured an embarrassing League Cup exit at the hands of Frank Lampard's Derby, while a loss in Saturday's early kick-off would see them equal their worst start to a Premier League season — the 2014-15 campaign under David Moyes.
The odds are undoubtedly stacked against the Red Devils. They face a Chelsea side who are bidding to remain unbeaten for their opening nine matches for just the third time in the Premier League era.
Moreover, Chelsea have lost just one of their last 16 games against United at Stamford Bridge, winning 10. The only defeat in question came as far back as October 2012, when Ferguson was still in charge of the visitors.
Yet it feels as if victory is crucial for Jose Mourinho against his former club. The match is part of a difficult run of games for United. Chelsea aside, their upcoming fixture list reads as follows: Juventus (h), Everton (h), Bournemouth (a), Juventus (a), Man City (a).
With the possible exception of Everton and Bournemouth, the way they are playing at the moment, it is difficult to envisage United winning any of those games.
A loss against their rivals in these fixtures would also likely put an end to their hopes of Premier League and possibly even Champions League glory.
Given that only Man City have spent as excessively as their neighbours in recent seasons, Mourinho cannot afford too many more losses against fellow elite clubs.
In addition, if the United board are looking for evidence of how much influence a new manager can exert on a club, they need turn to Saturday's opponents. The Blues finished a disappointing fifth last season under Antonio Conte, missing out on Champions League football as a result.
But since Maurizio Sarri has come in from Napoli, he appears to have implemented significant improvements.
Only goal difference separates Chelsea and Man City at the top of the Premier League table currently, while Sarri has also reinvented the team.
Even at their best under Conte, Chelsea favoured a pragmatic, counter-attacking style that was not particularly easy on the eye.
Since Sarri's arrival, the bold changes he has initiated — signing Jorginho and shifting N'Golo Kante to the right for example — have turned Chelsea into the type of team that dominates games and plays expansive football.
Comments made by Sarri in relation to a recent Chelsea-Liverpool encounter were telling: "10 minutes before… Klopp looks at me and I don't understand. The match is still in progress, I ask him: 'Why are you smiling?' And he says: 'Are not you having fun?' 
"In return I say: 'Very much'. And he says: 'Me too!' And he's losing. Then the Sturridge goal comes, but remembering that moment we hugged like two old friends."
This is the type of exchange it is impossible to imagine Mourinho having. For him, 'fun' is the last word you would associate with football. In the Portuguese coach's eyes, it is a constant battle and struggle, as reflected by his consistently cantankerous dealings with the media and the dour approach he is often happy for his teams to revert to.
Positive results, of course, are always an ample substitute for 'fun' football, and Mourinho badly needs a few of these in the coming weeks to silence the critics.
Premier League fixtures (all kick-offs 3pm unless stated otherwise) 
Saturday
Chelsea v Man United (12.30)
Bournemouth v Southampton 
Cardiff v Fulham
Man City v Burnley
Newcastle v Brighton
West Ham v Tottenham
Wolves v Watford
Huddersfield v Liverpool (17.30)
Sunday
Everton v Crystal Palace (16.00)
Monday
Arsenal v Leicester (20.00)
Subscribe to our new podcast, Heineken Rugby Weekly on The42, here: