WE DIDN'T SEE that one coming – an intense and physical performance that could (should?) have given Ireland their first win over BNZ since forever.
Although, viewed in hindsight, it can be considered the product of two tendencies that should, perhaps, have featured more prominently in pre-match analysis.
The first is Ireland's ability to deliver occasionally outstanding performances, seemingly out of nowhere and usually when at the side's at its lowest ebb after a bout of soul searching. The second is New Zealand's tendency to look wobbly on big occasions (ref. France 1999, 2007, 2011).
All week long we could only see the emotional significance of game in Christchurch – New Zealand's first since the earthquake – in terms of the positive effect it could have on All Black morale. For some reason, it never occurred to us that the the occasion might get to them.  And it certainly did.
We were intensely critical of Kidney last week, so let's give him his due. His selection, gameplan and substitutions all came off.  Splendidly.
D'arcy played well, Murray had his best game in a year, and bagged a great try, and Kevin McLaughlin proved he can be Ireland's Tom Wood – maybe even better. Turns out there's a place even at the highest level for a workhorse who does pretty much everything quite well.
And when Locky began to fatigue, Kidney wasted no time in bringing on O'Mahony, who had a marvellous impact.  We thought replacing D'arcy with ROG looked a lily-livered substitution (we were crying out for Ferg to move to 12 and Zebo to come on), but ROG played well and Sexton continued to have a very fine match at 12.
The gameplan was a similar triumph. Ireland had been excellent at the breakdown last week, but by committing to it so heavily, perhaps it cost them out wide.  Credit, then, for sticking to their guns and targeting the breakdown again and resisting the temptation to simply fan out and not compete for the ball.
Ireland were again outstanding at the ruck, but also made their tackles this time, chasing superbly – New Zealand's gameplan is based around committing minimal men to the breakdown and keeping numbers in the line, this time they were forced to bring 4 and 5 men into rucks, removing some of the openfield threat exhibited last week.
Fergus McFadden's performance epitomised the turnaround. Error-strewn and given the run 'round by Julian Savea last week, he chased like a dervish on Saturday and looked positively feral in contact. New Zealand were rattled and looked uncomfortable not being in control of the situation.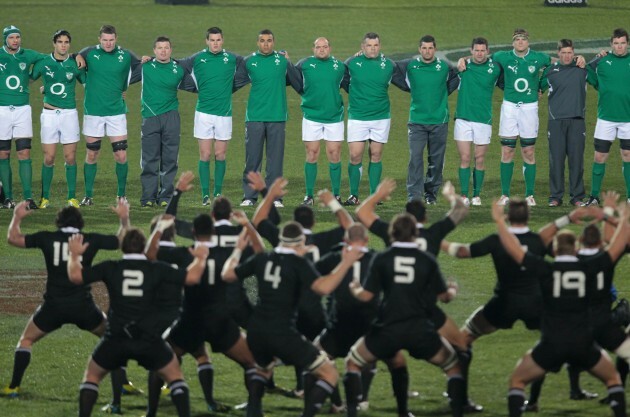 The pack were outstanding to a man. The front row deserve particular credit.  Come to think of it, so do the locks and the loose forwards. Rory Best, Cian Healy and Sean O'Brien have genuine world class credentials. It beggars belief that Donnacha Ryan was a Munster reserve until this season; he has a streak of badness in his face and backs it up with some ferociously aggressive play. At the tail-end, Jamie Heaslip silenced his critics.
Now for something we don't like doing – blaming the result on the ref.
We've grown tired of this easy way out over the last 18 months (Gerry, hilariously, blamed the ref or his officials for no less than four of our results in the 2011 Six Nations), but today we're going to give in and take it. Ireland lost the game because of a classic spineless hometown decision by Nigel Owens in penalising Ireland at the final scrum.
We can claim no expertise when it comes to this facet of the game, but we're happy to lean on the knowledge and experience of Emmet Byrne, David Flatman and self-confessed scrum nerd Duncan Bell, all of whom took to social media or the radio to say it should have been judged an Irish penalty (an opinion echoed, incidentally, by Kiwi coach Steve Hansen in his post-match press conference).
It was reminiscent of the harebrained decision Owens gave in Thomond Park, when he penalised a forward-marching Northampton scrum for wheeling. Whatever your thoughts on Poite and his refereeing style – at least you know where you stand with him, and that the forward-moving pack will get the decision.
Exclusive Six
Nations Analysis
Get Murray Kinsella's exclusive analysis of Ireland's Six Nations campaign this spring
Become a Member
Now, back to a familiar question. Can the real Ireland please stand up? Which team are we? The one which lost 42-10 or the one which came within a wrong decision of winning in Christchurch?
Kidney's Ireland have earned a reputation for occasional greatness followed (and preceded) by mush. The result is a handful of truly memorable games, but little to show for them. This isn't really an acceptable pattern for an international team seeking a place among the world's best. Ireland have shown themselves capable of scaling giddy heights and playing with wired intensity, but only when they have a wellspring of emotion on which to draw.
At the very least, this group needs to learn to hit the ground running; they appear to sleepwalk through the first match in any given series and respond from there. If they have designs on winning the Six Nations next Spring – as surely they must – they will need to reduce the range of a wildly fluctuating performance graph.
Ireland must now go to the final test and play in a similar vein. It's a tall order, but if they do so, we can consider the tour a success; something which seemed unlikely last week. Another thrashing and we're back where we were. And we really don't want to go back there.
P.S. How bad was Piri Weepu's pass for the first Carter drop attempt? It was flying over his head and on the wrong foot. To his credit, Carter managed to get his kick out, only to have it partially-blocked by SOB. The ridiculous "touched in flight" law meant NZ were awarded a 5m scrum – O'Brien may have been better taking the chance that Carter's kick was going to go wide. This is a law that should be changed.