WHEN THE HEAT comes on, you need your big players to make big plays.
Caolin Blade is building a habit of doing exactly that.
Last weekend in Galway, he served up another few examples as Connacht beat Edinburgh to leave themselves on the cusp of securing a URC play-off and Champions Cup qualification.
We join the action in the 40th minute, with Edinburgh having grabbed momentum and narrowed Connacht's lead to 15-7 after the westerners had enjoyed an excellent first quarter.
Referee Ben Whitehouse has just issued an individual warning to Cian Prendergast for his discipline, but also a team warning to skipper Blade for his side having conceded eight penalties so far.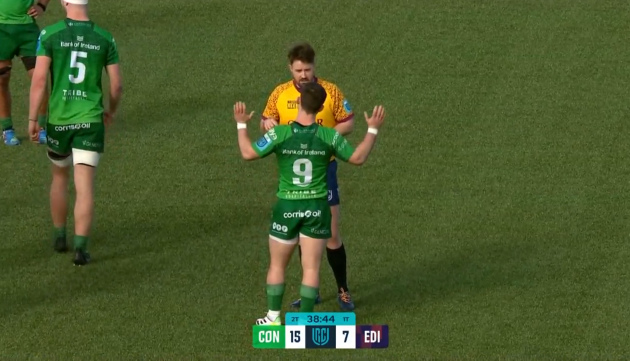 The Connacht scrum-half asks Whitehouse what he needs to see at the breakdown and then has a word with his team, presumably stressing the need to get a grip on the game again.
Blade knows that actions speak louder than words and he comes up with a big play in the next passage.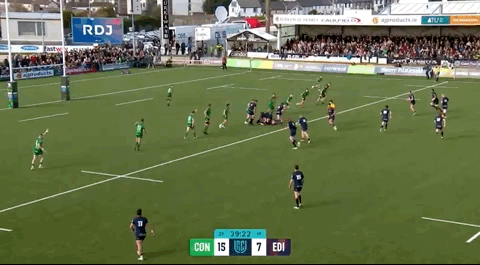 Blade intercepts a Blair Kinghorn pass to race clear from his own 22-metre line for a crucial try that sends Connacht into the half-time break with a 20-7 lead.
It's a superb bit of defending on the edge by Blade, who initially drops off the defensive frontline after Edinburgh launch from a lineout on Connacht's left.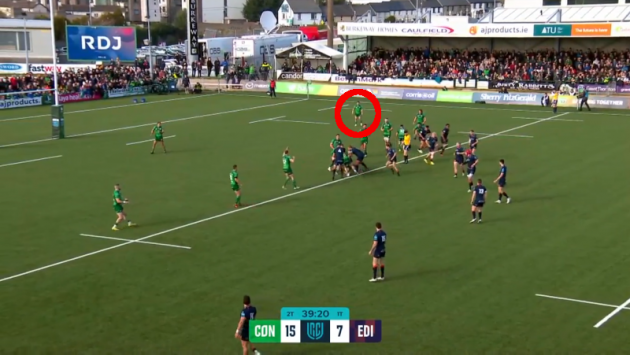 Blade's positioning means he can cover a kick and track across the backfield if Edinburgh continue to play out to Connacht's right, but instead the Scottish side run a 21 pattern off the lineout, playing two phases infield before bouncing back to Connacht's left.
As Edinburgh swing back to that side, we can see below how Connacht react.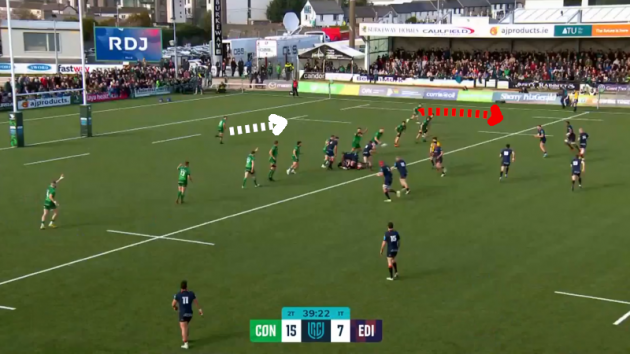 Blade [red above] moves up onto the edge of the frontline as wing John Porch [white] shifts across to cover in behind, the Connacht players on their right signalling and communication the change in direction from Edinburgh.
Edinburgh centre James Lang sweeps a pass out the back of number eight Viliame Mata to out-half Blair Kinghorn and as that pass is played, Blade slows his feet and then begins to back-pedal.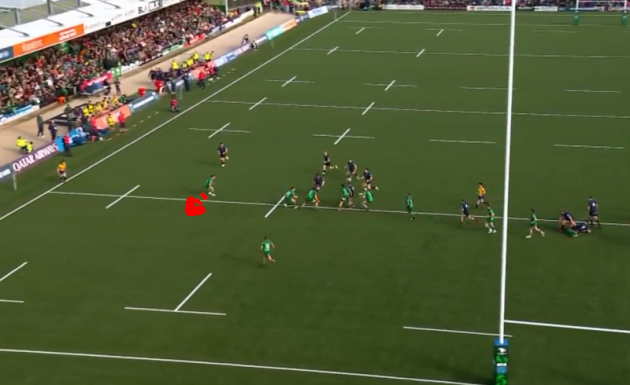 Blade's adjustment means he can now deal with a potential shorter pass from Kinghorn to wing Darcy Graham [yellow below] but he's well aware that flanker Ben Muncaster [blue] is outside him.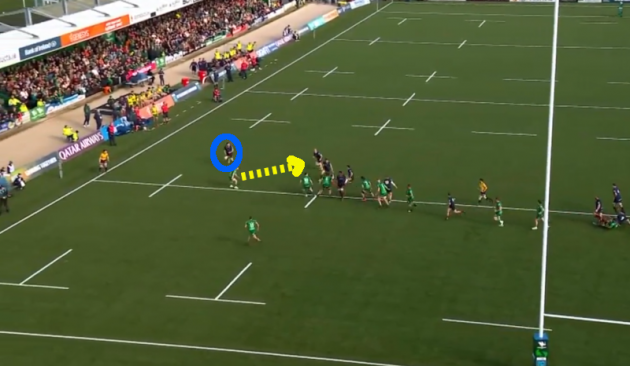 Blade knows that Porch is covering behind so he's confident that Muncaster won't have a free run to the line, and he has to be sure he doesn't get beaten on his inside.
But those couple of steps backwards are crucial. Had Blade continued to move up and in, Kinghorn could have lifted a bridge pass over the Connacht scrum-half's head to Muncaster. By easing off, Blade has kept himself alive to pick off the wider pass.
The cue for Kinghorn to pass to Muncaster is that Blade has turned his shoulders in towards Graham, but Blade recovers out brilliantly to pinch Kinghorn's pass at full stretch.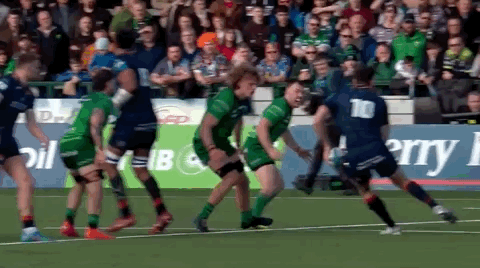 He has the pace to finish from 78 metres out, although the Connacht coaches will have enjoyed the sight of Prendergast and Porch working so hard to support him, with Porch making a searing run on the inside to give Blade a little more time and space to finish.
It's a wonderful bit of play from Blade as he shows Kinghorn what the Edinburgh out-half wants to see, dictating the play to him, and then changing the picture when it's too late for Kinghorn to adjust.
Blade defended on the edge impressively for Connacht in this game. 
In the example below, earlier in the match, he gets into Kinghorn's eyeline to help dissuade him from passing wider.
Again, Blade [red below] is one part of a well-functioning defensive system as he steps up to offer an intercept threat if Kinghorn does pass.
Porch [white] is closing up onto the widest Edinburgh attacker and Kinghorn identifies the kick space, although Connacht fullback Oran McNulty [yellow] is covering across to deal with that threat.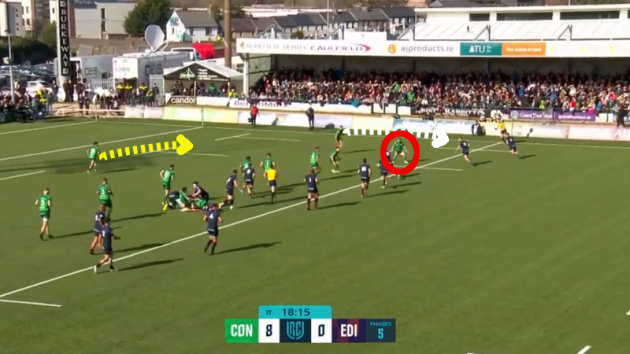 Kinghorn kicks a grubber but opposite number David Hawkshaw gets a hand to it and Blade is able to scoop the ball up before launching this huge kick downfield.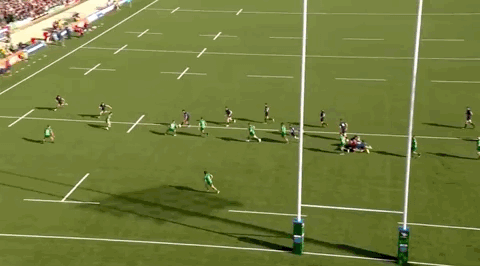 It's agonisingly close to being a 50:22 by Blade but it's still a brilliant outcome for the Connacht defence.
While Blade offers a big threat going forward and scored a hat-trick in this game, his second of the season, he has always been a combative presence on the other side of the ball.
He loves defending, including jackaling at the breakdown. He has a nuggety 5ft 7ins frame and his low centre of gravity helps in these scenarios, as below for a turnover win against Edinburgh.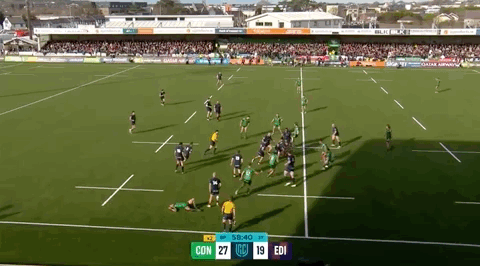 Although this big play doesn't count on some stats sheets as Whitehouse went back for a yellow card offence by Edinburgh fullback Emiliano Boffelli just before, it epitomises Blade's confrontational streak.
Connacht were down to 13 players at this point with Conor Oliver and Oisín Dowling in the sin bin. Edinburgh had eked their way back into the contest at 27-19, but Blade and co. dug in to manage that troublesome period.
Below, we see the scrum-half resourcing the breakdown after Jarrad Butler powers forward from the six-man Connacht scrum.
And once the numbers were level at 14 versus 14, it was Blade who killed off any Edinburgh hopes of a comeback.
Blade's sniping runs from close-range have always been a danger to opposition defences and he's usually been good for at least a couple of tries a season.
He's now on 11 tries in 10 starts in the current campaign, with the sharp finish below the second score of his hat-trick last weekend.
Connacht's forwards have bashed away when Blade finds himself digging for the ball.
He spots the opportunity to dive underneath the Edinburgh defenders at the fringe of the ruck and manages to just about squeeze through.
Connacht had penalty advantage playing here for Edinburgh's second infringement on their tryline in quick succession.
So before he walks back from scoring, Blade does what a captain should do and suggests to Whitehouse that Edinburgh should see another yellow card.
"Should that not be yellow for that infringement even though it's a try, like our one?" asks Blade, alluding to Oliver's yellow card, which came after Edinburgh had been awarded a try.
"You'd given 11 penalties away up until that point," responds Whitehouse and Blade shrugs.
"Just asking," says the Connacht skipper, having made his point.
Blade is the man to put the cherry on top of Connacht's bonus-point win just over two minutes later anyway.
After a sensational bit of play from replacement back Shane Jennings to win the ball back twice in quick succession, the Connacht scrum-half produces a delightful finish.
Blade's initial touch of control with his foot is classy, then the scoops the ball up, steps back inside the chasing defenders, accelerates, and cleverly drops the ball onto his foot to grubber through.
It takes a hop off his knee on the way past the last two defenders, but then there's another calm nudge in behind to allow Blade to fall onto the ball for his hat-trick.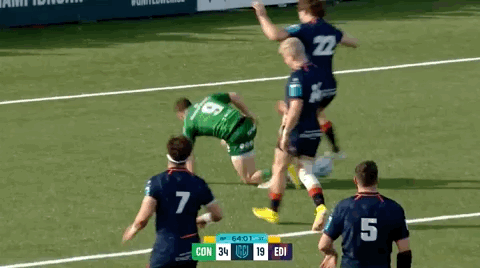 The big celebration is well-earned and Connacht see out a bonus-point victory that leaves them sixth in the URC table with two games left – a home clash against Cardiff and a visit to Glasgow.
If they are going to seal their place in the top seven, securing a quarter-final and Champions Cup qualification, then Blade will be a key man in those last two regular-season outings.
He has battled with Kieran Marmion for the number nine shirt at Connacht since 2014 but Blade has become the clear first-choice this season. Indeed, Marmion will leave the province at the end of the campaign, while Monivea man Blade has signed a new three-year deal through to the summer of 2026.
Meanwhile, 28-year-old Blade's Ireland ambitions remain strong. He made his Test debut against the US in 2021 and has been involved in a few squads since.
It was Blade who Ireland boss Andy Farrell added to his squad during the recent Six Nations when Jamison Gibson-Park suffered a hamstring injury, underlining how close he is to being in the mix.
Gibson-Park, Conor Murray, and Craig Casey are the three scrum-halves that Farrell has picked when they've been available, but Blade is pushing hard. With the World Cup looming, it's a luxury for Farrell to know he has another scrum-half as good as Blade vying to break up that established pecking order.