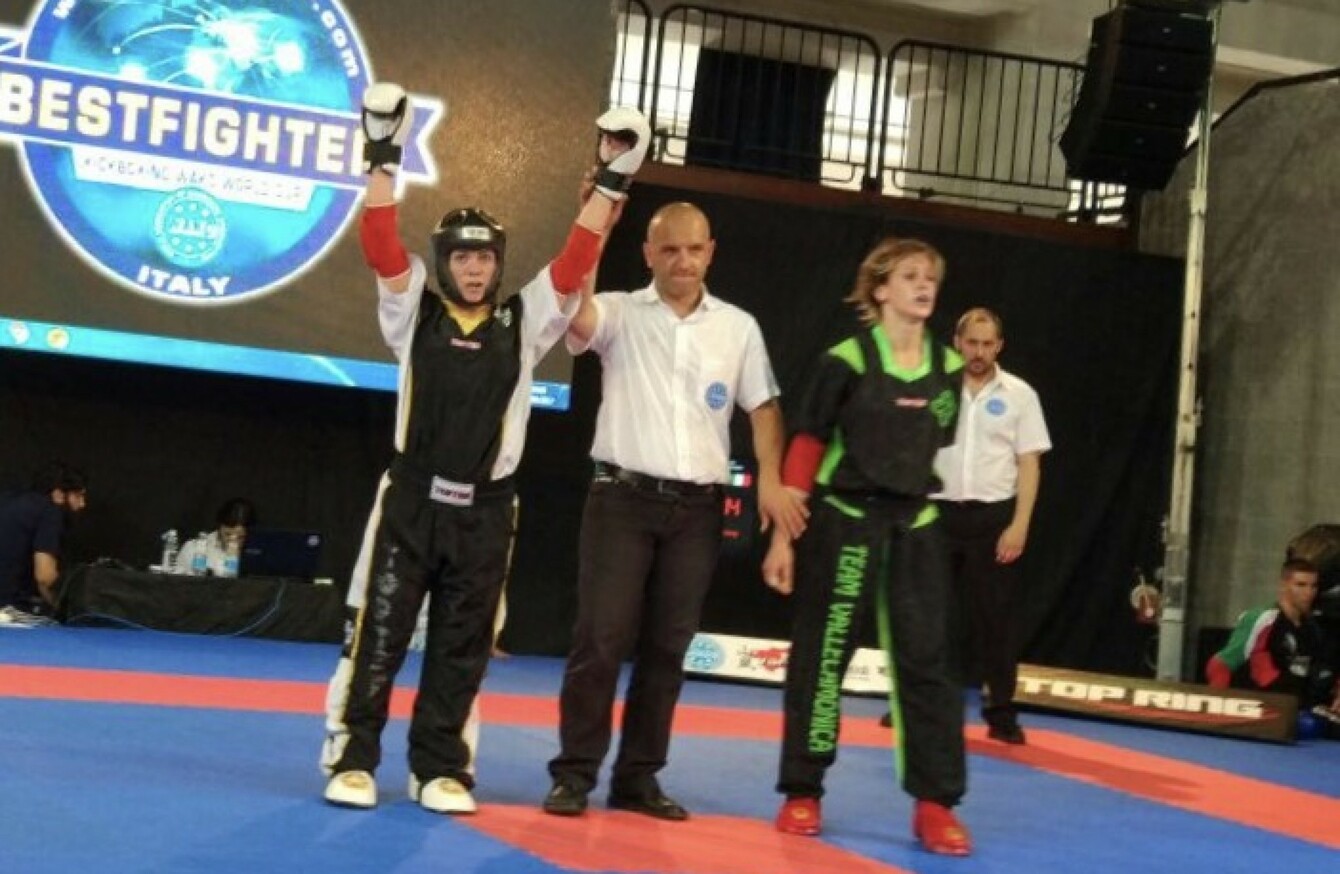 Caradh O'Donovan after winning the final of the --55kg point-scoring category at the Bestfighter World Cup.
Caradh O'Donovan after winning the final of the --55kg point-scoring category at the Bestfighter World Cup.
IRISH KICKBOXER CARADH O'Donovan says she was delighted to win a gold medal at a prestigious World Cup event in Italy, after 15 years of competing for the top podium position.
In what was her third WAKO (World Association of Kickboxing Organizations) World Cup event of the year, O'Donovan took home three medals from the competition, which is otherwise known as the 'Bestfighter World Cup.'
Along with winning the gold medal in the –55kg category, she also earned two bronze medal finishes in the –60kg class and Women's Grand Champion event.
After years of settling for silver and bronze medals in the –55kg section, she told The42 that it was a satisfying moment to finally win the gold.
"It's always been the one that I've fallen short at. Just for whatever reason, I've never won that gold and that's what made it extra special this time when I won it.
"You fight in two weight categories but you want to get the get the gold in the one that you're chasing ranking points for."
"I'm just delighted. I thought it would be more like relief but I'm really happy. This is one of the most prestigious World Cups and one of the longest running ones.
"To have that gold is a really good moment and it's one of the better achievements of my kickboxing career."
She added:
"I've done three World Cups and I've made it to three finals in a row so I know I'm having a good year and the results in the previous World Cups gave me that confidence to think that I'm with the best in the world and there's no reason why I shouldn't be winning these competitions definitely helped."
O'Donovan was unlucky not to progress to the final in the –60kg class after bowing out against the reigning World Champion from Belgium in the semis.
A bang on the nose disrupted her momentum during the bout and forced her to take a few medical breaks.
Kickboxers are allotted two minutes in total for these medical breaks and are automatically disqualified if they exceed the time limit.
O'Donovan had just 15 seconds to spare in the time it took to treat her injury.
"The blood just wouldn't stop, " she continued, "and I had to keep taking medical breaks to stop the blood.
"Sometimes when that happens, you're a little bit more focused on trying to protect your face than you are about fighting.
"It kind of flipped how the fight was going but it was very tough."
O'Donovan is facing back into one more competition this weekend before taking a break for the summer.
Along with her teammates at the Tallaght Martial Arts club, she's travelling to Mayo for an international event where O'Donovan will likely face some stiff opposition.
"It'll be a good test and there's going to be some really tough fighters at it. The world number one in the weight (category) below me will be there, so we'll probably compete against each other."
The42 is on Instagram! Tap the button below on your phone to follow us!