EVERY MONDAY FOR the remainder of the season, we'll break down a big play from the weekend's NFL action. If there's anything you'd like to see included, email steve@the42.ie.
With six and a half minutes remaining in the third quarter of their loss to the Philadelphia Eagles on Sunday, the Arizona Cardinals were still in the game.
Sure, they were down three scores but time was on their side and they'd forced the Eagles into a third-and-very-long situation in their own half.
However, just a few seconds later, the game was over as a contest after Nelson Agholor's 72-yard touchdown grab.
But just how did they manage to make such a mess of what should be a defence's dream?
1. Cover zero
The Eagles had been hitting big plays all day – Torrey Smith toasted Justin Bethel on a third-and-6 deep post that went 59 yards for a touchdown earlier — and yet still, they opted to remain in man coverage for this play.
2.  Blitzing in a never-blitz situation
Cardinals defensive coordinator James Bettcher loves to blitz on third down and, especially when it's an obvious passing situation, that makes a lot of sense. But you have to know your opposition and, going into the game, Philly had run or thrown short of the sticks 75% of the time on third-and-12 or longer.
3. Damned if you do
Nelson Agholor (yellow) is not the best receiver in the game — that's an understatement — but his 40-yard dash time at the 2015 NFL Combine of 4.42 was enough for eighth among wide receivers that year. Budda Baker, the safety lined up with Agholor on this play ran a 4.45 this year and that 0.03 was the difference between the pair on this play.
4. Damned if you don't
After deciding to blitz, you have to get there if you're the Cardinals defence. However, the pass protection does a good job of keeping the pocket relatively clean for Carson Wentz (green), who has four yards to step into and get his feet set before making the throw 3.06 seconds after the ball was snapped.
5. Make a tackle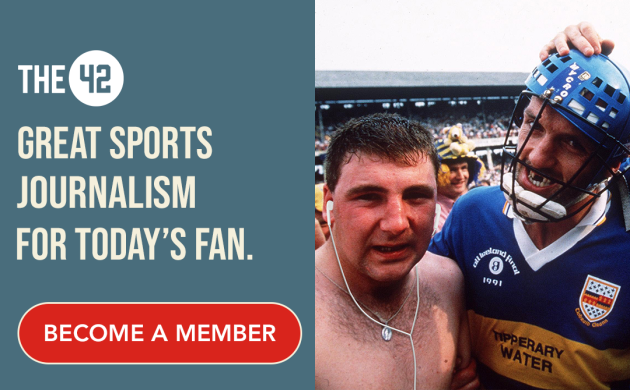 After being burned on the route, Baker has a chance to make amends and limit the damage but, despite having an excellent angle here on Agholor — and 25 yards in which to make the tackle — he lets the receiver embarrass him to the extent he can engage in a showboating touchdown.
Subscribe to The42 podcasts here: