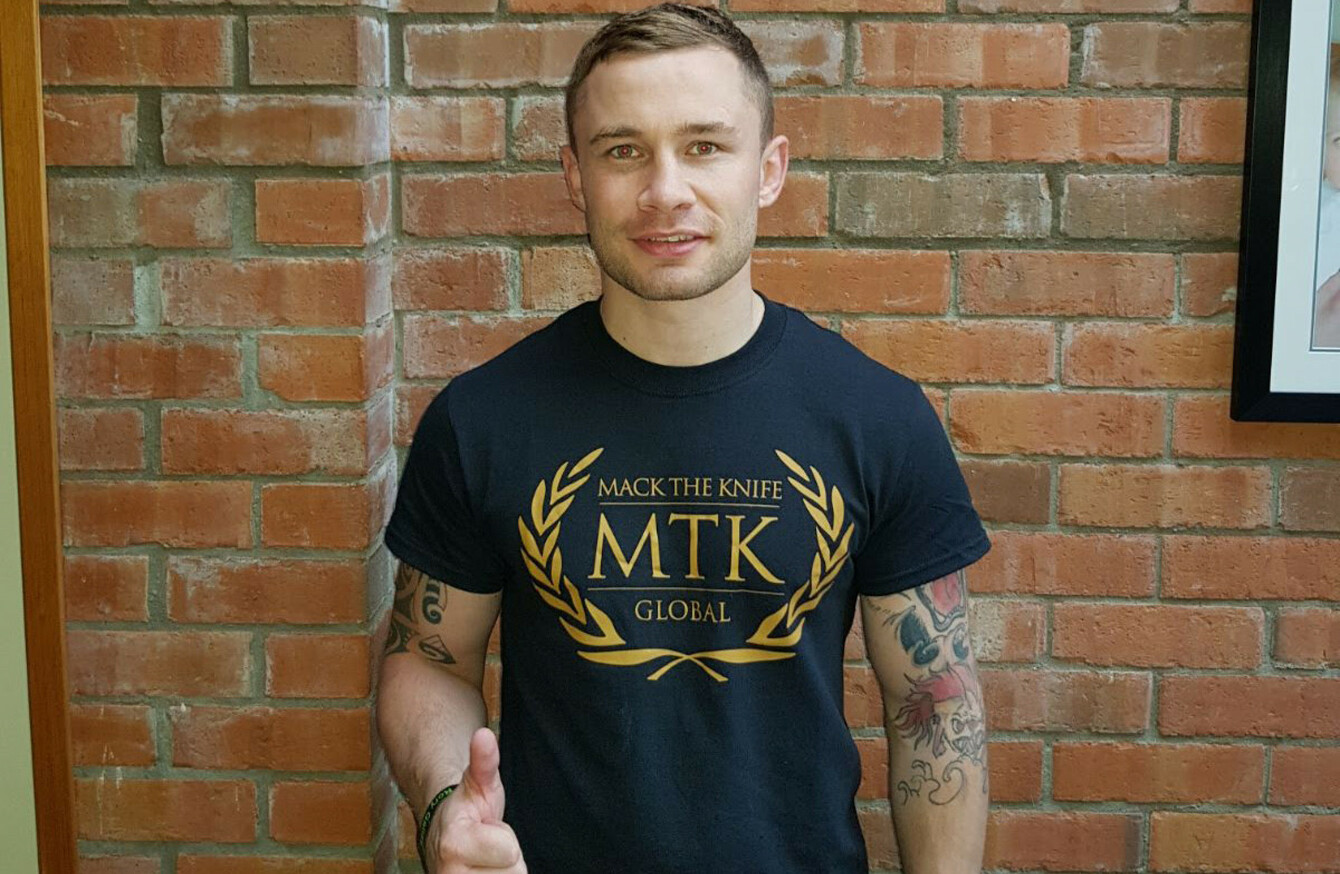 FORMER TWO-WEIGHT WORLD champion Carl Frampton has signed an advisory deal with Matthew Macklin's Mack The Knife (MTK) Global management company as he plots his ring return.
The 30-year-old Belfast boxer recently split from long-term partners Barry McGuigan and Cyclone Promotions, and is in the market for a new promoter as enters the next chapter of his illustrious career.
MTK, who have been operational for five years, currently manage the careers of several Irish boxing stars including Frampton's fellow citymen Michael Conlan and Paddy Barnes, as well as his former amateur adversary David Oliver Joyce.
"…if you look at what they have already done, they have big-name fighters like Billy Joe Saunders and recruited a lot of boxers from Ireland and I feel that they can get me the best deal with a promoter" Frampton said.
There was always the possibility that I could go my own way, but to have someone on your side advising you and getting you the best deal possible is always important and I feel Matthew Macklin and MTK Global can definitely do that.
"I listened to everyone before making my decision. If you look at what's going on at the moment, they are the best in the business and getting their boxers involved in some really big fights and it's only going to continue and keep getting better."
Frampton maintains that MTK can assist him in landing some of the massive fights he craves, at least one of which must take place in Windsor Park – a prerequisite for any prospective promoter, including UK big-hitters Frank Warren and Eddie Hearn.
In an ideal scenario, fistic soulmate Leo Santa Cruz would cross the Atlantic for a rubber match as previously promised, though the Mexican Terremoto – who edged Frampton in their Vegas rematch last January – recently explained that Visa issues on behalf of his father and trainer, José, will need to be ironed out before either man touches down on Irish soil.
"That would be the dream come true to fight Leo [Santa Cruz] in the third fight at Windsor Park and beat him, that would be pretty perfect and ideal," Frampton said. "That's an objective of mine to fight at Windsor one day and that's what I want to do and hopefully, it will happen.
"It's the biggest venue in Belfast and I support Northern Ireland very passionately. The atmosphere has always been pretty incredible, you need to get to a match to understand it, there's no other place like it and I want to put on a big boxing night to experience it, it would be a dream come true for me.
"Hopefully, we can bring the names to this side of the pond, if not I'm always willing to travel. Belfast is special to me and I want to fight here a couple of times before my career is over."
Frampton described his recent missed weight in the lead-up to his scheduled bout with Andres Gutierrez as "unprofessional," but confirmed he will remain at featherweight before targeting a piece of Irish boxing history.
I'm happy in the featherweight division. I missed weight at my last weigh-in and I shouldn't have done that, that was unprofessional, I am a featherweight and settled in the division for the meantime. In the future, I would like to target one of the big names up at super-featherweight and stand alone in Ireland as a three-weight world champion.
'The Jackal' has teamed up with a new trainer in Jamie Moore, who once fought MTK founder Matthew Macklin in a barn-burner before later becoming the Tipp middleweight's own coach.
Having found who he perceives as the right man for the job sooner than expected, Frampton hopes to secure a promoter and return to the squared circle before the year is out.
"I don't have a definite date", he said, "but I would like to be out before the end of the year. It's great with Jamie [Moore]. In my head, I was hoping to go and train with a few guys but I was only out for a few days with Jamie and we gelled instantly. He knows the game inside out and is very knowledgeable.
"That's what I need at the minute, I've got my style and I'm not going to change too much. I need someone who knows the game, who can give me sound advice in the corner, who can get me fit and work on tactics for different opponents and Jamie can certainly do that."
Macklin, meanwhile, spoke of his excitement at bringing Frampton on board: "We are delighted and honoured that Carl has chosen MTK to guide him through this next phase of his career and we are confident that we can help deliver the big fights he has targeted" the former European champion said.
Subscribe to The42 podcasts here: