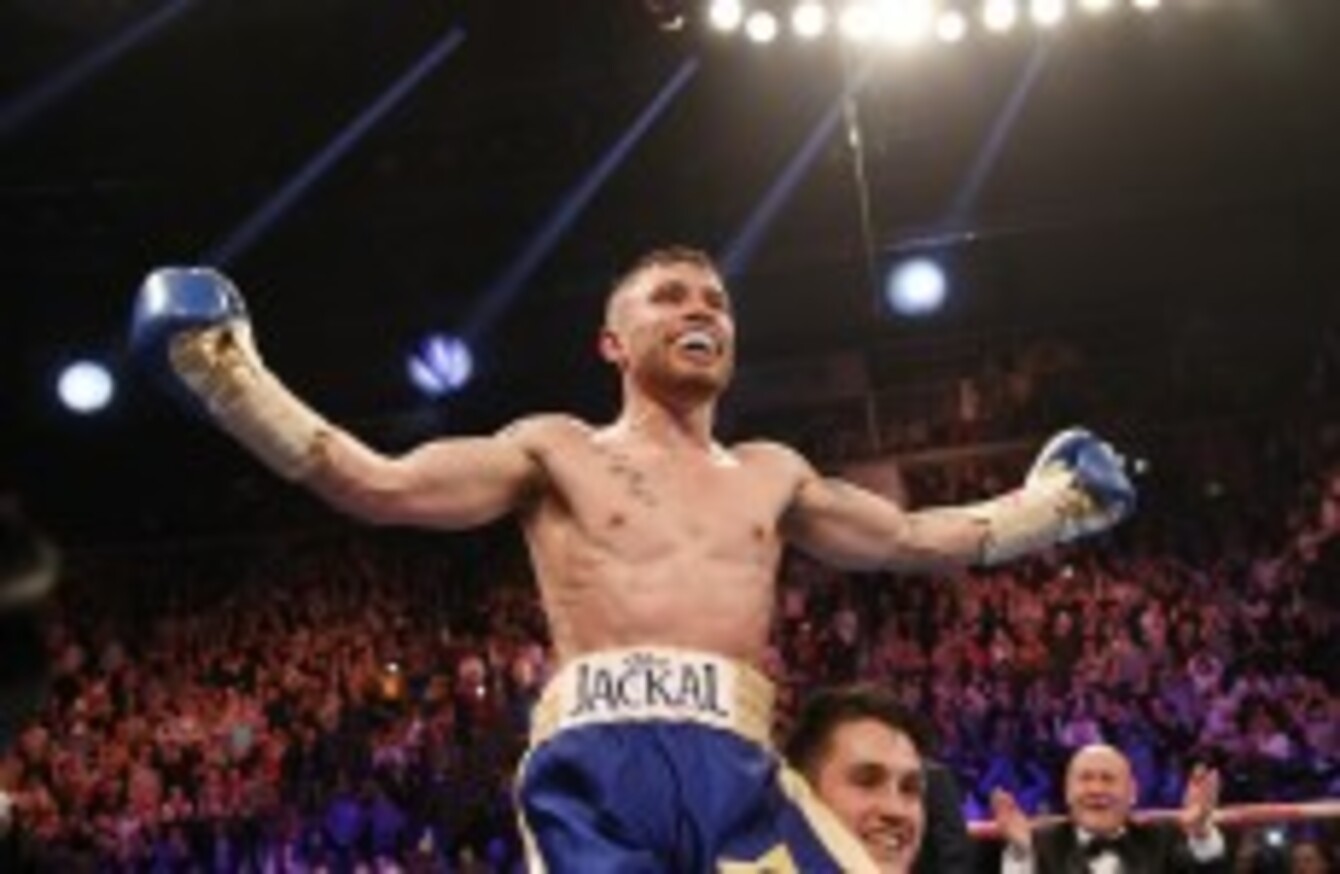 Frampton celebrates after defeating Chris Avalos at the Odyssey Arena, Belfast.
Image: AP/Press Association Images
Frampton celebrates after defeating Chris Avalos at the Odyssey Arena, Belfast.
Image: AP/Press Association Images
CARL FRAMPTON WILL be hoping to secure a series of major fights after announcing that he has signed with "the most powerful man in boxing", Al Haymon.
IBF super-bantamweight champion Frampton (20-0, 14 KOs) became a world champion with a dominant unanimous decision win over Kiko Martinez in September. In his first title defence in February, Frampton was equally impressive and knocked out Chris Avalos in the fifth round.
"Al Haymon has a formidable reputation in boxing and has been the catalyst to securing the biggest fights in recent years," Frampton said this week.
This is an exciting stage of my career after winning my world title, and my team and I know that this relationship with Al Haymon will help take my career to the next level. I am looking forward to it.
Frampton will still be managed by ex-world champion Barry McGuigan, but 'The Jackal' joins Floyd Mayweather Jr, Amir Khan, Adonis Stephenson and Adrien Broner in Haymon's stable of around 200 fighters.
"Al Haymon is the best at what he does, there is no question about this," McGuigan said.
"Carl is moving towards the peak of his career and we believe this is the perfect time to strike up this partnership."
What does this mean for Frampton's career?
Source: cybertorte/YouTube
To put into context how powerful and influential Al Haymon has become, Floyd Mayweather recently said that "if it wasn't for Al Haymon … I wouldn't be where I'm at today."
Haymon has a tried and tested method for building up fighters. First, he signs fighters to an 'Exclusive Advisory Agreement' that gives his company exclusive rights to their careers. In return, he promises to use his best efforts to secure the best possible boxing matches for his clients and counsel them in the overall development of their careers. For this, Haymon charges about 10 to 15% of a fighter's purse.
Earlier this year, Haymon launched Premier Boxing Champions (PBC) in an attempt to bring boxing back to a mainstream audience. Backed by investors, PBC will spend $20m on airtime for 20 shows on NBC and NBC Sports. You might have tuned in recently to see Andy Lee box Peter Quillin on one of the PBC on NBC cards.
Part of the reason the sport of boxing has lost some of its lure with the average sports fan is the high prices of pay-per-view cards, and the lack of putting on legitimate cards that feature more than one good fight. Since Haymon manages the vast majority of the sport's biggest fighters, he is in the unique position where he can provide his boxers with the biggest fights possible and give them prime-time spotlight on one of his PBC cards.
Just look at the names that are featured on these cards. We've already had Peterson v Garcia, Lee v Quillin and in the next few weeks we have Khan v Algieri, Guerrero v Martinez, and Broner v Porter. Frampton is now guaranteed to feature on one of these cards in the future with a big fight and plenty of promotion a certainty.
Frampton is an entertaining character inside and outside of the ring. More importantly, he has a boxing style that will appeal to hardcore and casual fans. He's a clever and technical boxer but he also has a tendency to get drawn into scraps. However he fights, it's always guaranteed to be entertaining and he will now be given a big platform to showcase this.
Members of Haymon's stables, and now potential Frampton opponents, include junior featherweight champ Leo Santa Cruz and featherweight titleists Gary Russell Jr and Jesus Cuellar.
But that doesn't necessarily rule out a clash with Britain's Scott Quigg; Quigg's own Matchroom stablemates Ricky Burns and James DeGale have already fought on Haymon's PBC.
The Northern Irishman is one of boxing's rising stars and with this deal now in place, we can look forward to seeing him in some big fights in the not-so-distant future.