AS THE EYES of the boxing world descend on Belfast this weekend, the significance of the occasion won't be lost on those of a certain vintage. Indeed, it's not so long ago that events north of the border were garnering international attention of an altogether less favourable nature. Even the date of Saturday night's fight is reminder enough of that.
Alas, 28 February will mark the 30th anniversary of the Provisional IRA's attack on Corry Square police station in Newry. The incident saw nine shells fired from a Mortar Mark 10, and while eight overshot their target, one landed squarely on a portakabin-come-refectory, injuring 37 and killing nine.
It was dubbed 'Bloody Thursday' by the UK press-pack, and although both Margaret Thatcher and Garret Fitzgerald presented a united front in condemning the perpetrators, Anglo-Irish relations hit a perilously low ebb. As is so often the case, the ethereal world of sport served as something of an intermediary. A captive audience on both sides of the Irish Sea tuned in to watch Coalisland's Dennis Taylor conquer the Crucible in April of that year.
Three weeks later, Norman Whiteside's spectacular winning goal in the FA Cup final saw his home city of Belfast make global headlines for all the right reasons. While these two events afforded an opportune distraction to an Ulster populace long since wrought by political and religious tension, the pièce de résistance was still to come.
After all, no one played the role of cross-community conciliator quite like Barry McGuigan. In front of a capacity crowd at London's Loftus Road, the Monaghan man ended the almost nine-year reign of Eusebio Pedroza to himself become featherweight champion of the world. 75,000 gathered at Royal Avenue in Belfast to toast their returning hero, with a further 200,000 lining O'Connell Street upon his visit to Dublin's Mansion House four days later. Three decades on, Clones' Cyclone has yet to abate. Far from exiting stage left, McGuigan still remains a central character in Irish boxing, albeit these days in a supporting role.
Ricardo Barry McGuigan is now Frampton's manager. Ricardo
Needless to say, his protégée Carl Frampton is now very much the leading man. And while memories of Barry's barmy night in Shepherd's Bush are entirely second-hand for the 28-year-old, he has already embarked on creating some rather more tangible ones of his own. An unerring dismantling of IBF kingpin Kiko Martinez in September saw him crowned the 20th titlist to hail from the Emerald Isle.
Whereas his idols McAuley and McCullough found themselves flung afar in search of the ultimate prize, Frampton had the temerity to conquer the world from his doorstep. 16,000 packed a purpose-built stadium at the historic Titanic Quarter to witness his coronation.
And although the maiden defence of his belt will take place in the neighbouring Odyssey Arena, the scope of his ambition extends far beyond Queens Quay. His recent link-up with ITV is testament to that. As well as becoming the first championship fight in eight years to be broadcasted free-to-air in both Ireland and Britain, the contest will also be beamed live to a further 54 countries. The event amounts to a potential watershed for the sport in these parts, a reality which is not lost on its chief protagonist.
"When I was a young lad all of the big fights were on ITV, so to be defending my world title on the channel is a dream come true" gushed Frampton of his new platform.
"Boxing needs mainstream exposure and I am thrilled to be part of its return to terrestrial television."
His manager was equally enamoured by the development.
"It's gigantic for us and for boxing. Carl is already an established name in Ireland, but this deal will make him a superstar. He is a better fighter than I was with a greater range. He will appeal to the general sports fan, not just the aficionado, because you can't take your eyes off him."
As a rule, such grandiose declarations by a promoter might be pegged as standard hyperbolic jargon.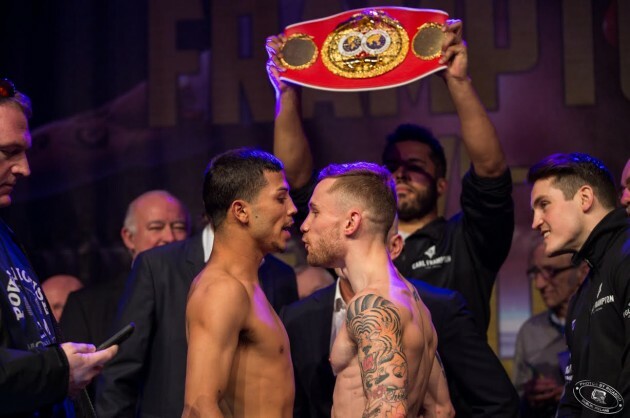 Ricardo Frampton is heavily favoured to beat Avalos. Ricardo
In this case, however, they carry a little more clout. Being an ITV alumnus in his own right, Barry McGuigan knows a thing or two about crossover appeal. Indeed, the historic match-up between himself and Pedroza remains the most watched of all time, boasting viewing figures in excess of 18 million.
With options abounding at every turn in what is a stacked super-bantamweight division, Frampton will be hoping to scale similar heights. Mega unification clashes against Messrs Quigg, Rigondeaux and Santa Cruz loom large on both sides of the Atlantic. Prior to pursuing those ends, however, he first has business to attend to at home.
Although one may be inclined to dismiss this weekend's assignment as little more than a prelude to a grander narrative, Saturday's challenger emits the air of somebody who hasn't read that particular script. A hat-trick of impressive stoppage wins versus Rolly Lunas, Jose Torres and Yasutaka Ishimoto saw the IBF install Chris Avalos as their number one contender at the turn of the year.
Exclusive Six
Nations Analysis
Get Murray Kinsella's exclusive analysis of Ireland's Six Nations campaign this spring
Become a Member
Boasting a KO ratio north of 70%, the 25-year-old has emerged as a sterling force at 122 pounds. Judging by the pre-fight sound-bites emanating from his camp, he has the self-confidence to boot.
"I'm not impressed at all, to be honest." quipped Avalos of the champion.
"I've fought fighters like him and I've knocked them out. He thinks being out there in his hometown that the fans are going to save him, but it's really just me and him in the ring so I don't see how that's going to work on his side. I'll win, and it's not going to be by decision either."
Frampton, for his part, is not unduly daunted by the Californian's bravado.
"He's a good puncher with a good knockout percentage but he hasn't fought anyone as good as me," said the Ulsterman.
"That is going to be the difference on the night."
True enough, whereas Avalos might sport the famous 'Hitman' moniker, Tommy Hearns and Ricky Hatton he ain't. Two defeats on the ledger to fringe contenders Christopher Martin and Jhonatan Romero speak for his fallibility. Given the greener pastures which lie ahead, the pressure will be firmly on The Jackal to inaugurate his reign by etching a third notch in that loss column. But having borne the expectations of an entire city for all these years, pressure has long since been par for the course.