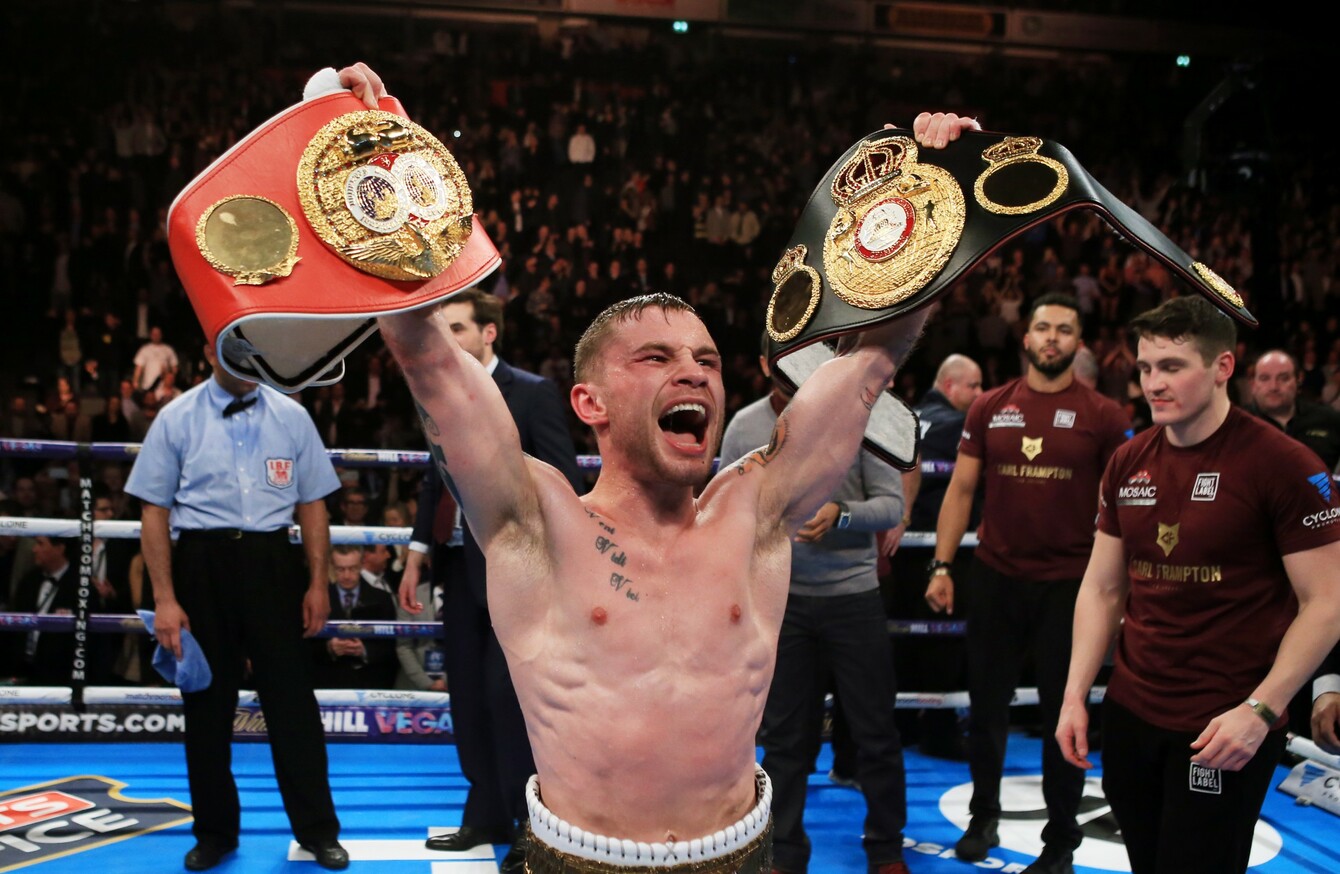 Image: PA Wire/Press Association Images
Image: PA Wire/Press Association Images
Joe Callaghan reports from New York City
CARL FRAMPTON DIDN'T need to look down. Not even a glance. For the 23rd fight of his professional life is not like any that have come before.
On Friday lunchtime, amid the heat and hustle of the heart of Brooklyn, Frampton was coolness personified as he stepped aboard the scales. Tonight at the Barclays Centre he faces his most ferocious foe yet. But the fight before the fight — making the weight — has never been easier.
The Jackal makes his debut at featherweight against the division's predator in chief, WBA champion Leo Santa Cruz. The extra four pounds afforded to Frampton weren't even needed — he tipped the scales at 125.25lbs with his rival a quarter pound heavier. On the eve of a date with destiny, the Belfast fighter had never felt better.
"I'm a natural featherweight," said the 29-year-old, who had dominated and then unified the super bantamweight division with triumph over Scott Quigg in Manchester earlier this year. "This is the easiest I've made the weight in five or six years. It's the best I've ever felt.
"I wanted a big name. I want to prove myself. I know I can deal with these guys. Whatever it takes to win, I'm gonna do. I'm coming home with that title."
Doing so would open all sorts of doors for Frampton, it would also establish him as the first Irishman to reign as champion in two weight divisions since Steve Collins two decades ago. But there is a three-weight world champion standing in his way.
Santa Cruz is a whirling, swirling dervish of attack. His fists fly with such fury that his opponents just can't find their focus. Frampton's footwork, which let him down on a soggy canvass on his US debut a year ago, had better be impeccable here as he gives up eight inches in reach.
But a fighter who spends as much time on the attack as El Terremoto can leave the goal unattended at times. That's when Frampton's crisp and then crushing counters can tell. This is the sort of match-up that modern fight fans crave. Should it deliver on its potential, an instant classic is in the offing.
There is no little poignancy in the protege making his prime-time bow stateside and finding the belt his mentor surrendered to America almost 30 years to the day on the line. Barry McGuigan had barely a single factor in his favour when he fought Steve Cruz under the debilitating desert sun of Nevada on the tarmac outside Caesar's Palace in 1986.
Frampton has many more reasons for optimism here. New York is unfamiliar terrain for Santa Cruz too, out of his Californian comfort zone. The styles match up and the weight was never an issue either. Perhaps that's why the manager and old master is so bullish.
"It's not if," McGuigan scolded us. "He's going to do it. No ifs, buts or maybes. He's going to beat the living daylights out of this guy. He's going to ship a lot of shots in return but he's going to beat the hell out of him."
No need to look down. No need to look up either. Just watch.
The42 is on Snapchat! Tap the button below on your phone to add!