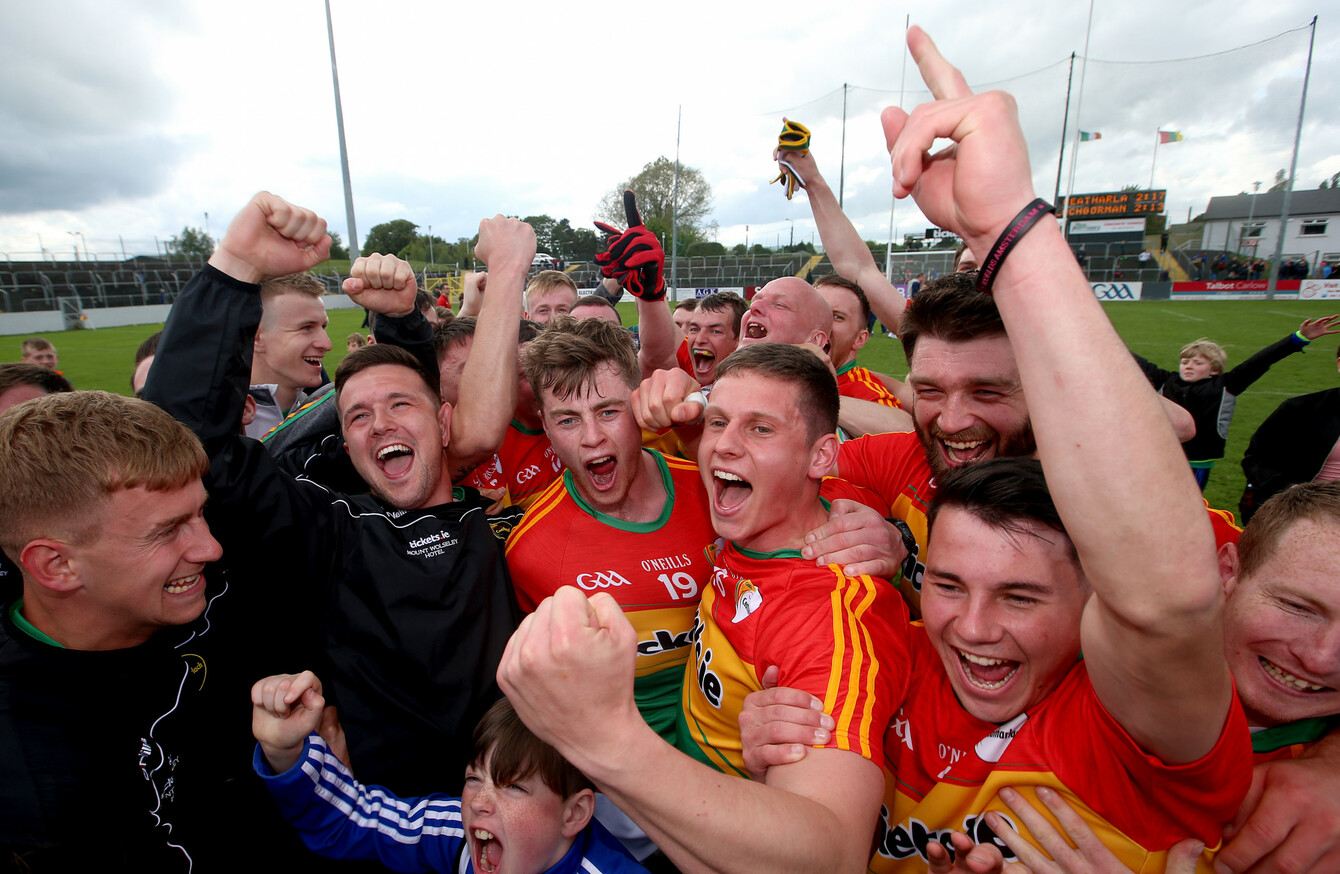 Carlow players celebrating last summer's win over Wexford.
Image: Tommy Dickson/INPHO
Carlow players celebrating last summer's win over Wexford.
Image: Tommy Dickson/INPHO
LAST SUNDAY MORNING dawned and presented an immediate roadblock for Carlow's football faithful.
Another March blanket of snow had descended on the county with Carlow on the cusp of achieving the league promotion from the bottom tier they had coveted for so long.
The plug was pulled on games around the country but Corrigan Park in Belfast was playable.
The squad and management were already en route to face Antrim but for supporters attempting to leave that morning, the journey was trickier.
Daniel St Ledger knew his parents had difficulty in pointing the car north and a few buses organised to ferry supporters had to be cancelled.
But fans improvised. They pooled cars and ploughed on. After 33 years of wilderness at the bottom rung of the league ladder, the chance to be there when they climbed higher was not one to be missed.
At the final whistle after a three-point win confirmed Carlow's promotion passage, there was a sizeable band of supporters ready to engulf the players in celebration.
"I think it was really just a big outpouring of emotion more than anything because there's been an awful long wait for it," says St Ledger.
"I was just watching the video back earlier on and you see all the people that have travelled, your family and the people that have been around the group for the last 10 years when things have been a good lot different.
"To see all those people there having their moment was really something else and Carlow town on Sunday night was hopping."
St Ledger felt privileged to be at the coalface when promotion was achieved but was conscious of those that kept the flag flying in barren times.
"There was a lot of lads up in Belfast that would have kind of slogged around the county for a long time. A lot of men that put in an awful lot of ground work and got nothing out of it. So it was really nice to see some of those lads and meet them on Sunday night, have a pint with them and chat away with them.
"I know I'd be looking at lads like John Hayden that would have played years ago. He'd be someone I'd be trying to emulate as much as possible. Fellas like him and Brian Murphy and Mark Carpenter, they all had a big part to play in that. While it was great for us, there's a lot of other people that it meant a lot to as well."
At the 11th time of asking, St Ledger found some joy in a springtime campaign. It's only four years since Carlow were rooted to the bottom of the table after a bleak league.
They would go on to ship seven goals in a 28-point beating to Meath in the 2014 Leinster championship and crash out by 19 points at the hands of Clare in the qualifiers.
At the time St Ledger described the county's Gaelic football core as 'just rotten at the minute' but that emotive language was rooted in frustration and a firm belief that they had the capacity to improve.
"The last couple of years, there definitely has been a shift in culture and not just with the senior team. Ronan Dempsey got involved at management level and he's done an awful lot of work with the underage and the (Carlow) Colts and how the whole thing is structured.
"Sean Gannon who plays for us, he's a development officer as well. He's doing fantastic work. There's a lot of really good people stuck in at grassroots level.
"(It's) not that you expect it but it was coming at the same time. We just weren't gettng the most out of ourselves. It was an individual effort, lads doing their own thing.
"When you can bring it all in together, you can see the potential for what happened."
In the Carlow dressing-room, they were aware of the spark created by their championship strides last season – a landmark Leinster win over Wexford, a couple of qualifier victories and days in the TV spotlight against Dublin and Monaghan.
They needed to fan those flames from the outset in 2018. The level of preparation and work meant they trusted the results could follow with Turlough O'Brien the figurehead directing their operation.
"Turlough is such a key part of this whole thing," says St Ledger.
"He took on a sinking ship, the thing was in a state. The Meath game where they beat us 7-13 to 0-6, in the lead up to that game we couldn't even get a practice match from anyone. Literally nobody would play us. Things were as low as they ever had been.
"But in fairness to him, he's everything Carlow and that kind of rubs off on the players and supporters. He's just a big Carlow Gael. It's infectious and it gives you a sense of pride in your place.
"It might sound a bit cheesy but it definitely rubs off on us. You bring in Stevie (Poacher), Tommy (Wogan) and Benji (O'Brien) in the backroom. They work together fairly well. They're four really different characters. They all have their own little different things that they add but when you put them together as a group it just clicks.
"But Turlough has to get unbelievable credit for putting the structures in place. I just couldn't speak highly enough of him in that regard."
A teacher at St David's CBS in Artane – where he numbers Stephen Cluxton amongst his staff colleagues – St Ledger has been kicking club ball in the capital in recent years for St Sylvester's in Malahide. But the lure of home has proved strong and he's recently switched back to Kildavin-Clonegal, the club at the foot of the Blackstairs Mountains that skirts the Carlow border with Wexford.
"Dad (Pat) is a selector this year and the little brother (Robert) is probably going to be playing, he's only 17. He's with the U20′s with Carlow as well. So I said I couldn't leave him in intermediate championship on his own.
"It wasn't an ideal scenario going away but look so be it with work and different things. It's nice to get back to what you know and especially when there's good people involved in the county generally at the moment.
"It's nice to get back amongst the lads and have a bit of craic. I'm looking forward to getting stuck in again."
There's more county assignments looming as well. They face Laois next Sunday in the knowledge it could be a dress rehearsal for the Division 4 league final.
For Carlow the chance to play that game in Croke Park is a valuable prize, trips to headquarters for the county teams are cherished.
Even amidst the current good times, St Ledger has cause to wonder whether they could be playing in a better climate.
"I'd just love the league to be in summer time. I'd have loved Sunday to be happening in the middle of July, a summer's day, up in Antrim getting promoted. I think it would have been something else and then have your day out in Croke Park.
"That'd be the way forward for me anyway. That's obviously fairly notional because there's not a hope of it happening. I know Turlough is a big advocate against the two-tier system and I can understand it. I can see where he's coming from because you'd be completely forgotten about.
"It's a bit of a vicious cycle really, I don't think there's any easy answer to it. But just from my point of view, I'd love to be playing six, seven, eight games consistently during the summer. That'd be my ideal scenario."
They will charge on with the scenario presented to them. An early April league final is a tee up to a Leinster opener on 13 May against Louth.
Carlow will enter the summer brimming with enthusiasm. This is a time for the county's football faithful to savour.
The42 is on Instagram! Tap the button below on your phone to follow us!