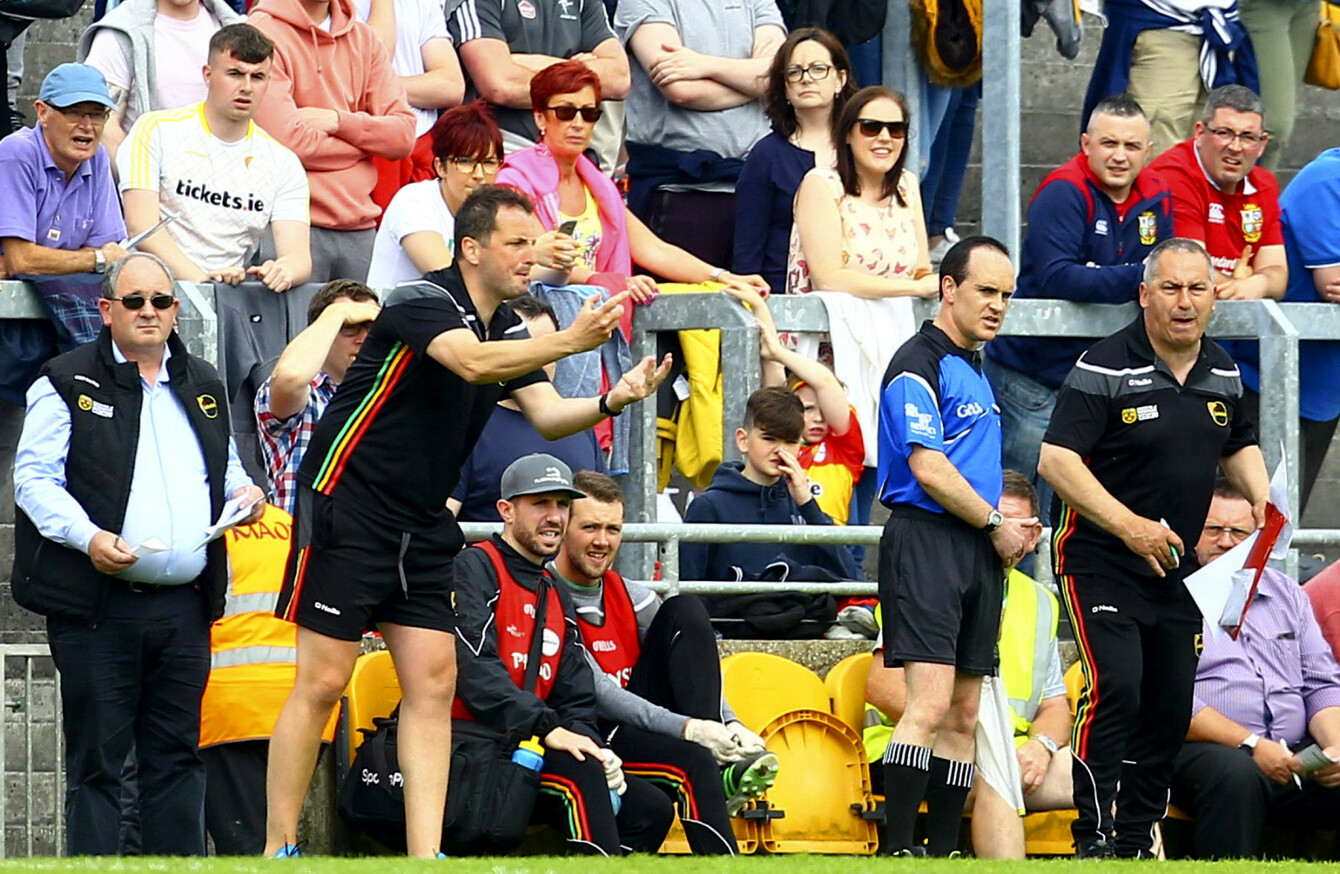 Carlow management Steven Poacher and Turlough O'Brien.
Image: Ken Sutton/INPHO
Carlow management Steven Poacher and Turlough O'Brien.
Image: Ken Sutton/INPHO
STEVEN POACHER HAS no reluctance in chatting and he has plenty to say.
A native of Down yet now adopted by Carlow and at the heart of their football revolution.
It's provincial semi-final Sunday tomorrow – his homeland battling for an Ulster final spot up in Clones, but he will be in the thick of the action at Croke Park, aiming to engineer an improbable feat as Carlow chase a first Leinster final outing in 74 years.
His day job sees him as the head of PE at St Columban's in Kilkeel, at the foot of the Mourne mountains. It's a rural location and student numbers are dwindling so this is the last academic year as they prepare to shut the doors.
From September he will be based in Craigavon in Armagh, teaching PE in Lismore Comprehensive School and establishing a GAA Academy.
But before that there is Carlow duties to focus on and the story of how a student in Manchester took his first steps in a coaching career that now sees him hitting the motorway a few times a week to guide the fortunes of the ever-improving Leinster outfit.
**************************
Starting out in coaching…
"At 19 years of age, I went to University in Manchester, and I actually set up the Gaelic football team in the college, in Manchester Med.
"I went to the local bar, and asked them that if we come in here on a Sunday and drink, will you sponsor our kit. And I swear to God, three years later when I left, it was probably the most popular Irish student bar in the village.
"Player and manager in Manchester? Yeah, they were good days. 1997 in Manchester, Oasis, Man Unittd, a wonderful time to be alive. The Hacienda, Tiger-Tiger, I could tell you some juicy stuff!
"The European Championships had just taken place in 1996 and the university had a couple of beautiful pitches. We'd a couple of beautiful footballers, Darren McElroy won a county championship with Killyclogher in Tyrone in 2003. Big Colin Smyth now living in Jersey, actually texted me after the (Kildare) game, and said if you get good football out of us, you'll get football out of anyone.
"It was brilliant. And it resulted in the university awarding me full colours for the contribution to Gaelic Games, which was strange in England, unheard of over there at that stage."
The days with Down…
"I'd done 10 years with Down at that stage, from U15 to U21 level, and I probably just felt I wasn't being appreciated enough. It was probably well documented at that stage, my relationship with certain members of the county board.
"I'd been in club football in Down for 10 years, managing An Ríocht, Ballyholland for five and was coaching Mayobridge as well. I just felt time was right to get out of Down and maybe broaden horizons. It was a great challenge and something that I don't regret in the slightest.
"Sometimes lads you look at the old saying, you can't be a prophet in your own land. I don't need to prove myself to anyone in Down, definitely not the administrators anyway.
"It's the people's opinion like Marty (Clarke), John (Clarke), Benny (Coulter and these guys that I've coached and worked with, it's their opinions that care and matter to me, not some administrator who's sitting in an office (and) never coached a team in his life."
Carlow and Poacher, how it all began…
"I run a coaching conference in school. This year we had 172 (attendees). It was a fundraising idea we started eight years ago and this made me very proud to think that we were the largest coaching conference in Ulster.
"It was an idea that came eight years ago when we were in Croke Park. I felt that there wasn't enough practical sessions being shown and people wanted to see that so every year we got a guest coach in.
"Turlough (O'Brien) and Tommy (Wogan) have been going to it for five or six years and that's where we met up in 2016. Turlough asked me to come down and take a guest session.
"So it was a bank holiday in May and myself and the wife and the two girls came down and we spent the night at the Talbot Hotel and I took them for a session two weeks before the Louth game. They were beaten and then I took another session before Wicklow and they won.
"I took two sessions before Cavan and they were very competitive and I just felt there was scope for improvement."
Life with Carlow…
"It's fantastic, I've really enjoyed it. I've been down here now two years and I feel like a Carlow man., I was in Paul's (Broderick, Carlow forward) house (last week), I called in for a cup of tea on the way to training, and he actually joked with me and said, 'you're probably in Carlow more than you're in Newry' and he's probably right.
"I've been welcomed with open arms both from players and from supporters. It does make you feel very, very proud and privileged and humbled to be part of this journey.
"For what the Dublin and Monaghan games last year did for this county can't be measured. Unbelievable.
"We played London in the National League [last year] – our first home game. I took the wife and children down, we were beaten – and I swore to her that she was never coming back, but she's been to a win since that, so she's off the hook – but in the London game, you could hear your voice echo in the stand. There were 10 men and their dog.
"This year, our first home game in Leitrim, stand was full, rocking. Ten minutes after half-time a row broke out on the '45 and there was an enormous roar from the stands. PB (Paul Broderick), struck a '45 that hit the post and went over and we scored 1-3 without reply. The roar and the momentum after that.
"It reminded me of 2010 when Down were on that roll. I was involved with the U21′s at the time and we used to call it 'Saturday Night Lights in Newry' where you had that atmosphere.
"How could you not enjoy it? It was 24 degrees (on) Sunday against Kildare and playing them off the park. It was wonderful. I was on the field three or four times, before he (Broderick) was taking a free-kick, sharing a joke with him, 'don't be putting this wide like..' And he responds back the same, Sean Gannon the same and some of the Kildare players giving me a high five, as I'm passing water out to them.
"Maybe there's a wee psychological thing, that we're putting on a face to the opposition that we are enjoying it, but we are enjoying it. It's brilliant.
"I'm going to be honest with you, I'm a Down man at heart, of course I am. I never thought I would have felt as much passion and love and enthusiasm for a county as I've felt here but something has clicked, something has worked."
Carlow's label as a defensive team…
"We conceded 122 points in the (2016) National League and it wasn't [good] enough. We thought we needed to tighten up defensively. Last year we had the third best defensive record in the four divisions after the National League.
"This year was evolving the offensive end of things and these lads will tell you, 90% of the games we play at training are all offensive scoring games. People have latched onto this word, 'transition', that I might have used at one of the coaching courses and it's very funny because transition is not a modern word, transition has existed in every sport in the history of this earth.
"Look at soccer, you think back to 1994, the Manchester United team, 4-4-2, two pacey wingers – get it wide, get it in. Then you go to the Spain team who went with no striker. Formations evolve, teams change, rugby's exactly the same, hockey's the same, why is Gaelic football any different?
"If we can get over Laois, we'll go with a high line against Dublin, concede ten goals, and hopefully everyone will be happy then. It is what it is, it's the way the game should be. If everybody played the same way, it would be a very boring spectacle. Does it really matter?
"Look at the job Sean Dyke has done at Burnley. Limited resources, I think they scored 35 goals in 38 games, and still managed to finish sixth in the table. And that takes a lot of work, a lot of coaching, a lot of belief in the squad, and the same with any sport.
"I watched the (Dublin) Tyrone game (last year), my father played for Tyrone for 10 years, is married to a staunch Tyrone woman, and we went to (the All-Ireland) semi-final. I can tell you on numerous occasions Dublin had 14, 15 men behind the ball, and not a word about it. because they play with a quick break, and they have multiple scoring options."
Dealing with the Carlow players…
"I'm a players' man. I embrace modern society, I enjoy social media, I encourage the players to socialise. I just think we're living now in a football environment where it's just become very methodical, very serious. If someone needs to pull a tweet off someone's social media or pull an article from the newspaper to motivate their team, they ain't doing a good job.
"I think the Carlow approach has been fantastic. It's very relaxed, very casual. I just think with the way society is now, the amount of mental health problems there is, football should be a sanctuary. It should be enjoyed (and) it should be embraced.
"I'm enthusiastic, I've a bubbly personality. Players don't give a damn what you know until they know that you care and any team. I'll always give them that enthusiasm and that loyalty.
"People looking in from the outside would say that man gets too animated along the line. Well it is what it is, like it or lump it, I'm not going to change."
Pundits, tactics and negativity about Gaelic football…
"I think the game's better than ever and I think the negativity that exists is phenomenal.
"You listen to some of the tripe that's out there at the minute – clowns that have never coached the game in their lives, just craving attention. I respect opinions of players who've worked with me and if you ask most of the players that have worked with me, I'd be surprised if any of them had anything negative to say….cue them coming to slate me now!
"I think there's a lot of negativity because of the people that are doing the analysis are poor. I look at Aidan O'Rourke there and he's started to write a few articles for RTÉ and they're brilliant because he's coming from a coach's mind and he's thinking about the game.
"Boys, I think the game is better than ever. The keepers are getting the ball away a lot quicker, the ball's in play a lot more, there's more scores, players are in better condition, it's faster.
"Look at Galway's winning goal against Mayo – beautiful, free-flowing football. Now, obviously every move's not like that, but they'll pick out a picture or a clip of 15 men behind the ball and say, 'look at this mass defence', but there might be actually a lot of work and a lot of organisation into making sure that people are covering certain [positions]."
The Turlough O'Brien factor…
"Listen he's a great fella, his personality is brilliant. An absolute gentleman in the game. He's definitely a very humble guy. He's not in this for anything else but his love for Carlow and his passion for his county.
"He's a brilliant players man. If players need time off for exams they get it. It's a nice blend. But I love the way things are going now, he's starting to get a bit more animated along the line now, I'm starting to become calm. I hope it goes full circle by the end of the year.
"He took on a job that was described to him as 'the poisoned chalice' by a club-mate of his one night and Carlow had just finished bottom of Division 4. What was attractive about it? Probably the passion, enthusiasm and the love he has for Carlow football."
Carlow's progress and aiming for a Leinster final…
"It's been a wonderful journey. We're two years into a process now. Turlough has made great progress from year one when he came in. He was in a lose-lose [situation] really and truly because at the end of the day he was coming in to take a group of players that maybe not physically, but psychologically were at a low ebb.
"A 28-point defeat in the championship by Meath, that kind of had lasting mental scars and that was only four years ago. But every year he's been in he's made steady progress and I came in last year and maybe brought in a little bit of attritional Ulster warfare to the set-up, is how people would describe it.
"(When) Turlough invited me down and I got to experience Fenagh – the training centre just across the road. I walked in and just went, 'wow', because I was coming from Down and you're looking, going, 'where's our Fenagh back there?'. We're scraping around club grounds. You're thinking to yourself, 'Carlow have a lot of the pieces of the jigsaw in place here'.
"I had a look around Carlow IT and I thought, 'do you know something? There's definitely something here'. You've got a group of players who have a personality like that then there's no egos on the panel. The lads are all very solid, all very grounded. They're good people and I think that was a massive attraction.
"I was devastated last year after the Monaghan game. But I think without that, you mightn't have had this year because I think we've learned from it. We've learned that it is a matter of when the game's in the mix keeping your head and if you look at your last score (against Kildare), that's a team that's learning."
The42 is on Instagram! Tap the button below on your phone to follow us!