CHRISTMAS, FOR MOST, is a time to let go, to relax and recharge the batteries and take a step away from hectic day-to-day lives.
It's a time to forget about the stress of work — if you have time off that is — and the worries of life in general, to reflect on the year that's been and soon to go.
Life is getting busier and busier and the vast consensus across the board is that people have less and less time. Well, not technically speaking, but you know.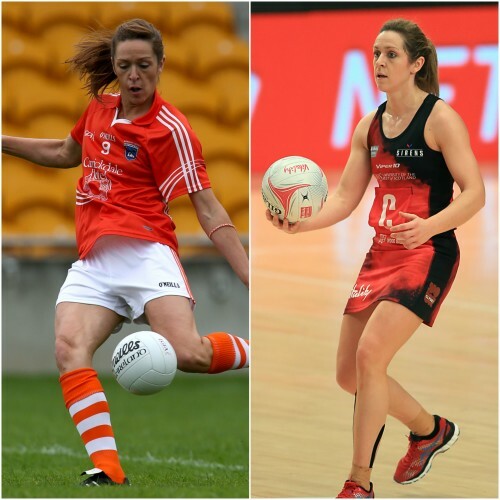 Dual star: Caroline O'Hanlon.
Caroline O'Hanlon goes against the grain though. There are 168 hours in a week and everyone has the exact same amount of time, she insists. It's just about using it as you will.
You may recognise O'Hanlon from her outstanding efforts with Armagh over the past several years. She's a natural leader on the Orchard county side, lifting the Ulster senior title on behalf of her teammates in 2015. She has performed week in, week out, year after year across both League and championship and has always been a standout player in doing so. Both strong and agile, she pulls the strings from midfield and is a vital cog to the Armagh engine.
Then there's the netball. She plays in the Super League across the water and made the move from Glasgow-based Sirens to Manchester Thunder in October ahead of the 2018 campaign. She'll also don the Northern Ireland jersey with pride in April as they line out for the Commonwealth Games. Likewise, 33-year-old O'Hanlon is a serious operator at centre.
So basically, two demanding sports which require full commitment in two separate countries which she flies between.
And to top it all off, she's a doctor in GP training at the minute.
Early days 
For O'Hanlon it was Gaelic football which came first.
"My family have always been heavily involved in the local club," she tells The42 at the launch of the GAA 5-stars centre in Croke Park in the latter days of November.
"You were always in and around the club. I would have been down playing with the boys and the underage teams and then at my primary school, I was lucky enough to have a teacher who was very into netball. He had all of the girls involved."
So she picked that up when she was seven or eight. Quite unusual to start at such a young age, she notes, but her mother teaching in the school was another contributing factor.
"You were just always there. She'd be like, 'I'll not be ready to go for an hour or two, go on!'" she laughs as she rolls back the years.
"I've been playing the two from a very early age and then it's like anything, it's a bit of luck. Whatever school you're at, if they push it — that's the key."
From there, the two sports just snowballed into part of her routine, a way of life if you like. She's always had the two.
Sam Barnes / SPORTSFILE O'Hanlon with attendees during the launch of the GAA 5 Star Centres at O'Connell Boys National School and Croke Park in Dublin last month. Sam Barnes / SPORTSFILE / SPORTSFILE
"The seasons usually don't overlap a whole lot so it works nicely," she says, explaining how they almost compliment each other. Super League runs from February to May, so there is a bit of balance required with the Lidl Ladies National League coinciding but then the summer is purely dedicated to football.
There has been the odd clash here and there in the past but she never misses too much, she smiles: "Both managers were very supportive of that and knew it was coming for a while so we were able to compare and find a compromise."
Across the water
We're fairly familiar with the ins and outs of Ladies football and everything that goes with it from the calendar to competition lay out, but we're — well, I for one — are less accustomed to the ways of the Super League.
It's a semi-professional League contested by 10 franchises; eight English teams and one each from Glasgow and Cardiff. Everyone plays each other twice and then there's semi-finals and a final. The competition is sponsored by Sky and Vitality, and there's a live game every week on Sky.
Each team has at least one game, if not two games a week. It could be a Monday night and a Saturday or a Monday and a Friday. Variable, she adds.
But manageable, as she knows from her time at Sirens last year.
"I was able to maintain the two (netball and Gaelic football)," she assures me, her positive demeanor shining through.
"It's obviously difficult. Logistically it's possible but it is physically demanding.
"We don't play any (netball) games on Sundays so in that sense it doesn't usually directly clash with it (League football) but it's just trying to get back depending on where our game is, what airport's near by, what sort of flight times there are and things like that.
Dominic Lipinski In action for Northern Ireland at the 2014 Commonwealth Games. Dominic Lipinski
"Essentially my travel time is probably less than to some of the League (football) matches. Say last year we were away in Galway and away in Kerry and these places.
"In terms of travel times, it's probably not as taxing. You're only on a plane for half an hour. Hopefully it should work out with the right planning and preparation and that."
Balance
She speaks of planning and preparation, and that word balance is thrown in the mix.
"Ach, I know but……"
But seriously, to maintain everything at the level she's at across the board, she must be super organised?
Her response is something along the lines of 'Pfffffft,' and gives me that 'Are you serious?' look. She giggles unassumingly and gives a simple answer.
"You're kind of used to it," she continues.
"It's like anything. You've the same amount of time, you can use it as you will. If you want to do the things, then you will do them.
"If they become a burden, yeah then it becomes difficult but I really enjoy all aspects; working and netball and football. You know, if I have a spare hour, I love going to football with that hour. You could it at home or do whatever else. If it's not a burden then it's not a problem!"
With all the natter of netball and football, there's little time for chat about life as a doctor. As aforementioned, she's in GP training at the minute and based in a GP practice just outside of Newcastle, Co. Down.
It's about 40 minutes from home which isn't too bad and with the season that's in it and the Commonwealth Games fast approaching, she's gone down to part-time and three-day-weeks. Both her current place of work and the agency have been really supportive, and as O'Hanlon speaks you can sense her gratitude.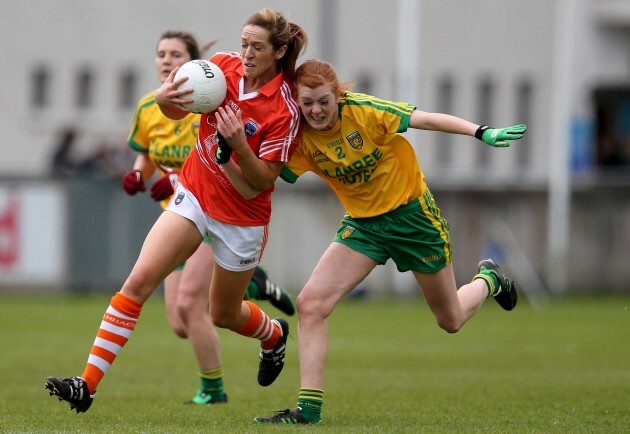 Ryan Byrne / INPHO In action for Armagh in Division 2 of the League in 2015. Ryan Byrne / INPHO / INPHO
Compare and contrast
Evidently, she's more than well versed to compare and contrast both the Ladies football and netball set-ups.
"They have a lot of similarities," she begins.
"Netball in England has got an awful lot of funding down through the years so in that sense they're probably a little bit ahead of Ladies Gaelic because they have those big sponsorships with Sky and that. But you can see Ladies Gaelic Football isn't far off it and the gains that they have made in recent times, their acceleration is at a higher rate probably.
"In The North, netball is a big sport for females and across the communities. GAA probably has stronger media coverage in The North and across Ireland. The two sports are strong.
"Quite a lot of our players that play netball play Gaelic as well, a lot of transferable skills and schools help that. A lot of schools play netball and Gaelic.
"There's a lot of similarities but Gaelic this year in particular more than any has made massive, massive gains and it's great for female sport.
"The All-Ireland final alone; the coverage, attendance and they were saying at the All-Stars about the TV viewing numbers were way up, it was their top 10 TG4 shows of all time or something.
"It just shows you, TG4 have been so loyal to Ladies football and that association has been massive. If you're on TV, it's huge."
And like TG4 to Ladies football, Sky has been huge in promoting netball.
2018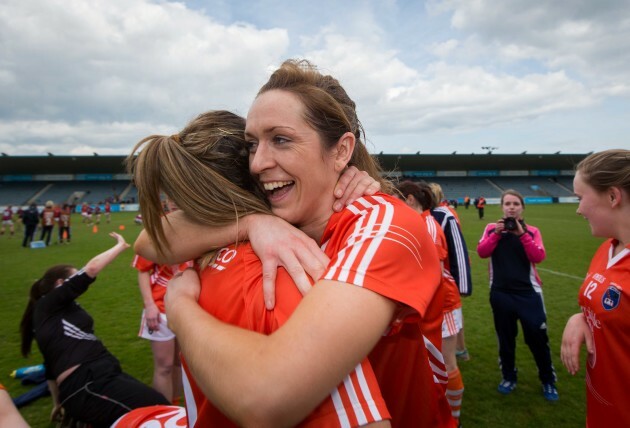 Ryan Byrne / INPHO Captain O'Hanlon celebrates after the 2015 Division 2 League final. Ryan Byrne / INPHO / INPHO
And so 2018 is going to be no different in the hectic life of O'Hanlon. It might possibly even be the biggest one yet.
The Commonwealth Games are Down Under but with Northern Ireland, their full focus isn't on that just yet.
"We're really looking forward to the that," she says when asked about the Games. "There's a big push on at the minute training-wise for the last year. It's now in sight.
"We have World Cup qualifiers in January and then the Commonwealth Games themselves in April. It's great because you've been training for the last six months, hoping it's coming around and now it's on the horizon, you can really enjoy training and it has a bit more focus.
"Really looking forward to it. It's in Australia on the Gold Coast so that will be a nice trip."
Then of course there's the new Super League club Manchester Thunder. She's relishing that new challenge too, that slight sense of change and the unknown.
And of course there's the one constant. Ladies football and Armagh.
The Carrickcruppen star has been involved with the set-up for as long as many can recall but 2016 — a year in which they were relegated to Division 2 of the League while their All-Ireland senior championship campaign was ended by Kerry at the quarter-final stage — is one of her more unfavourable ones in the orange jersey.
"We had quite a few long-term injuries this year," the three-time All-Star continues. "We had a lot of girls over the course of the year missing big blocks which is difficult to gain momentum with. We've a nice balance in the team thouhgh.
"Overall, we were probably disappointed with the season. We obviously didn't want to get relegated from Division 1. We had good results; beating Dublin, beating Cork and then other games we had control of the game and lapses in concentration lost the game in the last five or 10 minutes which is really disappointing.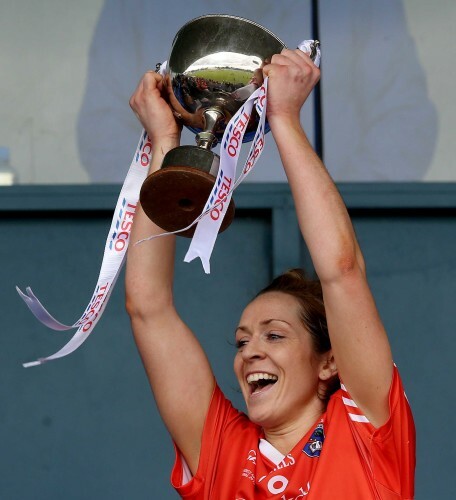 Ryan Byrne / INPHO Captain fantastic: lifting the League title in 2015. Ryan Byrne / INPHO / INPHO
"I suppose we just have to look to the future. It's going to be a difficult year in Division 2, there's lots of strong teams there, it's not as easy as going down and going up again. We will have our work cut out so hopefully we can get back to training and focus on that."
But overall 2017 was a great year for Ladies football, O'Hanlon agrees, and made all the better that there was a bit of change-up which saw new senior champions crowned.
Dublin lifted the Brendan Martin Cup in Croke Park in September, as Cork's bid for seven-in-a-row came crashing down to Mayo in the semi-final.
"Dublin have been knocking on the door for a wee while now. I think they were deserving winners this year.
"Hopefully there'll be a new winner again next year!"she laughs.
Could they be wearing orange?
"Aye," she laughs some more, but not fully convincing that she's joking. "Ah sure, you said that!"
Never say never though, and O'Hanlon is living proof that anything is possible.
The42 has just published its first book, Behind The Lines, a collection of some of the year's best sports stories. Pick up your copy in Eason's, or order it here today (€10):